As a parent who cares about your family's health, you might already be aware that a healthy gut is essential to their overall well-being.
In fact, there is a growing awareness that over 70% of the immune system is in the gut lining. Therefore, improving your gut health is a key way to support your first line of defence.
Poor gut health – in the form of loss of diversity within the body's microbiota – has also been linked to many health issues such as gastrointestinal disorders, auto immune disease, allergies and obesity. In contrast, a healthy gut is associated with a strong immune system, longevity and better quality of life.
So how exactly can you boost your family's gut health? After all, living in Singapore can be extremely hectic. Many parents lack the time to cook nutritious meals for their kids and maintain a balanced diet.
The power of probiotics and how to pick a good one
Here's where probiotic supplements come into the picture. Probiotics can work to increase microbial diversity, decrease pathogens and their toxins and promote immune responses against targeted microbes.
They also work to improve the gut wall's protective mucosa and maintain healthy bowel habits. There is considerable research to support probiotic supplementation for the treatment and management of conditions like irritable bowel syndrome, necrotising enterocolitis in premature babies, colic and constipation in newborns and travellers/antibiotic-associated diarrhoea.
When it comes to picking a good quality probiotic, be sure to pick a multi-species option as well. These are superior to single species probiotics as they include a diverse species of healthy bacteria and yeast such as Bifidobacterium, Lactobacillus and Saccharomyces. Think of it as taking a quality multivitamin to cover one's overall wellbeing.
Probiotics which combine the power of plant nutrients (also known as phytonutrients) are a great combination. Phytonutrients are typically found in all fruits and vegetables, and a diet high in plant foods ensures we benefit from the antioxidant properties of plants. These antioxidant properties help prevent disease and keep the body functioning optimally.
Why choose Akesi's Bio-Fermented tonics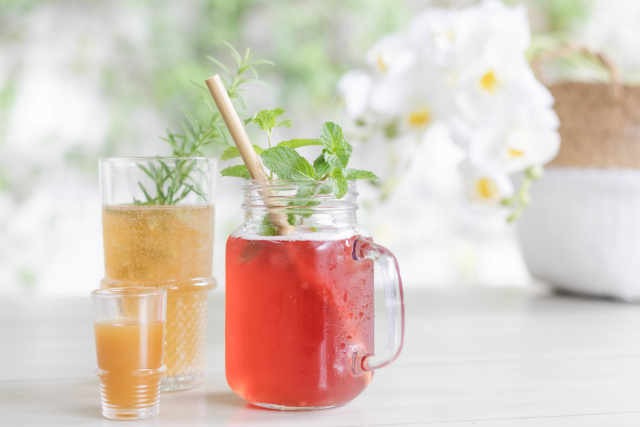 On the hunt for a product that combines these two features? Consider Akesi Wellness' Bio-Fermented range. These all-in-one health tonics are super-charged with billions of diverse and beneficial probiotic species and polyphenols to help support the immune system, maintain good gut health and achieve overall well-being.
The Bio-Fermented tonics contain both multiple probiotic species and plant nutrients like anthocyanins, curcuminoids and polyphenols. Nutrients like polyphenols represent the active substances found in many medicinal plants, and exert positive effects on our body's enzymes and cell receptors. Both anthocyanins and curcuminoids contain anti-inflammatory properties too.
Another unique feature of Akesi's Bio-Fermented tonic range is that the products are 100 per cent natural, vegan and gluten-free. Unlike other probiotic drinks, dairy, sugars and teas are not used as part of the fermentation process. Instead, plant-based ingredients like berries, papaya and turmeric are transformed into bio-active nutrients.
The tonics can also be taken at any time of the day with or without food − perfect for busy families that are always on-the-go. Simply dilute them in water for a delicious yet healthy drink to replace commercial kombucha, sodas and juice, most of which are not potent probiotics or immune-supporting beverages.
Akesi's range includes three different tonics, find out which one suits you and your family below:
For kids who are juice / soft-drink lovers: Berry Spritzer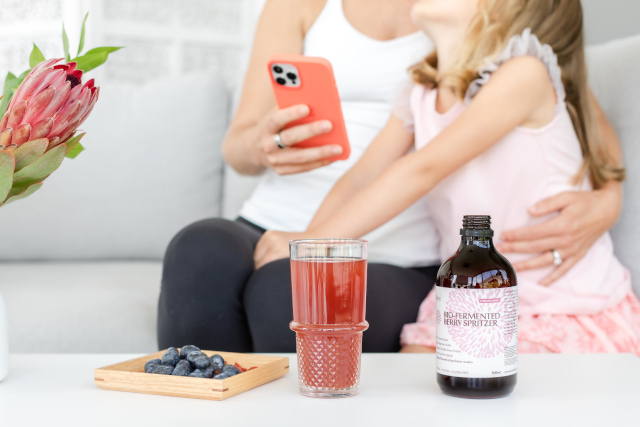 The Berry Spritzer provides easy hydration and beneficial probiotics, with important antioxidants thanks to the berries inside. It's the perfect juice or soda replacement – simply mix 1 tablespoon per 250ml of water to enjoy. This probiotic tonic is so delicious that the kids (and even you) will keep wanting more!
For those with a diet low in plant-foods: Papaya Tonic
This tonic contains polyphenols, a rich source of important plant nutrients. The phytonutrients are nutritionally enhanced through fermentation, resulting in a super-charged tonic that will support your digestive health and overall well-being. Its taste is subtle with a slightly tart flavour, and can be taken straight or enjoyed diluted in water.
For busy working parents: Turmeric Tonic
Not only does this tonic contain anti-inflammatory properties, it also has a spicy taste and can be enjoyed straight as a shot − perfect for when you're on your way to work or at the end of a long day. This tonic contains turmeric, ginger and black pepper, in a proprietary fermented base containing carica papaya fruit and leaf.
For more information on Akesi Wellness' Bio-Fermented range of tonics, visit their website.
Use code TNAP on akesiwellness.com to receive a FREE 100ml tonic valued at $18 with any order. No minimum purchase. Free local shipping.
This post is brought to you by Akesi.
By Rebecca Wong.
---
Giveaway Alert
We are giving away 10 bottles of Akesi's family-friendly probiotic Berry Spritzer worth $58 each!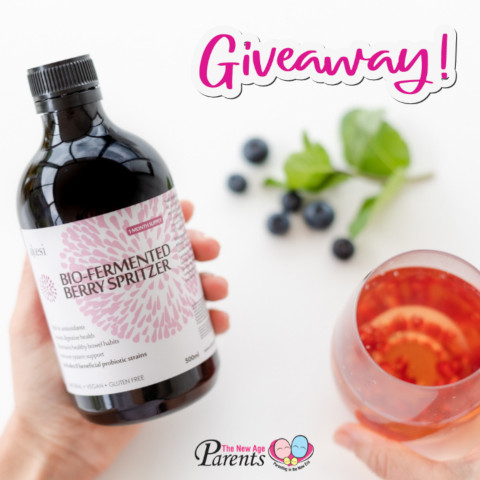 ➡️ How to participate:
1. Like and bookmark this post.
2. Follow @akesiwellness & @thenewageparents IG profiles.
3. Fill in this form below
4. Share this post on your IG stories and tag us @thenewageparents for a higher chance of winning!
5. Tag your family and friends in the comments (one tag per comment)!
👉 Remember to set your IG profile to public so that we are able to see your story share.
🇸🇬 Valid for participants residing in SG only.
⏳ Giveaway period: Till 31 August 2022
✔️ Terms and Conditions:
Winner will have to self-collect the prize from New Age Consulting office at Tradehub 21 (on Wed & Thu only with prior appointment) or Queenstown MRT (appointment to be made at least 1 week in advance).
By participating in the giveaway, it means you agree to the terms and conditions.
Terms and conditions apply. Please also read our Privacy Policy.
For more contests and giveaways, go to The New Age Parents Contest Page.
* * * * *
Like what you see here? Get parenting tips and stories straight to your inbox! Join our mailing list here.
Want to be heard 👂 and seen 👀 by over 100,000 parents in Singapore? We can help! Leave your contact here and we'll be in touch.