1 – 28 June 2015, 10am – 6.30pm
Port of Lost Wonder, Palawan Beach
Child $15. Accompanying adults and POLW members enter FREE.
Get your tickets here.
School's out, and it's time for FUN this June Holidays at Port of Lost Wonder! Designed to provide a unique experience of family bonding, the attraction houses a signature water play area, themed islets for picnics and leisure activities and distinctive retail and dining experiences for the very young and young at heart.
Dive into a variety of sports activities at Singapore's first kids' club by the beach. These sport activities are specially planned for you and your child, so come on down together and have lots of fun sweating out!
Jumpstart the FUN with these activities:
Beach Soccer
So you think you can run as fast as a cheetah and kick a ball as well as the soccer stars? Showcase your dribbling and passing skills as a family and score goals as fast as you can!
Date: 1 – 7 & 15 – 21 June 2015
Archery
Walk a day in Robin Hood's shoes and display your skill of using a bow to propel arrows. Gogogo! Huddle and strategize together as a team, aim to hit targets to reach 100 points.
Date: 1 – 7 & 22 – 28 June 2015
Netball
Fancy a quick and fun game? Pair up with Mum or Dad and have lots of fun playing beach netball. Aim and shoot the ball accurately into the hoop to secure the most points!
Date: 8 – 14 June 2015
Javelin Throw
Are you up to the challenge for an accurate throw? Try throwing pooi noodles through colourful buoys. We promise that it's going to be oodles of fun!
Date: 8 – 14 & 22 – 28 June 2015
Bowling
Bowl like a pro here and get bowled over by the sheer excitement of knocking down the pins! Go ahead and aim for a perfect strike!
Date: 15 – 21 June 2015
Wondercraft: Cheer-oh-phone
Show your support and cheer for your team with your specially designed Cheer-oh-phone! Don't forget to SCREAMMM~ as loud as you can so you can be heard!
Date: 1 – 14 June 2015
Wondercraft: I am a Champion
Everyone is a Champion in their own little ways. A Champion deserves a special medal. So come over and create your personalised medal with pride!
Date: 15 – 28 June 2015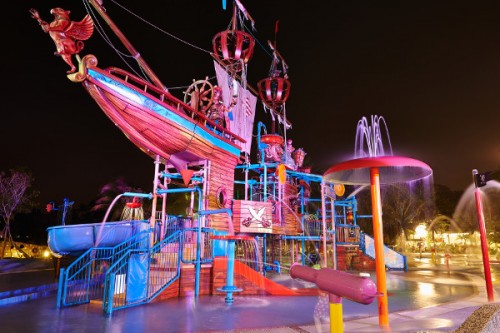 BBQ Under the Stars
20 June 2015, 6.30pm – 9.30pm
Adults $39, Child $15 (POLW Members enjoy 20% off)
Get your tickets here. 
After a day of fun, don't you just want to relax and enjoy a delicious dinner? Yes! You can sink your teeth into the tasty barbecued food under the starlight with your family and friends! Everything will be prepared for you, just get your tickets early before it's all taken up!