Are you planning for a holiday? What's your biggest worry when you travel? For many, it is experiencing motion sickness when travelling with the family!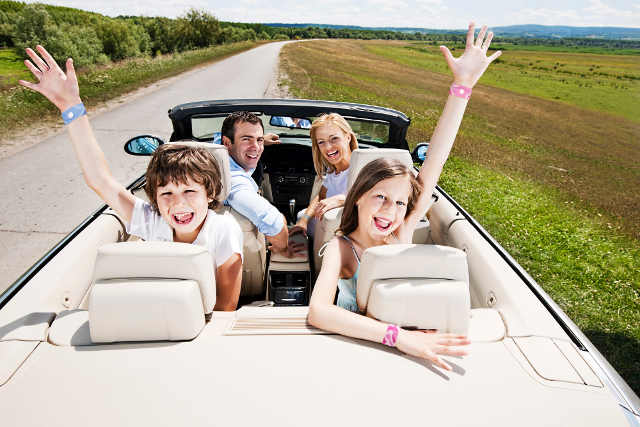 Research has shown that up to 90% of the general population experience motion or travel sickness¹ and 66% may experience more severe reactions². Women and children between five to 12 years old are also more likely to experience motion sickness³
Motion sickness is a common feeling experienced when the momentum sensed within the ear is different from the motion that is visualised. Most people may experience motion sickness when travelling on moving vehicles or transportation. Some may experience minor symptoms of motion sickness like sweating and churning or discomfort in the stomach. While others may experience more mild symptoms of motion sickness like vomiting, nauseousness and dizzy spells to more severe form like headaches, sweating, drooling, shortness of breath and drowsiness.
⇒ Related Read: Vomiting Or Diarrhoea In Children: What Food To Feed Your Child
No doubt, all these conditions have the potential to ruin a holiday or discourage those more susceptible to it from travelling. We understand that the excitement of travel can sometimes be spoilt for children when nausea strikes.
What's the solution to motion sickness?
Many people will turn to motion sickness medication to combat the sickness. However, some children and even adults might be allergy to certain medications and as a precaution, they might avoid taking these pills altogether.
For a natural & effective solution, use Sea-Band!

Why use Sea-Band?
Sea-Band is a non-oral and drug-free motion-sickness remedy that comes in a form of a knitted elasticated wrist band.
Sea-Bands are washable and reusable as well, making it a breeze to wear anytime one feels nauseous. The bands can also be worn before or during travel.
Drawing from the traditional Chinese principle of acupressure, a plastic stud uniquely tailored in the band places pressure on the 'Nei Kuan' or P6 acupressure point on each wrist. The pressure applied on these points of the wrists reduces the feeling of nausea and vomiting, harnessing a natural balance of the flow of energy in the body.
For effective relief of all forms of travel and motion sickness, Sea-Band provides a natural choice without causing drowsiness or other side effects.
Relieve nausea in a snap!
With just a few easy steps, Sea-Band can easily be worn on the wrists to relieve motion-sickness. The bands must be worn on both wrists to be effective.
To ensure that the Sea-Band is worn correctly:
Place middle three fingers on the inside of the wrist with the edge of the third finger on the wrist crease. The Nei-Kuan/P6 acupressure point is located under the edge of the index finger.
Position the button facing downward over the Nei-Kuan/P6 acupressure point. Repeat the process for the other wrist.
Experiencing motion sickness when travelling can be very uncomfortable and it may affect the holiday mood. With Sea-Band, travelling can be less stressful and the natural relief can provide peace of mind for everyone. So get a Sea-Band before travelling and your family can enjoy a beautiful holiday together.
Sea-Band for Adults is available in Blue & Black while Sea-Band for Children (from the age of 3), comes in Blue, Pink and Green. All products are available at pharmacies at $15 a pair!
You can get Sea Band from Shopee.
---
¹ Chan, G, Moochhala SM, Zhao, B, WL, Y & Wong J, 2006, "A comparison of motion sickness prevalence between seafarers and non-seafarers on board naval platforms", Internat Marit Health, vol. 57, pp. 56-65
² MedicalNewsToday.com 2010, "What is Motion Sickness (Travel Sickness)? What Causes Motion Sickness?"
³ WebMD.com, "Motion Sickness – A Topic Overview"
* * * * *
Like what you see here? Get parenting tips and stories straight to your inbox! Join our mailing list here.
Want to be heard 👂 and seen 👀 by over 100,000 parents in Singapore? We can help! Leave your contact here and we'll be in touch.