What is it like to be a father in this millennial age?
We chat with a modern daddy-next-door, social worker and Polytechnic lecturer Mr Zheng Liren, 33, to hear about his approach to parenting, the struggles he faces, and how being a father has changed him.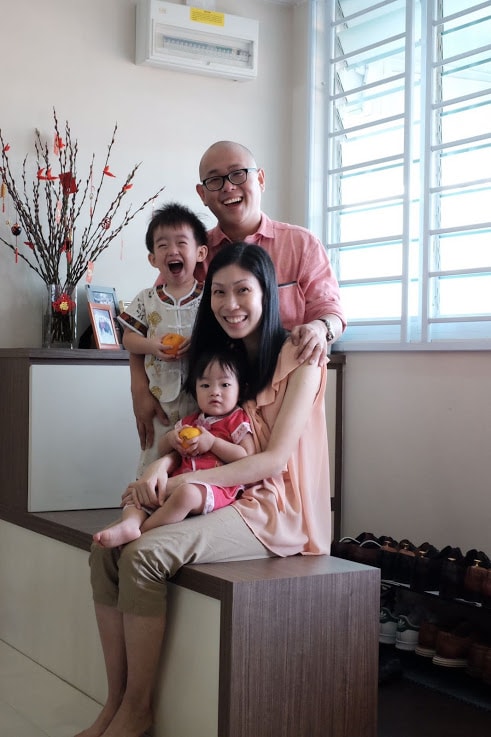 Lireng with his wife, Weili, 32, and two children, Xuheng, 3 and Minyue, 18 months
TNAP: Would you consider yourself a modern dad?
Liren (LR): I think every dad is a mixture of both the modern and the traditional. I suppose parents today have access to a great amount of information – particularly in the area of parenting.
Most of the time, I think we choose to go with methods of approaches that fit our mental models of parenthood, rather than subscribing fully to any one school of thought.
Our ideas of parenting are shaped more by our own experiences of being parented than we think! We learn and change along the way.
My own philosophy of parenting is an amalgamation of the traditional and modern – I believe in giving children the space and love to explore, but I really hate bratty kids!
So for me, boundaries, sharing, gentleness are all important to instil in my children. And I let both my children play with boy toys and girl toys!
TNAP: Tell us about your struggles as a Dad.
LR: There are many! One of the hardest ones is when both my kids insist on only wanting Mummy and trying to get rid of me! It happens sometimes at bedtimes, and sometimes when we go out or when the kids have had too much contact with unfamiliar faces.
Besides the inevitable sense of rejection (what did I do wrong?), there is also the pain of seeing my wife struggle with both kids while not being able to do anything to help.
Other than that, there are also the typical Singaporean struggles with the children's development; second-guessing ourselves all the time whether we are doing enough, giving them enough, spending enough time with them and not to mention the countless sleepless nights!
Another struggle is the never-ending juggling one has to do as a working dad.
It's like I always have too many balls in the air and something's gonna crash! The stress of having to take urgent childcare leave or miss important meetings because there just isn't anyone to care for a sick child can be made so much worse if the workplace is unsupportive of parents.
Thankfully, at my current workplace, I have an incredibly supportive and understanding boss and team of co-workers; which really makes the struggle much lighter.
TNAP: How do you juggle and embrace fatherhood?
LR: That's a tough one. I think from the start, I set out to be as involved in my kids' lives as possible. It really has to start from a decision in your heart – to place our responsibilities as fathers as the top priority. Otherwise, it really is very easy to allow other pursuits to crowd fatherhood out of our lives.
One of the ways I do this (and I'm fully aware this doesn't apply to all dads out there – it's just what I choose to do) – is to try as much as possible not to bring work home. This means that I can't afford to procrastinate, that I need to use every minute of the workday wisely; but it's worth it.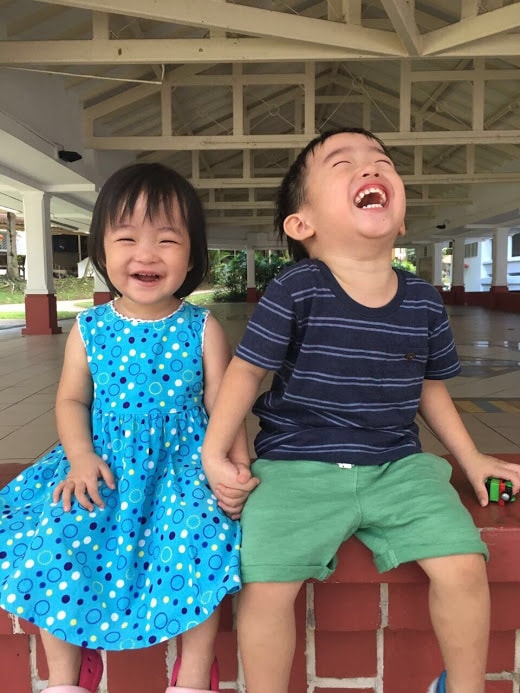 TNAP: Share with us about how being a dad has changed you?
LR: In too many ways to count! The standard playlist in the car now is Barney's I love You song and Elmo Song instead of John Mayer or the Bee Gees.
Musical tastes aside, being a parent really tests one's patience. From making the children eat their food, to having to constantly clean up after them, to patiently waiting for them to go to bed, I think I learnt that many things take place at their own time and I can't fully control everything.
Being an introvert, having 2 kids running around and needing your attention all the time is very emotionally draining. I have no chance to go cafe-hopping like I used to, so I have to be very creative in how I get my me-time.
Whether it is a quick 10-minute breakfast on my own or sitting in the car for 5 minutes with my favourite playlist before going to the office, these moments keep me sane. I've even squatted on the toilet bowl for a 5 minute nap once.
TNAP: We hear you cook for your family. Tell us about your cooking and its role in your family life.
LR: I love to cook. Most of the time, it's simple homely fare for the family to enjoy. After a long day at work, I think a bowl of hot soup is incredibly comforting. Plus, I live in Punggol and there really aren't many food options in this area. It's cheaper to eat in too.
Cooking is one of the ways I love my family. And it's also incredibly therapeutic for me. Cooking for me is a creative process – I don't like following recipes strictly. The process of how raw ingredients come together to bring a meal of joy and comfort is just amazing.
Zhen's instagram account is peppered with his home-cooked dishes.
Lots of people ask how I'm able to cook juggling work and two kids. I'm actually very blessed that my wife is able to tolerate the time I spend in the kitchen while she watches the kids. Besides that, technology is also a great help.
Being a guy, I can't resist my gadgets – and I have too many kitchen toys. I like technology that helps with cooking food ahead of time that I can "set and forget".
Pressure cookers, sous vide machines, thermal pots, electronic double boilers are all great helps – I can just set the timer and leave the machine to do its work, sometimes even overnight. I make a mean pulled pork burger with my pressure cooker.
I also tend to use a lot of online services to save my precious weekend time for the children. Online groceries are awesome. They deliver fresh, clean groceries exactly when I need it for very competitive prices.
–
If we were to "Ask Dr. Frank" in his column in Psychology Today, he would surely say, "Fathering is not something perfect men do, but something that perfects the man."
Daddy, you are more than perfect in our eyes.
If you know a daddy who would resonate with this story, share this with him to encourage him that he's never alone in this journey!
By Rachel Lim. Photos courtesy of Zheng Liren.
If you find this article useful, do click Like and Share at the bottom of the post, thank you.
Like what you see here? Get parenting tips and stories straight to your inbox! Join our mailing list here.