It's been nearly a month since school and work started. Here comes the next long weekend that everyone is waiting for… the Chinese New Year break!
Before the hustle of spring cleaning, festive shopping, eating and visiting kick in, make use of the time now, or in between the Chinese New Year break to create lasting memories with your family.
We've rounded up 8 reasons why you and your family should visit the State of Fun from 19 January to 4 March 2018.
#1 Stand to win a 3D2N Stay at Shangri-La's Presidential Suite and many other amazing prizes!
Come on down to the State of Fun and stand to win over $50,000 worth of experiential prizes, including an overnight stay onboard luxury cruise Royal Albatross, premium staycations and many more at the Sentosa FUN-Tastic Draw 2018.
The top 8 grand prizes include:
How to take part in the Sentosa FUN-Tastic Draw
Sign up for the Sentosa emailing list on Sentosa to get 1 free chance at the draw and receive a discount booklet* for you to save more while you're here!
Date: 19 January – 4 March 2018
Time: 10am – 8pm
Venue: Sentosa Boardwalk (outside Vivo City), Merlion Plaza, Beach Plaza
Alternatively, spend $8 in a single same-day receipt at any outlet on the island to get 1 free chance at the draw. The same receipt entitles you to participate in the exciting game booths to win instant prizes* such as island attraction tickets, additional 100 chances in the Sentosa FUN-Tastic Draw, and exclusive F&B Vouchers.
Date: 19 January – 4 March 2018
Time: 10am – 8pm
Venue: Merlion Plaza, Beach Plaza
#2 Strike Your Best Pose With Snoopy
See ya Santa, hello Snoopy!
Have your cameras on stand-by while you explore the island because Snoopy is coming to Sentosa!
Meet & Greet with Snoopy
Date: Every Saturday (from 20 Jan to 3 Mar 2018)
Time: 1 pm & 5 pm
Venue: Beach Station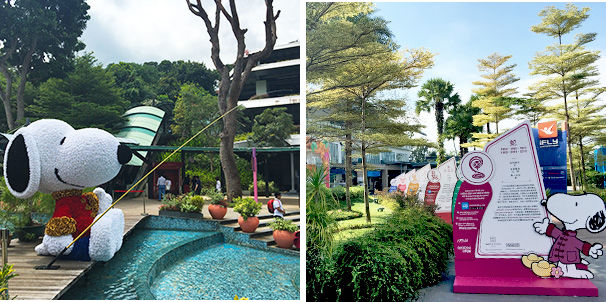 Don't forget to look out for the larger-than-life 4m tall Snoopy sculptures at Sentosa Boardwalk and Merlion Plaza. From now till the end of 2018, entry to Sentosa via the Boardwalk is free.
Curious to find out what this year brings for your Zodiac sign? Get your fortunes checked at the Snoopy-themed Zodiac Boards at Beach Station (Next to iFly Singapore).
#3 Catch Airborne Lions and Lighted Dragons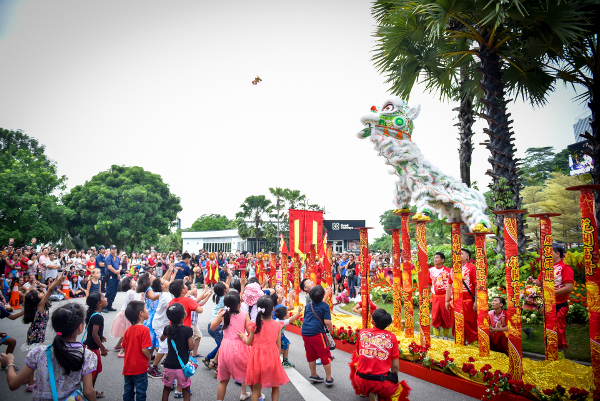 What's Chinese New Year without lion and dragon dance? Happening only during the first 3 days of CNY, don't miss the energetic and acrobatic display of Lion Dance in the day, followed by an electric LED Dragon Dance at night.
Date: 16 – 18 Feb 2018
Venue: Beach Plaza
Time: 4.30pm & 6.30pm (Lion Dance)
Time: 8.10pm & 9.10pm (LED Dragon Dance)
#4: Come Huat May  – Take A Wefie With Festivity Characters And Stilt Walkers
Take a Wefie with the God of Fortune and other Festivity Characters! While exploring the island, keep your eyes peeled for these famous characters who will be walking around for photo opportunities. Who knows what luck and fortune they may bring you this New Year.
Date: 16 – 18 Feb 2018
Time: 11am to 7.30pm
Venue: Merlion Plaza
#5 Dear 2018, With Love and Prosperity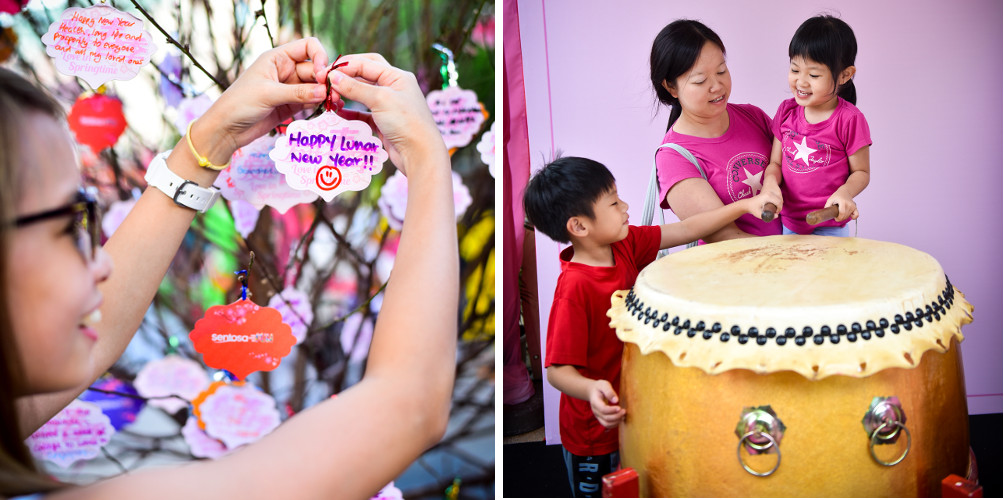 Get your kids involved in writing down their well wishes for the whole family at the Pen-A-Wish booths. While you're there, head on down to the Prosperity Drums stations to unleash your inner percussionist.
Venue (Pen-A-Wish booth): Merlion Plaza
Venue (Prosperity Drums Stations): Merlion Plaza & Sentosa Boardwalk
Time: 10am – 8pm
#6 A Cultural Excursion For The Whole Family
Bring your kids to a cultural excursion like no other. Take a walk down Fortune Street at Resorts World Sentosa and let your little ones explore and learn the fascinating ways of culture from the East to the West. Interact with masters from 9 different schools of divination and witness their skills live.
Date: 16 – 25 Feb 2018
Time: 12pm – 10pm
Venue: Festive Walk, Resorts World Sentosa
Price: $38
Tickets can be purchased at Resorts World Sentosa Attractions Counter or RWS Invites Counter.
#7: Enjoy a Special Promotion at KidZania Singapore
KidZania Singapore, the world's fastest growing family entertainment phenomenon, is a unique, safe and interactive indoor edutainment centre where children can experience the world of adults in a replica of a real city.
Watch your children navigate and explore this huge city-themed park, complete with buildings, paved streets, vehicles and a functioning economy, just like in a real world!
Flash this article at KidZania Singapore's ticketing counters to get 1 Adult + 1 Kid ticket (Bundle) @ S$80 (U.P. S$93) and an extra 20 kidZos.
Validity: 19 Jan – 31 Mar 2018
Please visit Sentosa website for the latest operating hours.
#8: Ahoy! Up The Fun Factor At Palawan Pirate Ship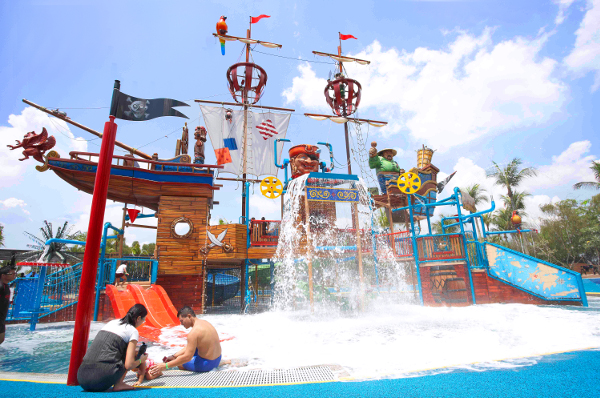 A water play area designed for children aged 3-10 years old, this is where the little ones reign, but the whole family is welcome on board The Palawan Pirate Ship to share in the fun too. Watch out for the giant bucket as it tips over once it's full.
Opening Hours: 10am to 6pm
Opens daily
Admission to the Palawan Pirate Ship is free.
Huat are you waiting for? Make your way down to Sentosa, where fortune and fun awaits you and your family.
*Terms and Conditions apply