Happy 'Hellos'. Warm smiles. Flying hugs. Step through the door of Happy Train and it's not just the welcoming atmosphere of familiarity among the teachers, parents and children; there is also a sense of friendliness and affection.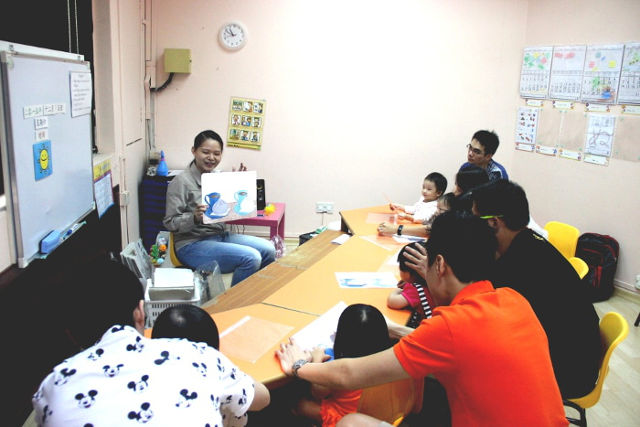 Perhaps this is what the school's philosophy – Education of the heart – is all about. "Beyond our holistic brain development programme, our mission is to develop a child's intrinsic desire and love for learning, because if they genuinely want to learn, they will learn it well and fast," Jacqueline Neo, Co-founder and teacher at Happy Train adds.
⇒ Related Read: What Children Need For A Holistic Brain Development
Heart to heart
Why do parents need to sit in with their children, even when they are independent and capable of learning on their own? Jacqueline, who has 12 years of teaching experience under her belt, shares that the right-brain training methodology adopted by the centre comes from the ideology of education of the heart.
"Children need their parents' support when they grow and this includes the learning process. When parents sit in class with them, they can learn together. This also gives parents the opportunity to observe their child's learning style and abilities." The centre believes strongly in the importance and positive impact of parent-child bonding. In all their classes, each child has to be accompanied by at least one parent.
Developing body, heart and mind
There are over 20 activities conducted in a single Happy Train class. To a normal bystander, the back-to-back activities in one sitting might seem overwhelming. However, tempo and rhythm are very important to keep the lesson stimulating and effective. This is because the right brain processes a large amount of information at a very high speed, says Jacqueline.
⇒ Related Read: Whole Brain Learning Activities
Children also absorb and learn the most during their 'input' stage. "This stage occurs when they are one to two years of age. In fact, children have the ability to discern and differentiate many things. For example, they are able to notice different tunes and tones at a young age." From three years and above, which is the 'output' stage, they start to show signs as they begin to verbalise their thoughts and communicate.
First-time parents Alvin Choo and Angie Koh were clueless when it came to engaging with their girl Audrey. They enrolled her in the programme when she was just 10-months old and saw how she progressed over the years.
"Audrey has developed an inquisitive character and challenges her teachers with her "whys". She impressed us when she was able to easily recite the biblical verses we taught her, without any prompting or help. The programme has not only benefited her, but us parents too! We picked up the catchy songs sang in class and have fun singing it together at home. It is truly a place where learning takes place in a fun and encouraging environment."
Teachers with a heart
Devoted and passionate. These are the words used by most parents to describe the teachers at Happy Train. "The teachers are devoted to their job and they show passion in their jobs. This further reassures us that we have made the right choice to continue with this course," Lim Chor Hua affirms. The father of one enrolled both his children into the programme since 2009.
Alvin and Angie also observed Audrey's close relationship with her teacher."She loves her teachers in Happy Train. They have built a special bond with her over the years and Audrey always looks forward to her weekly lessons. The teachers are caring, fun-loving and constantly wear a smile on their face."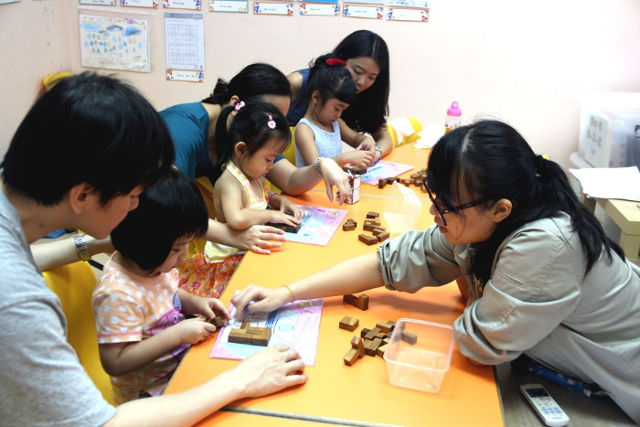 Besides possessing positive character traits, teachers at Happy Train undergo three months of training to equip themselves with the proper techniques and skills. More importantly, they share the same values and philosophy – working in tandem with parents and helping each child to focus and learn the best they can.
Even though each lesson is parent accompanied, the teacher to child ratio remains low – 1:6 for the preschool and kindergarten age group and 1:4 for the infant age group. This is to ensure that each child gets the maximum attention and support from the teacher.
A bilingual and holistic programme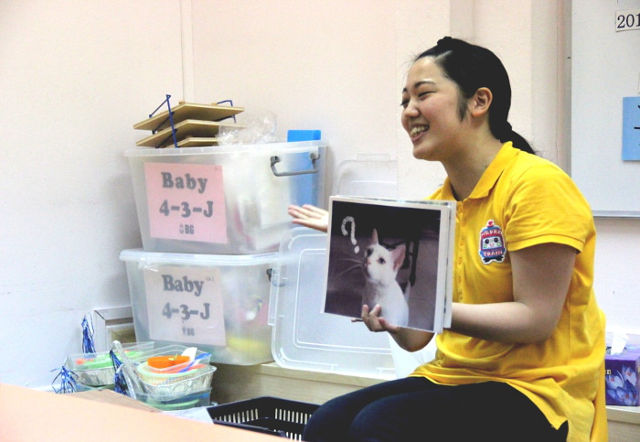 Jeromy Ngian, a father to three-year-old Aiden, mentioned how his son was able to learn both English and Chinese efficiently. "Aiden started class with Happy Train since he was six-months-old. At 18 months, Aiden learned the pronunciation and meaning of words very quickly. He could identify pictures and objects he has seen only once, and was able to count to 20 in both languages."
The father reiterates, "The key strength of the programme is the experienced and engaging teachers, structured curriculum, customised learning resources and exposure to both English and Chinese."
Foster your child's mind, body and heart with Happy Train, where the journey of learning is always fun and exciting!
Trial classes are available. Call to make an appointment today!
Website: www.happytrain.com.sg
Happy Train Pte Ltd – Bugis (Headquarters)
87 Beach Road Chye Sing Building
#05-01 Singapore 189695
Tel: 6336 5080
Email: enquiry@happytrain.com.sg
Happy Train Centre – Tampines
CPF Tampines Building, 1 Tampines Central 5
#03-14, Singapore 529508
Tel: 6781 6788
Email: enquiry-tm@happytrain.com.sg
Read our Enrichment and Preschool Guide to learn about other enrichment programmes for your toddler or preschooler.
* * * * *
Like what you see here? Get parenting tips and stories straight to your inbox! Join our mailing list here.
Want to be heard 👂 and seen 👀 by over 100,000 parents in Singapore? We can help! Leave your contact here and we'll be in touch.