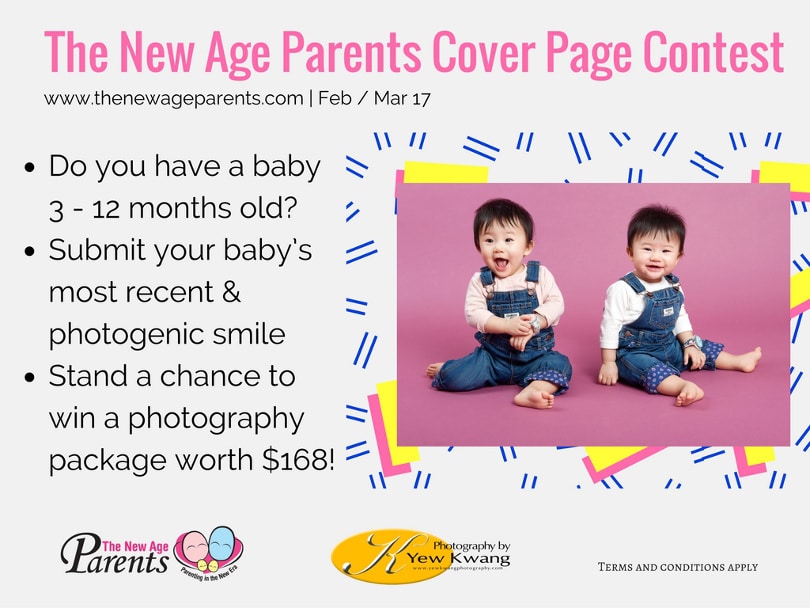 The New Age Parents™
Baby Photo Coverpage Contest
October / November 2016
Stand a chance to be the Coverpage Baby for the February / March 2017 Issue.
The New Age Parents' Coverpage Contest (Non-Public Voting)
The 1st prize winner's photo will be featured on The New Age Parents Online Parenting Magazine Coverpage
• In order to be qualified for the Coverpage Contest, you are required to join The New Age Parents mailing list (as below)
• Contest is open to babies from 3 months to 12 months old. Do submit a photo taken within the past month.
• This contest will be an INTERNAL voting contest by The New Age Parents panel of judges.
• The Judges decision are final and no correspondence shall be entertained.
* This contest is ONLY open to members residing in Singapore.
** Top 3 Winners of the past Coverpage photo contests in The New Age Parents will not be eligible for this contest.
How to participate in the contest:
1. To sign up our mailing list, fill in your particulars below:
(Existing members need not sign up again. New members need to check your email after signup to confirm subscription)
2. Submit your photo via this link https://a.pgtb.me/pQkHnq.
The contests photo submission ends 30 September 2016.
---
Information on the Photography Packages:
1st Prize Winner

– Coverpage Model for The New Age Parents Online Parenting Magazine Singapore.
– Photography by Yew Kwang package
* Up to 45 minutes of shoot in studio
* 2 different outfits (self provide)
* 10 high resolution images in CD ROM
* Value of package – $168
Terms and Conditions Apply.