Annie, the well-loved family musical is back! Catch it at the Grand Theatre at Marina Bay Sands this August and September.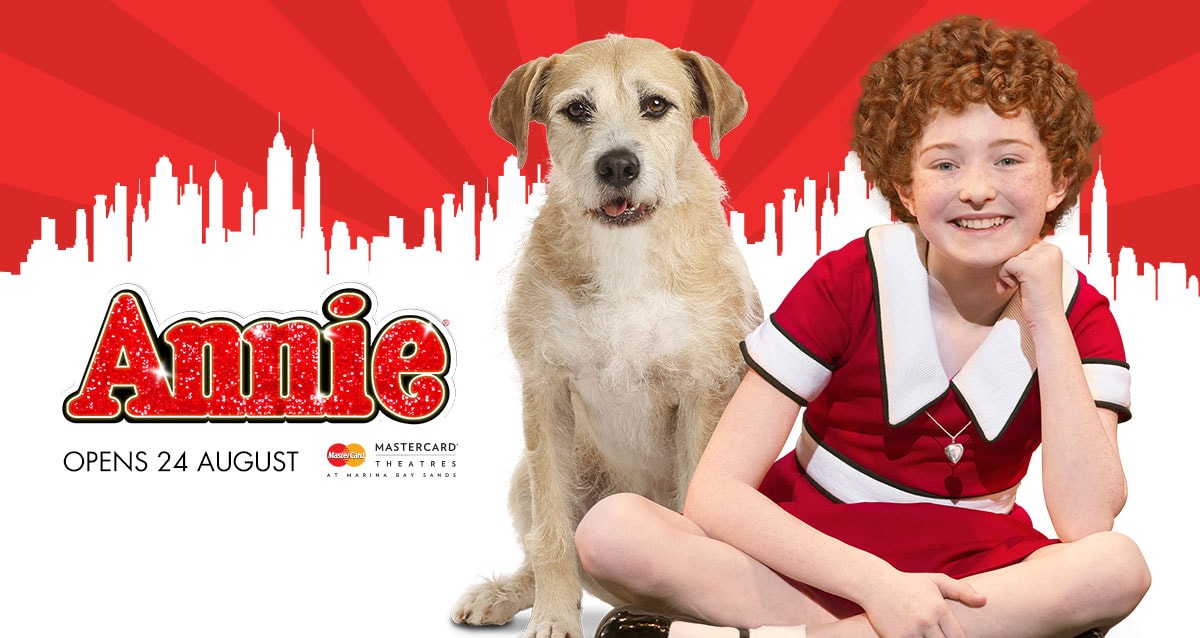 Who's the girl with the fiery red locks?
Annie is a young orphan girl who lives in an orphanage run by the opportunistic orphanage head Miss Hannigan. Annie's seemingly hopeless situation takes a dramatic turn when she is selected to spend a short time with the very wealthy industrialist, Oliver Warbucks.
With her cheery personality and warmth, she earns the trust and charms the hearts of Mr Warbucks. He decides to help Annie find her long lost parents by offering a reward if they can come to him and prove their identity. However, Miss Hannigan, her evil brother and a female accomplice plan to impersonate as her parents to get the reward for themselves, which puts Annie in great danger.
Will Annie be able to find her real parents?
Annie: A Family Musical For all
If the story is not compelling enough, we give you more reasons why Annie is a MUST-WATCH musical with your family!
1. The title role of Annie is played by Heidi Gray, an 11- year-old actress from the U.S who makes her tour debut
2. Catch 6 young starlets aged 7 to 10, who were chosen out of 170 children during auditions in Singapore earlier this year
3. Keep your eyes peeled for the 2 canine stars; Sheppi the Border Collie and Casey the Golden Retriever on stage! Both dogs play 'Sandy', the stray dog that Annie rescues and adopts in the story
4. Despite the setbacks that orphan Annie face, the musical teaches one about tenacity and resilience
5. As the story unfolds, watch how Annie faces these obstacles head on with optimism and confidence. Just listen to the lyrics of the song "Tomorrow" and you'll know why
6. It's an inspiring rag to riches story; with an underlying message that things can change for the better when we believe and have the courage to take action at the opportunities given to us in life
7. It's one of the greatest Broadway hits of all time!
8. The show won tons of awards – 7 Tony Awards® (for Best Musical, Best Book, Best Original Score, and Best Choreography), the New York Drama Critics Circle Award for Best Musical, 7 Drama Desk Awards, and the Grammy for Best Cast Show Album
9. It's a classic! It has been performed in 28 languages around the world for 37 years
PLUS 11 Fun Facts You Probably Didn't Know About The Musical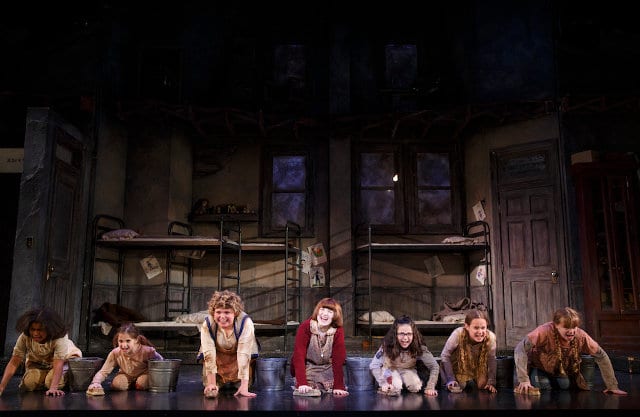 1. It was inspired by a comic strip that was first published in 1924 and actually happened by accident!
2. In 1970, lyricist-director Martin Charnin bought a coffee table book which was a collection of comic strips. The book was meant to be a Christmas gift for a friend but the store clerk was too busy to wrap the book, so Charnin took the book home to wrap it himself. He read it and fell in love with the story. He decided to secure the rights to the story and the rest is history.
3. The first musical of 'Annie' was performed in 1977
4. The original production ran for a record 2,377 performances before it closed
5. The New York Times estimates that Annie is produced 700 to 900 times each year in the U.S.
6. 'Annie' features a 25-member company from the U.S.
7. Besides people, the cast of 'Annie' also includes an adorable furry four-legged friend. Sheppi the Border Collie and Casey the Golden Retriever are part of the Singapore tour cast
8. The 2016 U.S. Tour of 'Annie' is directed by the original lyricist and director Martin Charnin, for the 19th time!
9. Charnin's friend never got the book in the end. A bummer for him but not to all the audiences around the world who have been inspired and awed by the story of Annie!
10. As of now, the show is the 13th longest running American musical in Broadway history
11. The song "Tomorrow" has become one of most sung Broadway songs in history. It has been recorded by Barbra Streisand, Johnny Mathis, Cissy Houston, Grace Jones, Idina Menzel and more.
Here's a sneak peek at some of the musical's most popular hits.
What are you waiting for? Come sing along with everyone's favourite red-head today!
Win a pair of tickets to catch this uplifting performance in our Annie Tickets Giveaway
TICKETING AND SHOW INFORMATION
Date: 24 August – 11 September 2016
Venue: MasterCard Theatres, Marina Bay Sands
Cast: The International Tour features a cast from the US
PERFORMANCE TIMES
Tuesday – Friday 7:30pm
Saturday: 2:00pm and 7:30pm
Sunday: 1:00pm and 6.00pm
TICKET PRICE From $65
* Excludes the booking fee of SGD$4 per ticket
BOOKINGS
INTERNET: entertainment.marinabaysands.com/events/annie0916
PHONE: +65 6688 8826
IN PERSON: Marina Bay Sands Box Offices (Museum, Theatres, SkyPark, Retail Mall and Hotel Tower 1 Lobby).
For further information: www.anniethemusical.com; @ANNIEonTour; www.facebook.com/AnnieTheMusical
For all the latest on ANNIE in Singapore, including contests and giveaways, like and share this page with your family and friends! www.fb.com/BASEentertainmentAsia