Mindfulness for kids? A marching band? Budding social entrepreneurs?
We list down unique programmes offered at these preschools.
Mindfulness Matters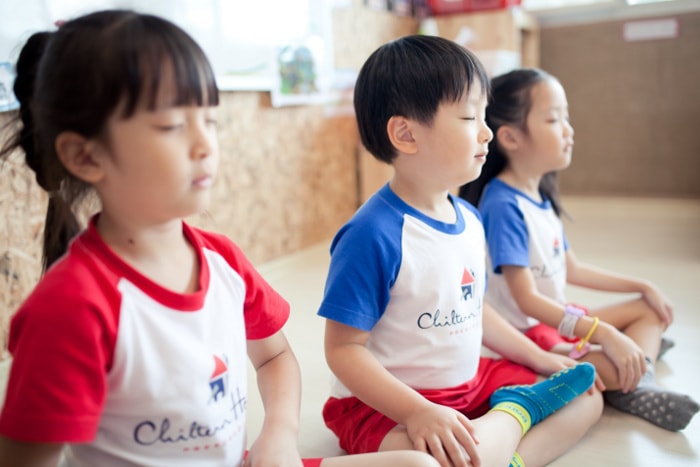 Mindfulness is a mind-body based training where your attention is directed to an experience. It can also be drawing your attention to your thoughts, feelings and body sensations, to be aware of them and to better handle them.
In Singapore, more than 10 primary and secondary school have introduced mindfulness practices.
At Chiltern House Preschool, five-minute daily mindfulness sessions are conducted from Nursery One and above. A variety of activities are adopted to make practicing mindfulness fun and engaging for the young. It could be children lying on the floor watching their breathing buddy (a small puppet or bean bag) moving up and down on their tummy as they take big, deep breaths.
Photos: Chiltern House Preschool

Ms. Julia Gabriel, Group Managing Director and Founder of Julia Gabriel Education, who began practising mindfulness nine years ago when she was diagnosed with cancer, believes many children in classes struggle not because of their lack of academic ability, but because they cannot focus. The school has not only seen improvement in the classroom, but even parents have commented their children applying it at home.
Singapore's first and only preschool marching band
Inspired from Osaka, Japan, a prefecture well-known for its preschool marching band history, Kinderland Yio Chu Kang first introduced the Kinderland Marching Band into the curriculum for its K1 and K2 children in 2010. Since then, the band has been invited to perform at multiple major events.
Taught by experienced music specialists, children are exposed to a variety of instruments such as the snare drum, tenor drum, bass drum, twin tom tom, electronic keyboard, glockenspiel and pianica. The Marching Band programme takes place twice a week and is only offered at Kinderland Yio Chu Kang.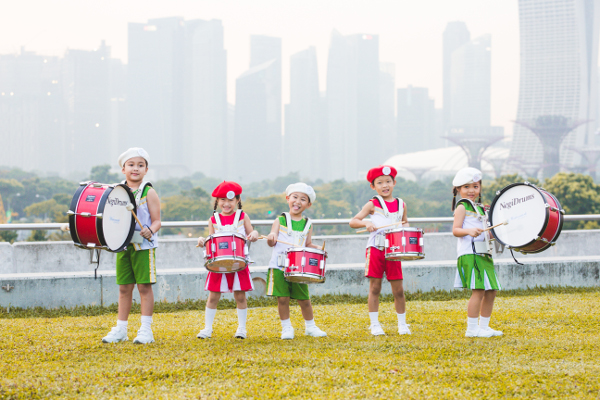 Photos: Kinderland
Starting on Social Entrepreneurship
During the school holidays, kindergarteners at Dreamkids will be busy developing, planning, and implementing community projects as part of their Social Entrepreneurship programme. Under the guidance of teachers and their parent's support, children decide who they want to help and what they want to do. Through the programme, the school hopes to support and develop self-sufficiency, creativity, empathy, rational thinking, and entrepreneurship skills.
Photo: The New Age Parents
Inspired by the story of 4-year-old cancer patient Alex Scott from the United States, who sold Lemonade and raised $1 million for childhood cancer research, the K1 and K2 students embarked on their own lemonade stand project in June 2017. Other past projects include selling hand-made mugs to raise funds for Dads for Life and hand-made dream catchers to raise funds for Make-A-Wish Foundation.
By Michelle Ang
For more enrichment programmes and preschool tips, read our Enrichment and Preschool Resource Guide, or download it here
Running a service or business targeted for parents? Reach out to a wider audience in our next Enrichment and Preschool Resource Guide. Leave your contact details here and we will get in touch with you.