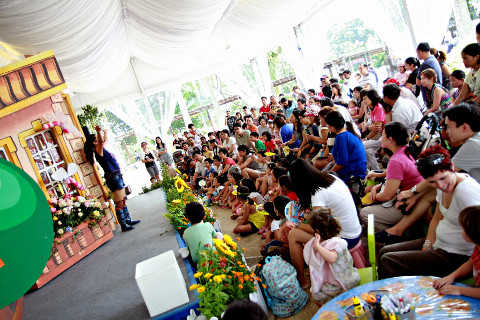 A PLAYful June awaits you and your whole family. Whether it is engaging in adventurous tales in Storytelling Comes Alive! with Playmobil or exploring the first ever larger-than-life Playmobil Western House in Asia, take some time off to spend some quality family time as you and your little ones explore the trove of activities around the island.
TNAP lists down the 6 reasons why you should spend this June Holidays at Sentosa.
When: 1 – 30 June daily
Time: 11am – 7pm
Where: Sentosa, Images of Singapore Forecourt
FREE* Event
*Terms and Conditions apply. Sentosa island admission payable separately.
Reason #1: PLAYful Moments with Playmobil
Welcome to the Western House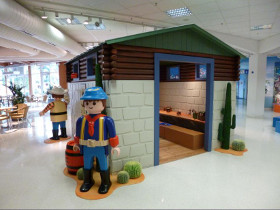 The Western House is making its appearance in Asia for the first time, specially imported all the way from Germany. Don't miss the opportunity to set foot into the larger-than-life Playmobil Western House. It will make a great photo opportunity for the whole family!
Bidding For A Good Cause
The Egyptian Diorama set was released in 2009 and has since been discontinued. This highly sought after complete set is worth over $2,000 and will be up for bidding. All proceeds will be donated to charity.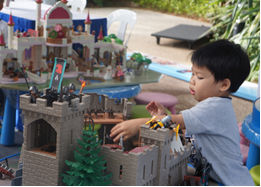 Playmobil Play Pit and Toy Shop
Children will be delighted to play with the latest Playmobil series yet to be launched in Singapore. Pick up unbeatable bargains and limited edition Playmobil sets sold only at Sentosa! Trying to find that missing piece to complete your set, you might want to try your luck at the Toy Shop!
Little Chefs at Playmobil Café
Drop by the Playmobil-themed cafe for a tasty snack, or enjoy Pizza-Making. Plus, you get to receive a FREE* exclusive Playmobil Premium Figurine with every Kid's Meal at $8.90 per set or Pizza-Making session at $10 per session.
*Terms and Conditions apply. While stocks last.
Reason #2: Storytelling Comes Alive!
It's Story Time!
Classic fables meet with a special twist! Help Hansel and Gretel find a way to escape from the Ogre, Get the Beautiful Princess lift the curse for The Dragon Prince & follow Andy and the Magic Compass on adventures beyond his wildest imagination!
When: Every Tue, Thu & Sat
Time: 11.30am, 3pm & 5.30pm
The Puppet Master Musical
Surrounding the Playmobil theme, see how the 2.2m tall puppet master and his assistant helps the ailing puppet fairy to search for sparkle and bring back the life in her.
When: Every Wed, Fri & Sun
Time: 11.30am & 5.30pm
Rosemarie Somaiah
Veteran story teller Rosemarie Somaiah engages and captures you with her fun and creative story telling session. A partner with Asian Stortelling Network and having many years of story-telling experience both locally and internationally, Rosemarie is also a published poet and author.
When: 5, 7, 12 & 14 Jun (Wed & Fri)
Time: 3pm
Reason #3: Groovy Good Time
'Tok Tok Chiang' by Nick Shen
After his win at the All-Asian Star Search Singapore in 1999, Nick Shen started his showbiz career on television. But acting is not his only passion. Teochew Opera remains close to his. Appreciate this nostalgic art form as Nick Shen fascinates you with his talent of 'face-changing', or also known as 'Bian Lian' in Chinese.
When: 19, 21, 26 & 28 Jun (Wed & Fri)
Time: 3pm
Ukulele & Dance Performance
Pick up the basics of Ukulele in minutes with Ukulele Movement. Or let POLW Wonder Crew, Michelle, serenades you with her melodious tunes. Catch self-taught dancer, SatriaLala, as he connects his every movement into the pulsating music!
When: Every Thu, Fri & Sat
Time: 2pm
Dance Musical by Tanglin Arts Studio
The talented students of Tanglin Arts Studio will express their stories to you through their bodies, as they sway, shake and jive away!
When: Every Sun
Time: 3pm
Reason #4: Flex Those Creative Muscles
Little Hands & Minds
Engage the little ones at this art and craft sessions and see them turn simple materials to beautiful Art of button badges, aprons or storybooks.
Price: $10 per activity (Sentosa Islander Members get 50% off*)
Special Deal: 1-for-1 activity on every Monday!
*Terms and Conditions apply. Valid for up to 2 redemptions per card per day
Spend a minimum of $100 at participating outlets on Sentosa and redeem a FREE* exclusive Playmobil Premium Figurine! Hurry, while stocks last! Pssst… Sentosa Islander Members only need to spend a minimum of $80 to enjoy this.
*Terms & Conditions apply.
Reason #5: More PLAY around the island
Weave a Tale with Playmobil
Bring out your kids' hidden creative talent in writing their own fairy tale or superhero comics. Let their imaginations come to play with Playmobil's comic strips at POLW! Admission charges apply. Check out www.polw.com.sg for more details.
Finding Dr.H @ Images of Singapore
Excuse me? Have you seen Dr. H? Embark on an epic quest to rescue a bumbling scientist Dr. H trapped in time. This immersive experience uses technology to engage children and encourage imaginative play to understand Singapore's history better.
When: Now till 30 Jun
Price: $10/Adult; FREE* for children (12 years and below)
*Terms and Conditions apply. Valid for up to 4 children with every full paying adult.
NEWLY RELAUNCHED! Sentosa 4D AdventureLand
A whole new generation of movie magic awaits you! Enjoy unlimited entries to 3 mind-blowing interactive 4D Movies of Journey 2, Extreme Log Ride and DESPERADOS in 4D.
Where: Imbiah Lookout, Sentosa 4D AdventureLand
Time: 10am – 9pm daily (Last entry 8.15pm)
Price: $38.90/Adult; $26.90/Child
Collect a FREE* exclusive Playmobil Premium Figurine when you purchase a Child Weekend Pass.
*Terms and Conditions apply. While stocks last.
Reasons #6: Great Deals of Endless Fun
Enjoy UNLIMITED island admissions
Simply sign up for Sentosa Islander Membership to enjoy UNLIMITED island admissions and a range of island-wide privileges. What's more, sign up from 31 May to 30 June and gets a special 20% off*!
Family Price: $40/Year (UP. $50); Individual Price: $20/Year (UP. $25)
*Islander Membership counters are located at Sentosa Station, Merlion Plaza and Beach Station!
The perfect way to PLAY on Sentosa
1 Pass, 1 Price, with unlimited PLAY! Enjoy up to 70% Savings with the Sentosa PLAY Pass. Play to your heart's content with the fuss-free, affordable and flexible pass to Sentosa's fun-filled attractions.
Day PLAY Pass: Enjoy the freedom to cover up to 16 captivating attractions!
From S$53.90 (UP. $183.90)
2-Day PLAY Pass: Enjoy 1 day at Universal Studios Singapore® + 1 day at Day PLAY Pass attractions!
From S$95.90 (UP. $237.90)
For more information, visit www.sentosa.com.