With Term 4 coming soon and the accompanying End-of-year examinations, do you want to learn how you can
– strengthen your children's immune system during stressful exam period
– enhance memory and learning ability for the coming exams
through Meridian Techniques that are highly effective, yet simple to remember and easy to apply in our busy everyday lives? On top of its benefits in physical and mental health, the Techniques also promote parent-child bonding and promote emotional well-being.
Come join us for a hands-on, fun and interactive session with your child.
Date: 6 September 2013 (Friday)
Time: 715pm to 830pm (Registration & Refreshment starts at 715pm)
Venue: 34 Haig Road S438739 (Dewdrops Student Care Center)
Cost: Free Admission (Registration Required. No walk-in please)
Participants: Parent and Child (6 years to 12 years old)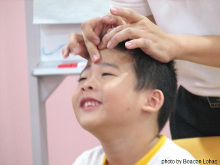 Register via SMS at 93897227 indicating
Participant Name
Email Address
Postal Code
Age of child
About the Trainer
Ms Tay Li Huan, co-founder of Beacon LOHAS, holds certificates in Holistic Aromatherapy, Basic TCM and Meridian Physical Therapy. She is the co-creator of the LOHAS Meridian Massage with Mr Lim Peng Tatt. This workshop has been successfully conducted in kindergartens, CCs and primary schools.
About the Organiser
Dewdrops Student Care offers after-school student care services for primary schoolers. We believe greatly in promoting pupil well-being at the center through our programme and professional yet personalised care. Besides helping parents to raise children, Dewdrops hope to support all parents in raising happy, healthy children through various events and workshops.
Contact Information
Address: 34 Haig Road Singapore 438739
Telephone: 67477806, 9389 7227
Website : www.dewdrops.com.sg
Facebook: www.facebook.com/dewdrops.sg
Email: revitalise@dewdrops.com.sg