Special cooking class in preparation for Mother's day!
The New Age Parents was invited to CROSSCOOP SINGAPORE Bento Making Workshop for Father and Child. This event provide the opportunity for Daddies and children to make cute BENTO together in preparation for the actual Mother's Day.
The in-house clients generously sponsored Japan's high-quality products for this cooking class. We are lucky to be able to check out some of these new products that will be launched in the local market soon!
The cooking class was conducted by Ms. Shirley Wong, a local and famous KYARA-BEN (fancy Japanese lunch boxes). We were amazed with Shirley's creativity skills and her ability to communicate in simple Japanese.
Check out our photos of the busy and serious father and child teams.
We had a chance to meet the legendary Bento Blogger, Shirley!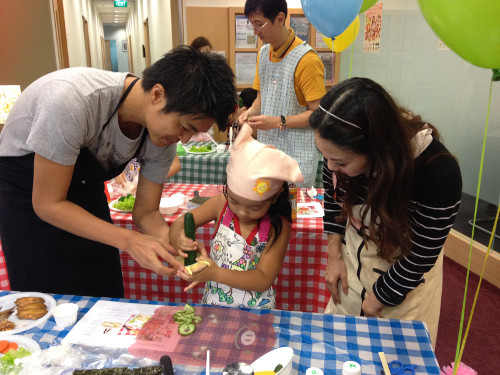 See how involved these Dad and Child Team were!
Look at how serious this Dad is! *thumbs-up*
WOW! We love this Kawaii Rilakkuma and Korilakkuma Bento!
We did it! Way to go Daddies!
About CROSSCOOP
CROSSCOOP is a well established incubation Office in Japan and they have been around in Singapore for more than 2 years. CROSSCOOP provides services such as business development, business strategy planning, PR and Marketing, etc. They inspire to be a ONE STOP platform for their client.
Contact Details:
Address: 80 Robinson Road #10-01A Singapore
Atsuko Sato (Ms)
Media Relations
TEL:64206370
Email: asato@crosscoop.com
By Crystal Tan | Photos by The New Age Parents and CROSSCOOP Singapore