Gardens by the Bay's "Blossom Bliss" floral display features more than 20 varieties of beautiful cherry blossoms.
March will be a month of excitement and anticipation, as the wait for blossoms to come into full bloom begins! These beautiful and transient flowers, known for their unpredictable blooming, are back in Flower Dome with the "Blossom Bliss" (粉色之恋) floral display.
This year, there will be more trees spread out around the conservatory, as well as new varieties that will be on show for the first time. If you visited last year's display and were captivated by charming varieties such as the Prunus Accolade, an example of quiet beauty with its simple, pale pink flowers; or the unusual weeping form of Prunus subhirtella Pendula trees, they will be back again this year.
The pretty hues of pink and white will be showcased in a Japanese-inspired landscape that features a picturesque tree-lined pathway and traditional rickshaws for the perfect photo opportunity.
Visitors can check Gardens by the Bay's Facebook page at www.facebook.com/gardensbythebay for updates on the blooming.
Date: Until 24 March 2017
Time: 9am to 9pm
Details: Admission charges to the Flower Dome apply.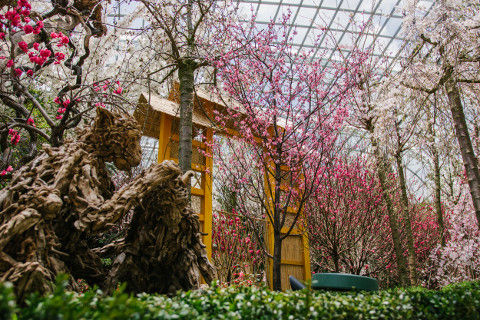 (All photos credit to Gardens by the Bay.)
Like what you see here? Get parenting tips and stories straight to your inbox! Join our mailing list here.