Country:

Zip Code:

Listed:

July 5, 2023 8:02 pm

Expires:

217 days, 17 hours
Cambridge Pre-school
At Cambridge Pre-school, we develop an innovative curriculum to equip your child with the future skills for success. As the world is rapidly changing, jobs and industries of the future are likely to look very different from those of today. Professions in Social Media, Nanotechnology, Cyber Security, Green Technology, and Cloud Computing, did not exist 10 years ago and only developed in recent years. By teaching your child to be innovative, we are preparing him/her with the skills and mindset needed to succeed in this constantly evolving world. Our award-winning well-rounded curriculum develops your child to be an Innovative Creator through iSteam, Innovative Learner through artificial intelligence (AI) and an Innovative Thinker through human intelligence (HI). Our progressive curriculum embraces the philosophy of "thinking with hands" and consists of hands-on inquiry and open-ended exploration of interesting topics which will unlock your child's creative potential and unleash his/her curiosity and love for learning.
1. AN INNOVATIVE CREATOR THROUGH iSteam
The future world that your child will live and work in would be very different from the one we live in today. We would not know what specific skills would be needed for future jobs that do not exist yet but we can prepare your child by equipping him/her with uniquely human skills that are not easily replaceable by robots and machines, such as the ability to innovate, problem-solve and think creatively and critically. Our Award-winning curriculum is a modern approach to education that exposes your child to iSTEAM (Innovation, Science, Technology, Engineering, Arts and Mathematics) and has been designed to develop essential future skills in fun and age-appropriate ways to prepare him/her for future success.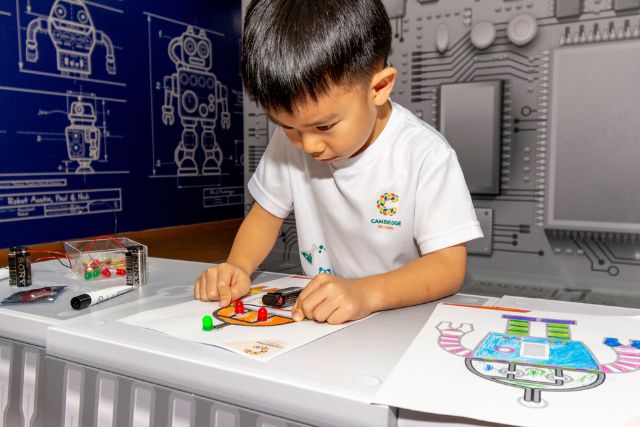 2. AN INNOVATIVE LEARNER THROUGH ARTIFICIAL INTELLIGENCE (AI)
At Cambridge Pre-school, we do more than just cover the fundamental literacy skills of reading, writing and Mathematics. Your child will have many opportunities to enjoy books, build vocabulary, articulate his/her thoughts in front of an audience, and practise creative writing. We also introduce AI applications such as generative AI for your child to utilise and collaborate with peers to create innovative compositions and literacy projects to enhance learning. Our Chinese AI-enabled tool is designed to assess your child's abilities and needs, as well as track your child's progress in the language, through exciting and interactive activities. Naturally, your child will learn best when he/she is more engaged and motivated to learn.
3. AN INNOVATIVE THINKER THROUGH HUMAN INTELLIGENCE (HI)
Unlike machines, we can develop intelligence that is unique to humans. Human Intelligence (HI) is the cognitive capacity to learn from experiences, adapt to changing situations, and comprehend and apply abstract concepts. At Cambridge Pre-school, your child will develop HI through our HI curriculum, emphasising on Multiple Intelligences (MI), Character Development and Executive Function (EF).
🌐 cambridge.school
📧 enquiries@cambridge.school
☎️ 9630 4466
Youtube: @cambridgepreschool
Instagram: @cambridge.preschool
Cambridge @ Artra Alexandra
📍 12 Alexandra View #02-01
Artra Singapore 158736
☎️ 6592 5168
📧 artra@cambridge.school
Cambridge @ Dairy Farm
📍 1 Jalan Suasa Singapore 678493
☎️ 6766 8208
📧 dairyfarm@cambridge.school
Cambridge @ Fernvale
📍 409A Fernvale Road #01-46 Singapore 791409
☎️ 9731 6403
📧 fernvale@cambridge.school
Infant Care Available
Cambridge @ Kingsford Waterbay
📍 50 Upper Serangoon View #01-01
Kingsford Waterbay Singapore 533893
☎️ 6904 3961
📧 kingsford@cambridge.school
Infant Care Available
Cambridge @ Macpherson
📍 50 MacPherson Road #01-01
Amazana Singapore 348471
☎️ 6741 1508
📧 macpherson@cambridge.school
Infant Care Available
Cambridge @ Robertson
📍 11 Unity Street #02-01
Robertson Walk Singapore 237995
☎️ 6737 9139
📧 robertson@cambridge.school
Japanese Curriculum & Teachers Available
Cambridge @ Sengkang
📍 50 Sengkang East Way Singapore 548601
☎️ 6315 3183
📧 sengkang@cambridge.school
Cambridge @ Serangoon Gardens
📍 22 Kensington Park Road
Serangoon Gardens Country Club Singapore 557271
☎️ 6282 8455
📧 serangoon@cambridge.school
Cambridge @ Yio Chu Kang
📍 1 Tamarind Road Singapore 806011
☎️ 6481 6252
📧 yck@cambridge.school
Leave a Comment: