In 2012, mum-of-three Rena Chew embarked on a special adventure to start an art studio with a difference. As a speech and drama teacher herself, she knew and valued the importance of nurturing each child's spirit and building healthy health esteem.
However, when her son entered Primary 1, he encountered a discouraging form teacher who would often pick on him in school, and this caused him to lose confidence in himself and even entertain thoughts of self-harm.
Even his love for art was not enough to keep him going anymore, and Rena knew she had to do something about this herself. As she did her research, she discovered how good art therapy can help children to overcome such setbacks and negativity.
HeART Studio was birthed from her dream to nurture her son's love for art and love for himself, through providing encouraging guidance and effective skills training.
7 years down the road, the Studio is now home to a team of dedicated and passionate teachers, and continues to sow the seeds of self-confidence, creativity and determination in the many children who come under their wing.
So what makes them stand out from the rest of art programmes out there? TNAP paid them a visit to find out.
Learn At Their Own Pace
Children are assigned to classes based on their age range. Each class is well-suited to the level of maturity, dexterity and experience of the child, and younger children are given more hands-on help, while older children learn mostly by following the teacher's demonstration and experimenting on their own.
Unlike most other art studios in performance-oriented Singapore, heART Studio prioritises building each child's curiosity, confidence and creativity over creating an Instagram-worthy product.
This does not mean anything goes during the art classes. All the teachers at heART Studio are graduates from LASALLE College of the Arts or Nanyang Academy of Fine Arts, and well-versed in the different art mediums and techniques.
Lessons are well planned, centred around a theme, and structured to introduce children to these different art forms in an engaging and sequential manner.
Children are guided through the usage of different mediums and approaches, yet given the space to learn independently and at their own pace. Their finished artworks might therefore seem unpolished at times, based on our adult perspective, but are precious works of art painstakingly crafted by the child.
Grow In Perspective
We visited heART Studio to experience how the different age classes were conducted and were impressed by the way each teacher interacted with his or her students. Art is made accessible to the children at every level, for example through catering different settings for each age group and art medium.
The youngest group (Little Botero, 3 – 4.5 years old) sat on small chairs at a table, very much they would in kindergarten. Those in Little Dali (4.5 – 6 years old) were painting with acrylics that day, but their easels were cleverly lowered to near to the ground, so they could sit on the floor to paint!
The Little Picasso group (6 – 8 years old) were creating self-portraits using clay on canvas – how interesting! And finally, the oldest group, Young Van Gogh (for children aged 8 years and above) were sketching birds in pencil on raised easels.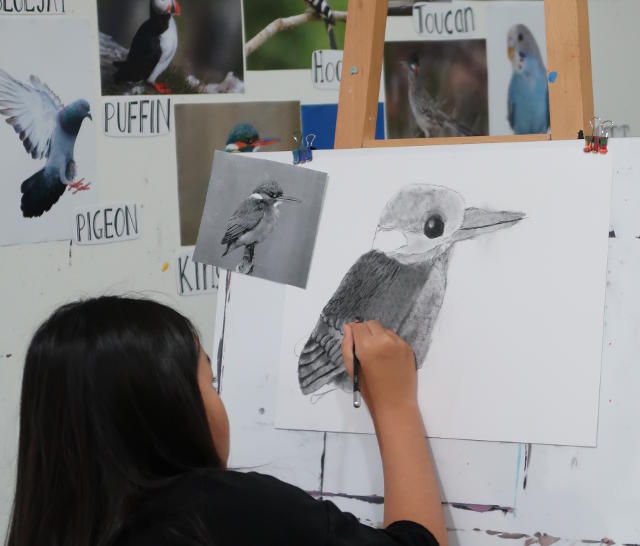 During the session, we would often hear the teacher asking the children questions, instead of "telling" or "spoon-feeding" them what to do. If one child doesn't know the answer, someone else in the group would probably chime in to help.
In this way, the children are helping each other to see new perspectives and find answers together, and learning to view each other as team mates instead of competitors.
"There is no right or wrong in art but to allow our children to be special and create their special drawings with their heart," Rena shares.
Dedicated, Passionate And Caring Teachers
On that note, we must commend the very dedicated and caring teachers at heART Studio who have a great rapport with the children. Children are encouraged to persevere with new or difficult tasks, allowed to make mistakes along the way and then coached to learn from those mistakes.
It was evident from the sessions how much the children enjoyed these art class times and felt comfortable with their teachers. There was lots of laughter and very little scolding or stern instruction. They were really enjoying the process of making art!
Sabrina, sends her two kids, Hui Jie and Wen Jie to heART Studio admits how it is never easy to teach young children. "And yet, the teachers are ever so patient, each lesson teaching them, talking to them and encouraging them. Now, the teachers are like his close friends and they love their art lesson," the mum exclaims.
There are many more positive comments from parents whose children are enrolled in heART Studio, with glowing reviews of the caring nature and expertise of its teachers.
Rena also shares that each teacher seeks to build good relationships with the parents of each child, and will give them regular updates on their children's learning improvement along the way.
Portfolio Building Classes For Older Kids
Besides their regular children's art classes, heART Studio also conducts a special Portfolio Building class for children aged 10 years old and above, a programme that caters to students preparing for secondary school, who wish to develop their portfolio in the Visual Arts.
Children in this class will gain valuable critical thinking, creative problem solving and effective communication skills, as well as tackle various art mediums in greater depth.
heART Studio also runs special programs during the holidays, such as art camps or craft sessions. Do look out for their Holiday Programmes on their website or Facebook page!
Visit heART Studio studio at 1 Charlton Lane #01-04, Singapore 539631. Reach out to them at 6554 7563 or drop them an email, info@heartstudiosg.com
This post is brought to you by heART Studio.
Text and photos by Dorothea Chow.
* * * * *
Running a service or business targeted for parents? Reach out to a wider audience in our Best Enrichment Classes compilation. Leave your contact details here and we will get in touch with you.
Stay in touch! Subscribe to our Telegram here for all our latest updates.