Children Storybooks Giveaway. Read our Dec 11 Story Book Recommendations and Stand a Chance to Win One of the following books. See end of post for details. Contest ends 31 Dec 2011!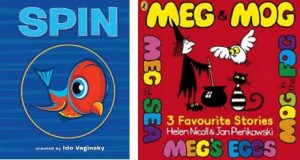 1. Spin created by Ido Vaginsky
Synopsis:
No, your eyes are not playing tricks on you… It's the magic of optical illusion. Filled with exciting animals that flip, spin and twirl, be delighted and surprised how a bird can turn into a fish, or how a cow turn into an owl. Watch how a squirrel change into a horse and back into a horse again and how cat can change into a mouse! Get ready to dive into a world of illusions like you've never seen before. Ready, set, spin!
Recommended for children 3 and above
2. Meg & Mog 3 Favourite Stories by Helen Nicoll & Jan Pienkowski
Synopsis:
Surprises wait for the three beloved characters of the Meg and Mog stories; Meg, Mog and Owl. As always, Meg the witch casts her spells with the best of intentions, but always end up with hilarious results. The dazzling and bold graphic artwork is accompanied with simple yet quirky stories. Perfect for sharing or reading alone, children will love exploring the bright colours, sounds and shapes in the three stories – Meg's Eggs, Meg at Sea and Mog in the Fog.
Recommended for children 4 years and above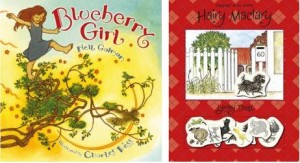 3. Blueberry Girl
Synopsis:
"This is a prayer for a blueberry girl…" A much loved baby grows into a young woman embarking upon the journey of life. As she explores the world, she begins to learn how to be brave and true to herself. An enchanting lullaby poem, this book celebrates the glory of growing up. Filled with charming and heartfelt wisdom, this book makes a perfect gift for parents or parents-to-be and young children.
Recommended for children 5 years and above
4. Magnet Fun with Hairy Maclary by Lynley Dodd
Synopsis:
Filled with fun rhymes and magnetic animals for your children to stick on the pages of the book, follow the black and very Hairy Maclary as he goes on a walk and meets other furry friends. After each short poem verse, there is a short instruction at the end of the verse for children to follow. This interactive book is a delight to read aloud to young learning readers.
Recommended for children 3 years and above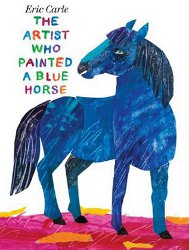 5. The Artist Who Painted A Blue Horse by Eric Carle
Synopsis:
In Eric Carle's latest book, a young artist starts his artistic adventure by painting a blue horse. Next he paints a red crocodile, followed by a yellow cow! With growing confidence, the young artist starts to joyfully paint other animals in bold, unrealistic colours and forms. This latest book by Eric Carle hopes to inspire young artists everywhere to use their imagination, and how they don't have to paint 'within the lines' or use the 'right colours'. A wonderful book to help children be comfortable and confident in their own creativity.
Recommended for children 4 years and above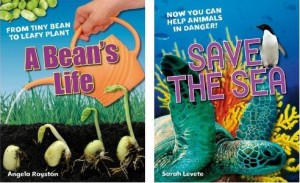 6. A Bean's Life – From Tiny Bean To Leafy Plant
Synopsis:
Green beans, red beans, kidney beans… how do beans grow? This informative book filled with fun facts and pictures to explain the life cycle of a bean plant from the beginning to the end! Some burning questions that this book might answer are, what magic ingredients make a bean grow, how a bean drinks without a mouth and why is a ladybird and why a ladybird is a bean's best friend.
Recommended for children 5 years and above
7. Save The Sea – How You Can Help Animals In Danger
Synopsis:
Our seas and oceans are in danger! All the fish and mammals and other amazing creatures that call the sea and ocean their home needs your help! This informative and illustrative book educates young readers on how the sea gets dirty and what animals are in danger from pollution and what you can do to help.
Recommended for children ages 5 and above
Reviewed by Michelle Ang
The above reviewed books can be bought at The Genius Kids>
Giveaway Contest
We have one book of each of the above children book titles to giveaway. Total 7 winners. All you have to do is
1. Join The New Age ParentsMailing List below (existing members need not sign up again)
(Existing members need not sign up again. New members need to check your email after signup to confirm subscription)
2. Be a fan of The New Age Parents
3. Fill in the form below and indicate your choice of book you would like to win
The contest has ended
The prizes are sponsored by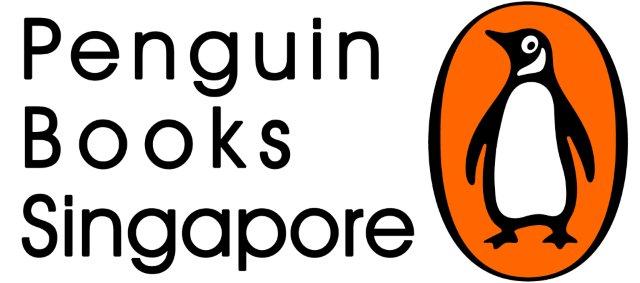 Terms and Conditions Apply.