Are you thinking of throwing out your old clothes, especially those ratty old tee shirts that have seen you through over a decade of life? Don't Toss Those Old Tees Just Yet!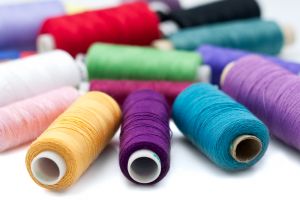 Check out these five snazzy suggestions for upcycling them into something unique for your child. You can also get the little one to join in and give you a hand!
#1. Sew it
Old tees are so soft and comfy thanks to many wearings and washings. They're great material to make some one-of-a-kind softies for your little one to play with. Simply cut out the shapes you need and stitch up the sides – by hand or with a machine. Leave an opening for some stuffing (buy from Spotlight), then sew it up, and voila, your brand new-old toy is done!
#2. Snip it
Fringe garlands are all the rage now in the party and wedding scene, and can instantly cheer up a room with their festivity and colour! Follow the video below to make some of your very own – using squares of fabric cut from those old tees in the cupboard. You can substitute cloth for paper, and hot glue or fabric glue in lieu of tape. These are great for birthday parties, of course, but can become a part of your child's room permanently as well, since they're made of cloth, and hence washable.
#3. String it
Or, in this case, more like a rope. Remember those rubberband ropes we used to jump during recess times in school? Cut thin loops of cloth by cutting right across the cross-section of your tees' sleeves. Loop them together to create chains of whatever colour mix and length you fancy. These are great as jump ropes, tying back curtains, and hanging up art pieces on the wall.
#4. Scrap it
Cut out a panel of cloth from tees that feature fun logos or patterns. Wrap around a piece of cardboard that fits into a frame of your choice, stick in place, and add some embellishments as you wish (alpha letters, flowers, buttons etc) – and voila, you've got yourself some new wall art for the room!
#5. Stick it
Cut rectangles or triangles of cloth, and tie the ends to a stick with simple knots. Instant flag! You can do big ones with a cane, or small ones with chopsticks. Plain ones are fine, but you can also use this as a way to introduce your child to the national flag or flags of our neighbouring countries.
By Dorothea Chow.
If you find this article useful, do click Like and Share at the bottom of the post, thank you.
Like what you see here? Get parenting tips and stories straight to your inbox! Join our mailing list here.