How can we help children to develop a love for science? Does it start at home? What do studies suggest about teaching science in a classroom?
Marshall Cavendish Education (MCE) understands the importance of providing a holistic education.
During the launch of their latest offerings, Khairi Abdullah, Assistant General Manager, International Markets for Marshall Cavendish Education started off by facilitating a group discussion about the role of parents and teachers in cultivating the love for science in children through hands-on learning.
Dr. Yasaman Nematbakhsh, CEO & Co-Founder, 42Lab added that it is substantial for children to be given the space to wonder while being bored. She recalled an incident when a parent kept knocking on the door because the teacher did not do anything when her child was just staring at the wall.
"Parents need to be okay with allowing their child to stare into the wall sometimes. We need to give them the space. They need to know that its okay for their child to be bored," she said.
Boredom sparks curiosity and creativity which is essential in learning Science. It is through these processes that children gravitate towards learning about the world around them.
To encourage children to develop problem-solving and critical thinking skills, MCE partnered with various enterprises to launch educational resources such as LabX, S.T.E.M project kits, Mini Science Encyclopedia and Mixed Reality for Education programmes.
Portable Biotechnology Lab Kit – LabX
In partnership with 42Lab, MCE launched its portable biotechnology lab kit, LabX. Dr. Yasaman Nematbakhsh and Dr. Data Ng, both Co-Founders of 42Lab brought us through a hands-on experience as we conduct experiments using LabX.
Using the tools found in the kit, we were tasked to conduct 2 experiments – extracting the DNA of a banana and creating edible water bottles. I've not done any science experiments for a really long time and was feeling a little hesitant.
But to my surprise, after trying it out, it felt like play to me! The instructions given in the kit were easy to understand and follow. Naturally, I found myself growing more curious and asking more questions.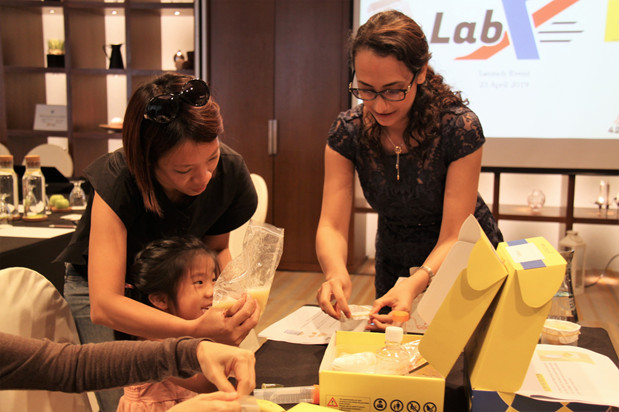 Dr. Yasaman Nematbakhsh, CEO & Co-founder of 42Lab guiding a parent and child to conduct an experiment using the LabX kit.
Currently, LabX is only available for schools to purchase through Marshall Cavendish Education consultant. However, there are plans to make it available for individuals to purchase in the future, so keep a lookout for it!
Intergrated S.T.E.M Projects
We were also shown various S.T.E.M project kits such as the traffic light control system, electric elevator and magnetic levitation train. As an educator, it warms my heart to see that schools can now tap on these resources to extend learning in their classrooms.
These project kits aim to raise students' aspirations in pursuing STEM (Science, Technology, Engineering & Mathematics) careers by building a bridge between textbook knowledge and real-world applications.
These project kits are only available for schools to purchase through Marshall Cavendish Education consultant.
Mini Science Encyclopedia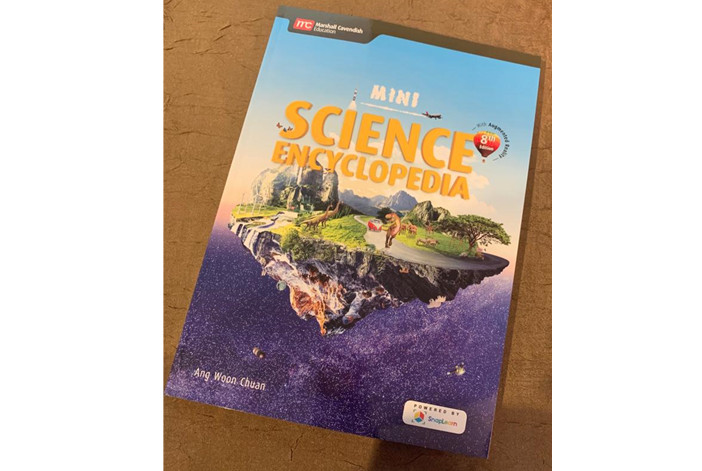 It is so apparent that technology has influenced our education. Student's learning is enhanced with Augmented Reality (AR) capabilities. All they have to do is install the app on their phones or tablet and use it to scan the codes in the book. The Mini Science Encyclopedia an example of AR can be integrated with education and learning.
For instance, after scanning the code for the human body, a computer-generated image will appear on their phones and tablet along with a voice to explain the body parts.
The Mini Science Enclyclopedia (8th edition) is available in all major bookstores in Singapore and on www.goguru.com.sg
Microsoft HoloLens
Marshall Cavendish Education has also worked closely with Serl.io to provide Mixed Reality for Education programmes and bring immersive and collaborative learning experiences to schools. TNAP was also given an opportunity to try it out.
Hands down, this was definitely the most stimulating learning gadget among all the others. The experience to be able to look at the human body parts through Virtual Reality (VR) was pretty surreal!
TNAP writer Dinah, using the Microsoft HoloLens for the first time.
After putting it on, we were brought to the menu page and learned how to click and drag images. Not only were we able to look for information about the body parts, but we were also tasked to arrange them together as partners in a game.
The Microsoft HoloLenses are only available for schools to purchase through Marshall Cavendish Education consultant.
Text and photos by Dinah Shahab.
* * * * *
Like what you see here? Get parenting tips and stories straight to your inbox! Join our mailing list here.
Want to be heard 👂 and seen 👀 by over 100,000 parents in Singapore? We can help! Leave your contact here and we'll be in touch.