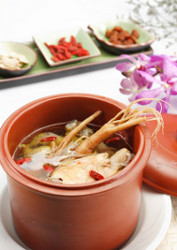 After nine months of carrying your baby, the next crucial period is the post-natal confinement stage. During this time, mothers are expected to recuperate at home to replenish what they have 'lost' during the nine months of pregnancy.
Confinement food, practices and duration differ across culture and religion, however, the main idea behind the confinement period is for the mother to rest and restore her health by eating food packed with nutrients, protein and of medicinal value. This is where the job of a confinement nanny normally comes in. However, some mothers may not wish to hire a personal confinement nanny, but still require some help in their diet.
Below are some catering services which offer confinement food Singapore:
– Chili Padi Peranakan Food and Catering
– Confinementfood.com
– Confinement-meals
– Natal Essentials
– Tian Wei Signature
Even though your baby has been safely delivered and is healthy and strong, your post-natal care is as important as your pre-natal care. Your body requires a well-deserved rest after the nine months of arduous strain. The confinement period is a crucial time where your strength and vitality must be properly replenished.
If you find this article useful, do click Like and Share at the bottom of the post, thank you.
Want more comprehensive info? Read our pregnancy e-guides here.