Instilling good reading skills in children from an early age is essential for their success. Not only does reading help them in their academic performance, it also unleashes their creativity and imagination.
However, finding a decent enrichment class that helps your child overcome the difficulties of learning to read can be a challenge. Many learning centres and tuition classes focus on teaching phonics.
Recent research has shown that phonics alone is not enough for a child to become a fluent reader. This is because learning phonics includes a reliance on memorising spelling rules and lists of sight words.
A Unique Approach To Reading
In contrast, I Can Read's specially-designed system avoids going down the route of rote memorisation by empowering students to take control of their own reading progress.
Unlike most approaches to reading, the system is backed by fifteen years of in-depth research into child psychology and English literacy. Developed by educational psychologists Antony Earnshaw and Annabel Seargeant, it is the first system in the world to link clusters of letters to single sounds in a unique manner.
For new readers, knowing how to pronounce words can be tough – especially when so many letters and clusters of letters can be associated with more than one sound.
The I Can Read system helps beginner readers overcome the difficulties they may have in transforming letters into blended sounds. First, they are taught to develop their phonological and phonemic awareness, followed by some basic phonics. Finally, they learn to decode new, unfamiliar words.
In addition to being backed by extensive research, I Can Read courses are taught by qualified reading specialists. Most teachers have numerous years of experience teaching English and working with young learners.
What Can You Expect From The I Can Read System?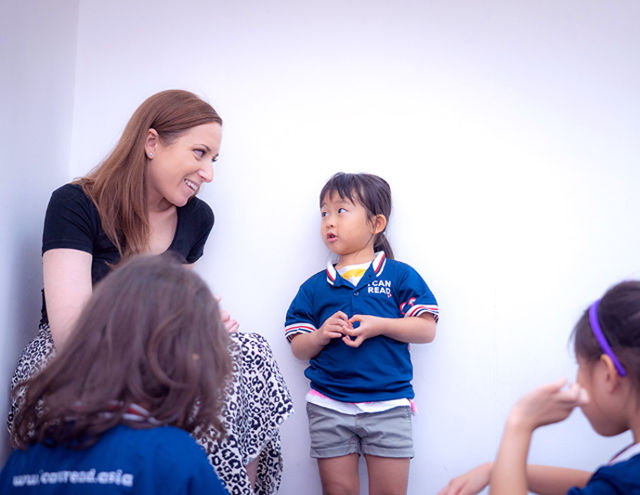 Prior to attending classes, students are given a free diagnostic assessment of their listening, speaking and reading abilities. This allows them to be placed in the most appropriate courses, and to learn at a pace comfortable for them.
For younger students who are starting out on their literacy journey, I Can Read's pre-reading courses are designed specifically to develop phonological awareness.
Aimed at children aged 2.5 – 6 years old, these courses include the development of gross and fine motor skills, dramatic play, storytime, oral communication practice and vocabulary development.
For students aged 5 – 7, the signature Reading course runs for 12 months and is structured in such a way that it develops students into independent readers.
This course consists of 6 progressive reading levels. Students will learn to automatically access sounds in words, and recognise letter combinations and clusters (as opposed to merely memorising words).
Building on from the Reading course, I Can Read Plus focuses on equipping students with essential reading and writing skills for primary school. Targeted at students aged 7 – 12, lessons involve reading, comprehension, grammar, punctuation, spelling, creative writing and oral presentations.
All primary courses are also mapped to Singapore's Ministry of Education syllabus and follow local English curriculum standards.
What Goes On In An I Can Read Classroom?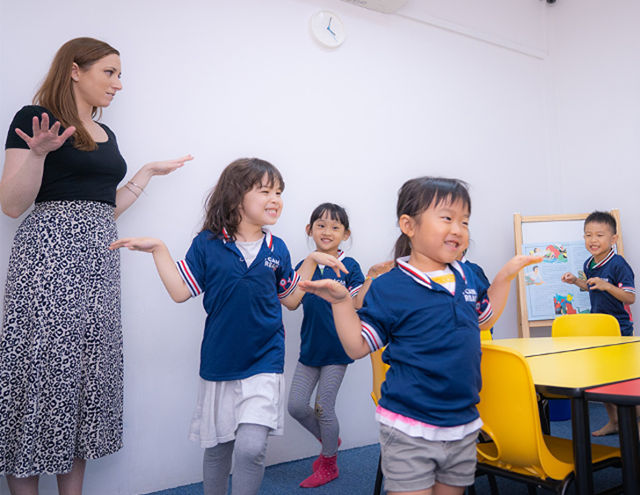 The New Age Parents got a chance to sit in on an I Can Read class, with a mix of students aged 5 -7 years old.
The lesson started with students reading sentences aloud from a specially designed I Can Read storybook, with each student taking turns to read a sentence. Students are given an I Can Read Screener to help them decode each word, sound by sound.
Students also rely on their I Can Read Code Card. This enables students to pronounce words correctly by linking letters or groups of letters to specific sounds. Each lesson teaches and reinforces one new sound from the Code Card each week.
After the reading session, comprehension questions were asked to test how well students understood the story they had read. A spelling test was also conducted afterward, followed by another reading session.
What struck us was the small class size (each class has a 1:8 teacher-student ratio) and the one-to-one attention devoted to each student. Each student is given the chance to read aloud, independently.
We also liked that students are challenged to excel, without the hand-holding you see in other enrichment classes. When students face difficulties reading a word, they are not given answers immediately.
Students are encouraged to try pronouncing a word on their own, using their Screener and Code Card as an aid. This helps them become independent readers who need not rely on teachers to tell them the answers. In turn, this is what improves their confidence in approaching an unfamiliar text.
Most importantly, students seemed to be enjoying themselves during the class, enthusiastically answering questions and engaging with the teacher. Ultimately, we believe that learning to read should be fun and interactive, and I Can Read's lessons definitely deliver in that regard!
Many parents have endorsed the I Can Read system, noticing a huge leap in their child's reading abilities.
Dad, Zhu Haifeng, shared how he and his wife struggled to find a suitable English literacy program for their son, Thomas, given how they are a Chinese-speaking family. When Thomas entered K2, they chose to transfer him to I Can Read, as they found it had a more suitable curriculum than other enrichment centres.
"Within a short time, we could see Thomas making great progress in reading English stories," says Mr Zhu. "We appreciate the help I Can Read rendered in teaching Thomas phonology, spelling and comprehension."
For more information or to register your child for I Can Read courses, visit icanread.asia.
I Can Read is located island-wide with 25 centres in Singapore, and globally in countries such as Australia, Bangladesh, China, Hong Kong, Indonesia, Malaysia, Mongolia, Myanmar, Thailand and Vietnam.
This post is brought to you by I Can Read.
By Rebecca Wong.

* * * * *
Like what you see here? Get parenting tips and stories straight to your inbox! Join our mailing list here.
Running a service or business targeted for parents? Reach out to a wider audience in our Best Enrichment Classes compilation. Leave your contact details here and we will get in touch with you.