Gastroenteritis refers to a gut (intestine) infection where there is diarrhea (frequent passage of loose or watery stools). The infection is frequently accompanied by vomiting which typically lasts 6 to 24 hours. The diarrhea usually lasts 2 – 4 days. Other associated features are fever, tummy ache and loss of appetite. The majority of these infections are caused by viruses.
Food poisoning is when the child develops gastroenteritis after eating food contaminated with the virus or bacteria. He may also get infected when he shares a cup or utensils with someone who has the virus. Another way your toddler may have picked up the illness is by coming in contact with contaminated toys or infected fecal matter and then putting his/her hands in her mouth.
How To Manage
The majority will recover with adequate rest, fever management and maintenance. If you are breastfeeding, do not stop. Feed your child for a shorter time and more often. Breast milk is the best liquid for your child. If your child is vomiting, use a teaspoon or syringe to give regular sips of liquid (commercially prepared oral rehydration solution which has the right proportion of glucose and electrolytes preferred).
Starchy foods such as bread, cereals, pasta, and rice, and fresh fruits and vegetables are the best foods to give your child in small quantity. There is no need to withhold milk or switch to a lactose-free formula (e.g. soy) unless the diarrhea is more than 4-5 days.
See a doctor if your child has any of the following WARNING SIGNS:
not willing to drink
no tears when crying
vomiting often for more than 4 to 6 hours
sunken eyes
more than 6 large, watery diarrheas in 1 day
stomach pain that is severe and does not stop
less than 5 wet diapers in a day
fast breathing
dry skin, mouth, and tongue
very sleepy or very fussy
cool or grayish skin
severe head or neck pain
green vomitus
blood in the vomit or diarrhea
bringing the knees up to stomach and crying (suggesting severe tummy ache)
fever over 39°C, or 102.2°F, for longer than 12 hours
sunken fontanelle (the soft spot on your child's head if he or she is less than 18 months old)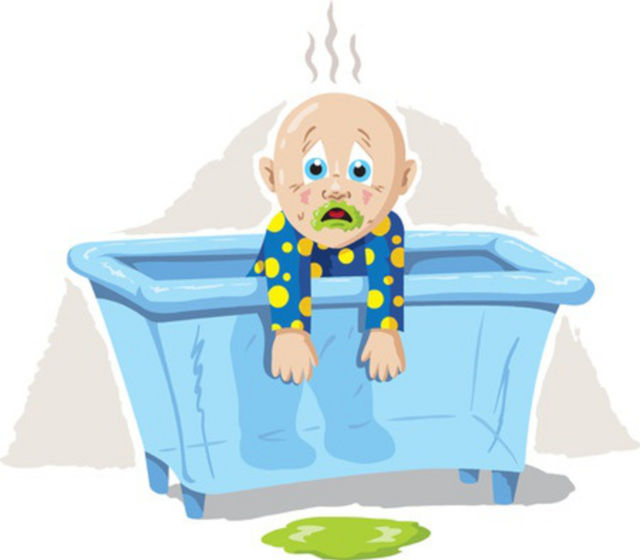 Help to lower the chances of your child getting sick
Wash your hands after touching raw meat, chicken, or fish.
Keep meats that are not being eaten or cooked in the refrigerator.
Do not feed your child meats that are not cooked enough, particularly chicken and hamburger.
Throw away eggs with cracked shells. Do not feed your child raw eggs.
Use different cutting boards for raw meats and other foods.
Teach your child how to wash her hands thoroughly with soap and warm water after every bathroom visit and before meals or touching food.
Help your child wash up every time she comes home from daycare, a play-date, or an outing
Prevent your child's illness from spreading
Keep your child at home until the vomiting and diarrhea stops.
Ask all who enter your home to wash their hands after changing diapers or using the toilet, after your child vomits and before making and eating food.
Do not let anyone share eating utensils, such as forks, knives, spoons, and chopsticks, or toothbrushes or drinking cups. If your child puts toys in the mouth, do not let him or her share toys.
By Dr Wong Chin Koon, Paediatrician.
Dr Wong headed the Children's Emergency at National University Hospital when it started the service in 2002, before moving on to Department of Emergency Medicine, KK Women's and Children's Hospital serving as Senior Consultant in 2006. He was also the Senior Consultant, Contingency & Scenario Planning Division, Ops Group at Ministry of Health from 2008 – 2010. Dr Wong was awarded the HMDP training award (Paediatric Emergency, Hospital for Sick Children, Toronto, Canada) in 2001. He remains amongst only a handful of paediatricians who have received formal training in the field of Paediatric Emergency in Singapore.
Practice Address:
SBCC Baby & Child Clinic
Blk 26 Jalan Membina #01-05
Singapore 161026
Tel: 6276 5700 / 6276 2258
This article was first published in The New Age Parents e-magazine.
If you find this article useful, do click Like and Share at the bottom of the post, thank you.
Like what you see here? Get parenting tips and stories straight to your inbox! Join our mailing list here.