Who Grew My Food: NTU Student-led Campaign Calls for More Support for Local Produce
Team finds that many parents in Singapore are not familiar with local produce and farms, launches campaign to tackle gap
Only about two in 10 parents in Singapore are aware that our city-state has over 100 farms, a team of students at Nanyang Technological University (NTU) found in a survey conducted with 203 parents of children below the age of 14. This is just one finding from research done in the fourth quarter of 2021 by the team, which propelled the development of their campaign. The campaign, Fresh off the Dot, aims to highlight the variety and benefits of local produce, and drive purchase amongst families of young children.
Left to right: Tan Jia Huey, Madeline, Tang Yi Ting, Nicole Lim, Lim See Mun (Image Credit: Fresh of the Dot)
The team also found that many respondents were unsure of the variety of produce available in Singapore and 54% were unable to recognise the SG Fresh Produce logo – the logo on primary produce packaging that helps consumers easily identify local produce. When asked about their purchasing habits, the majority mentioned that they have purchased local produce before, yet 78.5% do not do so on a frequent basis. Respondents also stated that Singapore-grown produce does not account for a bulk of their grocery purchases (usually limited to eggs and/or some vegetables).
With over 90% of our food imported, local production is critical to reducing Singapore's reliance on imports and ensuring a more resilient food future. This is especially important during supply and price disruptions from overseas, as local production can act as a buffer. With the government and our local farms increasing production capacity, more consumer support is required to ensure sustainability and economies of scale.
"While Singapore ramps up local production to strengthen its food security, the rest of the responsibility lies in the hands of consumers," remarks Mr Kenny Eng, Director of Gardenasia. "Knowing that there is consistent demand from consumers gives farmers assurance that they can scale up in a sustainable manner."
Launched last December, Fresh off the Dot is a Final Year Project at Wee Kim Wee School of Communication and Information that is supported by The Local Farm by Gardenasia and the National Youth Council's Young ChangeMakers Grant. The team plans to release more content on their online platforms – namely Facebook and Instagram – aimed primarily at parents with young children, who are more likely to change their grocery purchasing habits to include more nutritious produce after having children. Plans for a mini physical event in February are also underway.
Besides increasing visibility of the variety of produce and the number of farms in Singapore, the team hopes to show parents that it is easy and beneficial to integrate local produce into their daily lives. With a shorter farm to fork distance compared to imported produce, local produce is fresher, and lesser nutrients are lost from the time of harvest to the time it reaches consumers. This also reduces our carbon footprint along the way.
The four students have volunteered at Science Centre's Untame Farmer's Market back in November under the guidance of Mr Malcolm Ong, President of Kranji Countryside Association (KCA) and CEO of The Fish Farmer to deepen their understanding of Singapore's local farms and the produce they offer.
As part of the campaign, Fresh off the Dot recently filmed a street video interview titled "Do People in Singapore support Local (Produce)?" to find out how well people know about local produce. The 3-minute video featured shots of interviewees failing to recognise the local farms shown to them. "When it comes to supporting local, most people we talked to don't immediately think of local produce or local farms. There is more to be done to tackle this issue to grow our appreciation for the food we grow in our homeland. Through our campaign, we hope to shed light on Singapore produce and the farms." says Ms Madeline Tan, from the NTU team.
Fresh off the Dot invites members of the public to keep an eye out for more content on their platforms in the next two months and encourages everyone to support our local farms and produce. Don't know where to start? Look out for the SG Fresh Produce logo at your nearest supermarkets! You can also catch KCA Farmer's Market Local Produce Live Sales happening on the 14th and 19th January 2022 at 8pm on their Facebook where various produce will be showcased.
For more information and to view the "Do People in Singapore support Local (Produce)?" video, please visit Fresh off the Dot's Facebook and Instagram.
Fresh off the Dot has compiled a list of farms in Singapore (some of which people may be unaware of!) that have produce guaranteed to be nutritionally beneficial for the entire family – young and old alike.
Local Farms
Nutritious Pasteurized Eggs, Suitable for the Entire Family: N&N Agriculture (Website)
Image credit: Egg Story
Key Highlights
○ Egg Story Pasteurized Fresh Eggs and range of pasteurized egg products are produced at N&N Agriculture located at Lim Chu Kang area in Singapore.
○ It is the Pioneer of pasteurized shell eggs in Singapore, where the farm is also high-tech, eco-friendly and bio-secured.
Robot cleaners are used to clean the cages and eggs are inspected and packed with automatic egg handling machines, ensuring cleanliness and hygiene of the egg farm
○ The pasteurization process immerses eggs in a warm water bath at a controlled temperature, range and duration.
This kills salmonella bacteria and bird flu virus, without affecting the nutritional value of eggs
Nutritious – contains Omega 3 & 6 and Vitamin D3 or E
Healthier – contains low cholesterol
*Beneficial for individuals with lower immunity
○ For ready-to-eat products, they also sell Japanese-style ramen eggs and tamagoyaki!
The Marinated Pasteurized Soft Yolk Eggs are retailed in packs of 2 pieces per pack in the chiller section of 7-11 and Cheers
Tamagoyaki (Japanese Egg Roll) are retailed in packs of 1 sticks per pack in the chiller section of 7-11
---
Natural and Sustainable Fish with No Growth Enhancements: The Fish Farmer (Website)
Image credit: The Fish Farmer
○ CEO Malcolm Ong started The Fish Farmer in 2007 to provide a sustainable source of fish to the local market.
○ The fishes at The Fish Farmer are given space and time to grow in the ocean, such that the texture of the fish is firm and natural–tasting
○ Fishes are farmed without any growth enhancements, ensuring a safe and fresh supply of fish
○ The farm is Singapore's largest producer of mullet and milkfish.
The Milkfish is rich in omega-3 fatty acids, eicosapentaenoic acid (EPA) and docosahexaenoic acid (DHA) – "nutrients" for the brain. Milkfish from The Fish Farmer also have lustrous skin and firm flesh to the touch
---
Low Calorie Protein Rich in Omega-3: Jurong Frog Farm (Website)
Image credit: Jurong Frog Farm
○ Jurong Frog Farm (JFF) is Singapore's only heritage frog farm, supplying fresh food products such as frog meat and crocodile tail.
○ Prized as a lean alternative to poultry, frog meat is rich in protein and Omega-3 but low in calories.
JFF's frogs are also reared locally without antibiotics, hormones, or steroids for good measure
○ JFF also sells their signature Hashima, also known as Snow Jelly, both dried and naturally hydrated.
They are harvested from locally grown American bullfrogs and cleaned thoroughly before undergoing a bespoke hydration process that locks in nutrients
This superfood is cholesterol-free, and has high levels of collagen protein, 18 types of amino acids, minerals and Vitamins B1 and B2
Good for treating respiratory symptoms such as coughing
Improves skin complexion
○ As part of JFF's Zero Waste Roadmap, the farm also explored the potential of frog frame meat as a special novel meat diet for pets as well as incorporating frog skin collagen into skin care products, resulting in the launch of their Frugé bioactive collagen skincare products in 2019 (read more here)
---
No pesticides, preservatives or GMO: Just Produce (Website)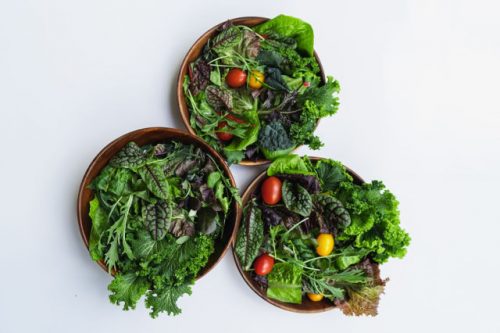 Image credit: Just Produce
○ Just Produce is grown in one of the highest yielding indoor farms in Singapore, with a projected yield of up to 100 tonnes of vegetables a year
○ Just Produce uses Controlled-Environment Agriculture (CEA), enabling them to control every aspect of the environment to configure the most conducive environments to bring out the natural, rich flavours of our plants and to retail their nutritional values
○ Just Produce does not use any pesticides, preservatives or genetic modification.
○ Being locally-based also helps guarantee that vegetables meet safety and nutritional standards, so that vegetables are delivered fresh off the farm.
This ensures a longer shelf life for your vegetables, and maintains their crisp and crunchy texture
* * * * *
Like what you see here? Get parenting tips and stories straight to your inbox! Join our mailing list here.
Want to be heard 👂 and seen 👀 by over 100,000 parents in Singapore? We can help! Leave your contact here and we'll be in touch.