The world has changed more in the last 30 years than it did in the last 3000 years. We are entering the age of Industry 4.0 where disruptions to traditional jobs and continually evolving skillsets are becoming harder to predict and plan for. As parents, we need to prepare our children for the future of work.
But the question is how?
The HP New Asian Learning Experience study found that Singapore parents value experiential learning (77%) for their children over rote learning and memorisation (62%), saying that the latter is least helpful in helping their child perform better on tests (77%).
How Can Parents Enable Impactful Experiential Learning For Children?
To help answer this question, HP organised an immersive, experiential learning event for children aged 5 to 12 years old, which brought families together to embark on – HP Adventure Trails – where parents could actively participate, engage, and bond with their children, using a blend of physical and digital elements including HP devices.
With National Day just around the corner, over 100 participating families took advantage of the unique opportunity to learn about our nation's history by visiting key heritage landmarks in Fort Canning Park. TNAP took part in the trails, and here's what we discovered!
Tapping on HP's Smart App
Before the adventure trails at Fort Canning Park began, we were given time to discover the HP Smart App on our mobile phones by printing a crossword puzzle on a HP ENVY Photo printer.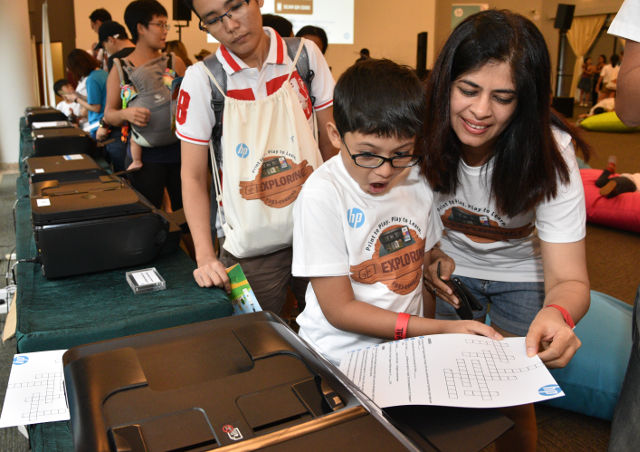 The crossword puzzle questions included historical facts such as the old name of Fort Canning Hill, the date Sir Raffles Stamford landed in Singapore, and the location where the British surrendered the island to the Japanese in 1942.
Armed with a map and our smartphones, we were tasked to visit any five out of seven designated spots and complete a challenge!
At each spot, we had to find out answers to historical facts, take a family photo and immediately use the HP Smart App to print out the photos via the HP ENVY Photo printers located a distance away at YWCA Fort Canning Lodge.
For example, at the Sang Nila Utama Garden heritage landmark (pictured above), we learnt about the story behind Sang Nila Utama and the origin of our nation's name, Singapore.
A Unique Singapore History Lesson For Kids
This format of experiential learning was far more engaging for children than a typical history lesson delivered in a classroom setting. We were also impressed by how easy it was to print photos even from a long distance using the HP Smart App!
By the time we ended up at the finish line at YWCA, we could simply collect the photos at our designated HP ENVY Photo printer, as they had already been printed through the HP Smart App while we were on-the-go.
Mr Andy Lee, a daddy blogger at sengkangbabies.com, enjoyed the HP Adventure Trails with his wife Meng Choo, his 12-year-old son and 10-year-old daughter.
"It was fun for the whole family as we went running together. We split the jobs up – some would be navigating while others would be solving the puzzles. It was teamwork that got us through the challenges," the working dad commented.
Mr Lee thought using the HP Smart App to send print jobs on the go to the HP ENVY Photo printer was cool. Plus, it was easy to set the app up, select the photo and send it to the printer. He also appreciated how HP Adventure Trails allowed his family to explore Fort Canning again, as they had not visited the park for quite some time.
He adds, "There were historical facts for us to explore and learn along the way as a family. I hope HP will organise similar events for families in the future as it's an interesting way for families to learn and bond together."
Mrs Anne Seow, together with her husband and their 10-year-old daughter, formed the winning team and walked home with a HP ProBook (x360 440 G1) and aHP ENVY Photo (6220) All-in-One printer!
Mrs Anne Seow and family won the first prize at HP Adventure Trails
"I came to know about the HP Adventure Trails from The New Age Parents. The event created a very good bonding experience, and we did good teamwork," Mrs Seow exclaimed.
"I was curious to see how HP would incorporate the print and digital elements in this outdoor experience, and I'm thankful HP created this experiential learning event in the form of an amazing race for children and families suitable for a wide range of ages! We had to use the HP ENVY printer during the event and I found the photo quality to be quite good and it prints pretty quickly," the mum shared.
How Can Parents Use The HP Smart App And ENVY Photo Printer To Enhance Child Learning?
With the HP Smart App, you can send print jobs to the HP ENVY printer from anywhere in the world!
When you take your kids on experiential learning journeys to new places, the photos can be immediately sent through the HP Smart App to the HP ENVY Photo printer back at home, where upon return your kids can organise the photos to remember what they learnt and even create scrapbooks and wall magazines.
Parents can also print puzzles, origami instructions and many other activities on paper to do with their child. The possibilities are endless!
The HP Adventure Trails created an amazing experiential learning opportunity for children, allowing the future generation to learn about Singapore's heritage in an immersive, hands-on and fun manner.
Parents and children bonded over learning activities using printed materials, which helped families learn about our nation's 200 year-old history in an engaging and creative way.
To know how you can help your child's work shine using HP ENVY Photo 6220 All-in-One Printer, click here.
HP Inc. creates technology that makes life better for everyone, everywhere. Through our product and service portfolio of personal systems, printers and 3D printing solutions, we engineer experiences that amaze.
This post is brought to you by HP Inc
By Julia Chan.
* * * * *
Like what you see here? Get parenting tips and stories straight to your inbox! Join our mailing list here.
Want to be heard 👂 and seen 👀 by over 100,000 parents in Singapore? We can help! Leave your contact here and we'll be in touch.