Why do my hands become wrinkly after swimming? How do potatoes grow? Why do people snore when they sleep?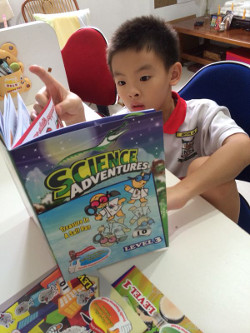 Your little one is growing up and attending Primary School. He's curious and asking you a thousand and one questions about anything and everything! Why not take this chance to introduce him or her to some comics and magazines to read and learn?
1. Science Adventures: Science Comics For Children
An original series that conforms with Singapore's PSLE science syllabus, homegrown brand Science Adventures features 100 fascinating science stories with 10 full coloured issues a year.
Suitable for children 7 years and above, there are four different levels to choose from depending on your child's reading level.
Level 1 : 6 – 7 years old
Level 2 : 8 – 10 years old
Level 3 : 9 – 12 years old
Level 4 : 11 – 13 years old
Featuring a host of topics from animals, plants and physics, there are also fun science stories with riddles and puzzles. There is also a "Let's Experiment" section where children can try and experiment with parents or on their own.
Science education packed in stories and comics with a dose of humour; this magazine will help arouse your child's sense of wonder and curiosity while enriching their English through reading.
Preview: Click here for a preview of Science Adventures (Level 2 Issue 5)
PLUS! New features for 2014
Rare Pictures contributed by National Geographic
New science adventures stories – Science Survival and Wide-eyed on Earth
2. Highlights High Five
Highlights High Five magazine is dedicated to creating reading opportunities between parent and child. This award-winning magazine aims to foster a love of language and rich vocabulary in children.
The magazine has received the Association of Educational Publishers in 2011 and the Distinguished Achievement Award for Preschool Fiction among many other awards.
Fully coloured with lovable and cute cartoons and illustrations, the magazine comprises of four components: Reading, Puzzles, Activities and a Bonus section. Questions are raised in stories to prompt discussions between parent and child to promote a sense of wonder and creativity. Most importantly, the magazine helps to foster a love of language through the heart-warming stories featured.
Suitable for children ages 5 – 8 years old.
Preview: www.englishcorner.sg/samples
3. Highlights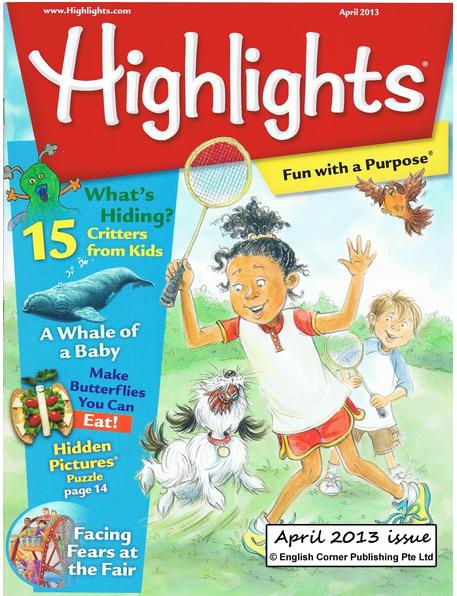 Besides providing children with knowledge of their environment and surroundings, this magazine also features stories with good moral values. Divided into three main components: Fun to Read, Fun to Do and Fun Things From You, this fully coloured magazine is geared towards helping children grow in creativity, thinking skills and character.
Each issue covers a range of topics and activities such as:
Hidden pictures® and challenging puzzles
Crafts that promote creativity
Super fiction and non-fiction stories that encourage reading
Jokes and riddles just for fun
Exciting science experiments
Drawings and poems from kids
Suitable for children 8 – 12 years old.
Preview: www.englishcorner.sg/samples
Put that tablet down and pick up a book instead!
For more information or subscribe to the above magazines, go to English Corner.
If you find this article useful, do click Like and Share at the bottom of the post, thank you.
Like what you see here? Get parenting tips and stories straight to your inbox! Join our mailing list here.