When my child was diagnosed with special needs in his preschool years, I enrolled him in an early intervention centre to support his development. Although the centre was very helpful, I found out that my son would have to attend a private programme outside the intervention centre when he needed additional therapy for his social skills.
I also heard about centres which offered multiple programmes that were run in separate sessions as add-ons, meaning that parents would have to consider how much budget and time they could afford in stacking up these add-ons to the core early intervention programme for their child.
I hoped my child would have access to all the services he needed in an all-inclusive programme, and these services would be integrated seamlessly into his early intervention activities.
Since then, one centre has successfully done what I wished I had access to earlier – offering an affordable all-inclusive integrated early intervention programme.
Learning about Bridging the Gap's All-Inclusive Integrated Early Intervention
Bridging the Gap was founded in April 2018 by mother Janice Tay who started a 'one-stop' all-inclusive integrated early intervention centre with her husband Max Lee. Both were inspired by their son, Emmanuel, who was born with multiple conditions.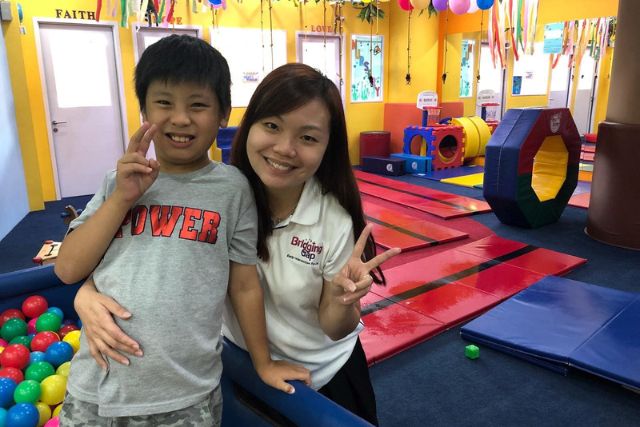 Photo: Bridging the Gap founder Janice Tay, and her son, Emmanuel, at the centre's gym
Their Early Intervention Programme is designed for preschool children who have developmental delays, unique learning, and behavioural challenges to develop core life skills that would enable them to thrive in Singapore's mainstream education system.
Starting Your Child's Journey with Bridging the Gap
1. Educational Assessment and 1-on-1 Consultation
Bridging the Gap ensures you have access to the information you need about your child to make an informed decision about what your child needs in an early intervention programme. Hence, it offers an Educational Assessment using the Brigance Inventory of Early Development III Standardised Tool.
During the assessment, Bridging the Gap team will gather information about your child's strengths, challenges, and needs. The results of the assessment can be used to create an Individualized Education Plan (IEP) for your child.
During the 1-to-1 Consultation, Janice (who is also the centre's Clinical Director) will also discuss the services and supports that the centre offers, and how they can be tailored and incorporated into a 'one-stop' all-inclusive integrated early intervention programme to meet your child's needs.
2. 4-weeks Immersion Trial Programme
After the consultation, your child can try out the centre's 4-weeks immersion trial programme to experience the centre's services in a full-time formal environment.
This trial period allows you to get a sense of what it would be like for your child to attend the centre on a regular basis, and for the team to gather more information about your child's learning needs and identify the best intervention required.
At the end of the trial programme, Janice and the Early Interventionist will meet you to review your child's 4-week Observation Report, and share additional educational, speech, occupational, and psychological reports that were prepared during the trial programme. Your child's IEP will be further tailored once your child is formally enrolled, and it will be reassessed every half a year.
3. All-Inclusive Integrated Early Intervention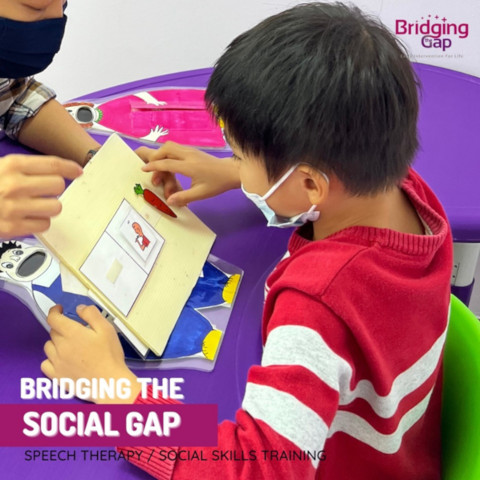 In one single intervention programme, your child will be supported by Speech and Language Therapists, Occupational Therapists, Educational Therapists, and specially trained Early Intervention Teachers. This 3 or 5 days intensive programme has a small teacher-student ratio.
The team will address your child's strengths and challenges, and support growth in daily living skills, functional skills, and social thinking skills via multidisciplinary services such as Child Speech Therapy, Occupational Therapy, Educational Therapy, Social Skills Training, Multi-sensory and School Readiness Activities.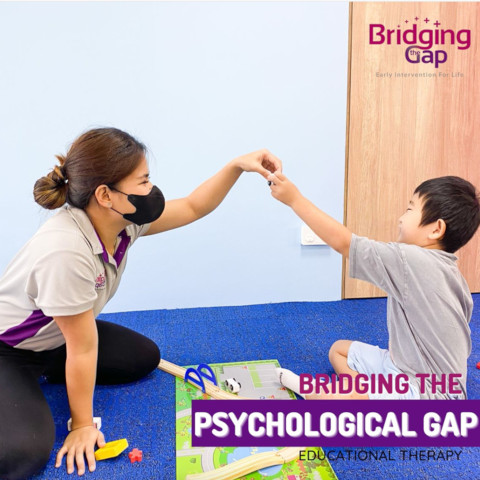 The centre uses multi-sensorial materials and techniques that stimulate your child's learning by targeting multiple senses – touch, sight, hearing, smell, and taste. Music and movement, exploration, and experimentation feature greatly amongst the activities to unleash your child's hidden potential.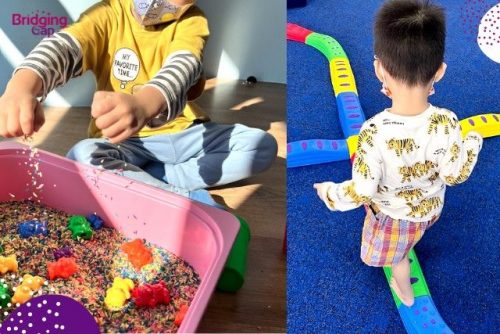 Your child will have the opportunity to develop on his independence during drop off where he is encouraged to enter the centre on his own. He will also love the huge sensory gym which provides a stress-free environment to develop his physical and cognitive skills!
Bridging the Gap uses Touch Chat and Proloquo2Go to support children who have difficulty expressing themselves through speech and language. It also invested in an EPSON Interactive Projector (pictured below) to provide a virtual reality environment that supports kinaesthetic learners, and children with conditions such as dyslexia and visual impairment as well.
4. Regular Reports and Tips for Parents
Besides verbal updates when you pick up your child, you will receive regular bite-sized quarterly progress reports from the team. The reports detail your child's progress towards his IEP goals and any areas where he may need additional support.
Parents also can look forward to Friday tip sheets on parent-child activities that you can do to bond with their child over the weekend.
5. Stay Updated with Bridging the Gap's Online Resources
Bridging the Gap makes an effort to connect with parents online by posting useful articles and social media posts. Some of our favourite resources include:
– Easy Guide on Using PECS at Home and in the Classroom
– How To Understand Our Children's Behaviour Better
– 5 Ways to Improve Communication with Children with Special Needs
Empower Your Child With All-Inclusive Integrated Early Intervention
With all the therapy and support your child needs in Bridging the Gap's one-stop all-inclusive integrated Early Intervention Programme, there is no need to jump through hoops to fit in ad-hoc, piecemeal additional therapies into your child's day to give him the support he needs anymore.
Bridging the Gap is also under the Enhanced Pilot for Private Intervention Providers (Enhanced PPIP) programme which means that Singapore Citizens will receive a base subsidy, and an additional subsidy based on your income tier.
If you are looking for early intervention for your child, with an all-inclusive integrated programme, at one affordable cost, in one centre, sign up for a free consultation today here.
Brought to you by Bridging the Gap.
By Julia Chan.
* * * * *
Like what you see here? Get parenting tips and stories straight to your inbox! Join our mailing list here.
Want to be heard 👂 and seen 👀 by over 100,000 parents in Singapore? We can help! Leave your contact here and we'll be in touch.