MUSIC and I presents your Child's Favorite Characters as Personalized Photo DVD!
Your Child is the STAR!
Exciting adventures with your child in ACTION!
DORA, DIEGO and ME!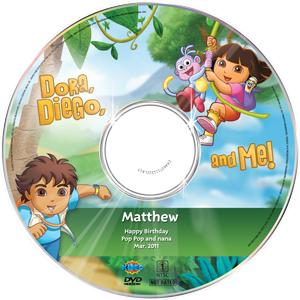 This Personalized DVD features your child joining forces with Dora the Explorer and her friends Diego and Boots as they set out to rescue Baby Jaguar. Your child will help Dora navigate the map to get through the rain forest, around the cave and on to the waterfall, where Baby Jaguar is in danger.
Your child will soar to new heights in this thrilling and educational video, which encourages kindness and kinship with all animals.
DORA, WHOSE BIRTHDAY IS IT?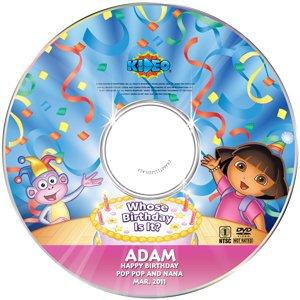 This Personalized DVD features your child in a heart-warming Dora the Explorer adventure. In this video, Dora and her friends are out to discover who's having a birthday party. Your child helps Dora's team follow the birthday balloon that leads them over Cupcake Mountain, across Sneezing Snake Lake and on to Play Park—where someone's having a birthday party.
This fun and interactive video helps build cognitive skills and encourages cooperation to achieve goals.
MY PARTY WITH BARNEY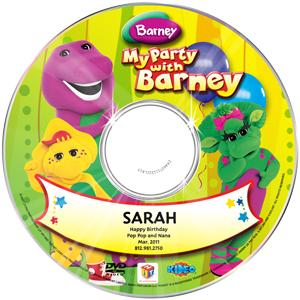 This Personalized DVD is filled with birthday songs, dancing, and animated scenes. Your child joins Barney, Baby Bop and BJ for a very special occasion: his or her birthday! Barney and his pals have planned a wonderful party. Your child can sing along while playing party games, trying on fun party hats, and blowing out the birthday candles.
This video demonstrates the importance of generosity and love on a child's very special day.
I AM AMAZING SPIDERMAN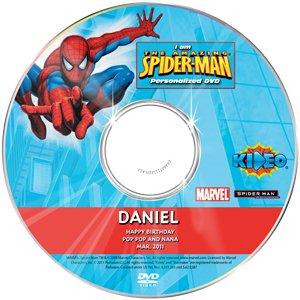 This Personalized DVD features your child as the Amazing Spider-Man! The video is chock-full of exhilarating action sequences that promise to enthrall and captivate. Your child puts on your Spidey mask and does battle with nine treacherous villains who are wreaking havoc across New York City. As Spider-Man, your child will find out who's the evil mastermind behind the crime wave and put an end to all the mayhem.
This video inspires courage in the face of danger, and includes an educational segment on spiders with Jonah Jameson.
Order now!! and avail of the SPECIAL PRICE for the first 20 orders or *FREE Personalized Music CD!
**FREE Personalized Music CD Choices: Joyfully Alive, River of Life, In the Spirit or any of the SPORTS album.
Watch sample videos of these best-sellers Photo DVD (under PHOTO) from my website: www.music-and-i.com/catalogue.html
(the name of the child should be in our database for Barney and DORA albums)
Email us at sales@music-and-i.com the following:
NAME of the child:
Customized Message for the child:
A front-facing clear picture of the child: