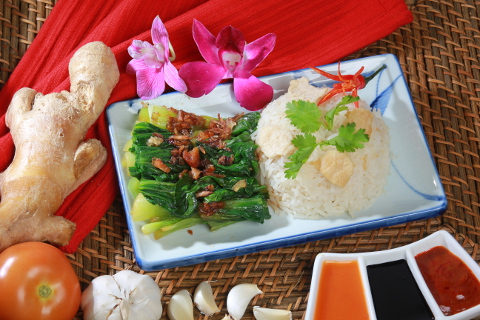 2-3 servings
Ingredients:
1 box Yamie Chicken Rice
3 cups Xiao Bai Cai* (washed & cleaned)
1 tbsp Cooking oil
½ tbsp Garlic (finely chopped)
3 tbsp Oyster sauce
1 tbsp Fried shallots
2 tbsp Chilli sauce (for chicken rice)
1 tbsp Dark soya sauce
3 leaves Coriander
* Other leafy vegetables such as Chye Sim or Kailan can be used.
Cooking Method:
Cook 1 box of Yamie Chicken Rice (follow cooking instructions on box).
Blanch the vegetables and line on a plate when cooked.
Heat up the cooking oil and fry garlic till light brown.
Stir in oyster sauce, simmer for a while and pour it on top of the vegetables.
Sprinkle fried shallots on top of the vegetables.
Serve hot with cooked Yamie Chicken Rice (topped with coriander), chilli sauce and dark soya sauce.
This recipe was taken from Yamie Rice.
For more information, go to www.yamierice.com