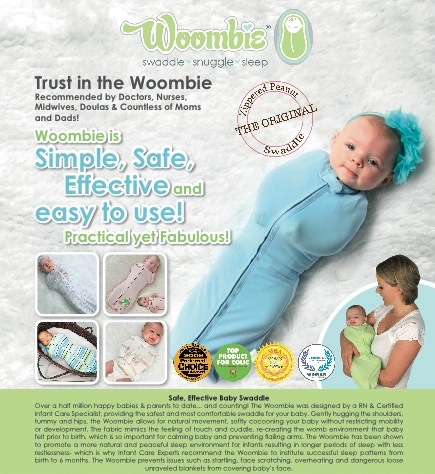 Woombie – Safe, Effective Baby Swaddler, 14 Awards for Design & Innovation
The Woombie was designed by a RN & Certified Infant Care Specialist, providing a safe & comfortable swaddle for your baby. Gently hugging the shoulders & tummy, the Woombie allows for natural movement of the arms, legs and hips with our signature bebeflex® fabric- softly cocooning baby without restricting motion or mobility. Its soft eco-fabric mimics the feeling of touch, warmth & cuddle, re-creating the womb environment that baby felt prior to birth which is important for calming baby and preventing flailing arms. The Woombie has been shown to promote a more natural and peaceful sleep environment for infants resulting in longer periods of sleep with less restlessness. It also prevents issues such as startling, face scratching, overheating and loose unraveled blankets from covering baby's face. Infant Care Experts recommend the Woombie products to institute successful sleep patterns from birth.
Visit Bebe Avenue's booth C31 at Baby Market 2013, Singapore Expo Hall 3 from 4-6 October, 2013 for great discounts on all Woombies. New designs and colours available!
Also available at
Babies R Us (Toys R Us) – Forum, Vivo, City Square Mall
Spring Maternity – Vivo, NEX
Parentcraft Centre – Gleneagles Hospital
Maternity Exchange at Marina Square
Be sure to "LIKE" Woombie Singapore at www.facebook.com/WoombieSingapore for latest updates, new product launching and more!
Woombie is distributed by Tykes Marketing Pte Ltd (distribution arm of Bebe Avenue).
For product enquiry, please contact us at tykesmarketing@gmail.com. We welcome wholesale enquiry.