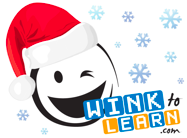 Wink to Learn's Speak and Read application for iPad and iPhone is a spin off from their Speak and Read DVD series, developed by Mr. Lee Hann Yang.
Inspired by the flash cards method spearheaded by Dr. Glenn Doman and Dr. Makato Shichida, this application focuses on developing your child's language skills. It includes lessons and games, where all words and images are in specific 'cards', with visual and audio features, to facilitate word and sound recognition skills.
A fun and interactive reinforcement tool, WinktoLearn iPhone apps / iPad apps are available in 6 different languages. Each application costs only USD$0.99, with free lifetime upgrade to more games and enhancements.
It is a 5-star application for iPhone & iPad whereby kids can have fun and at the same time learn with Wink to Learn!
Designed for all iPad, iPhone3 and iPhone4.
Download the application now: http://winktolearn.com/specials/itunes
In addition, to thank you for your continuous support, Wink To Learn would also like to present you with a $10 online cash coupon redeemable from WINKtoLEARN's online store. Coupon code: MERRYCHRISTMAS2010. (Use this coupon by 31st December 2010!)