3… 2… 1… BLAST OFF! Be the FIRST to hitch a ride to the moon with a hippo!
"It's bigger and better than the book." David Walliams
FRESH FROM A MAJOR UK TOUR! FIRST Time IN SINGAPORE!
Based on NUMBER ONE best-selling children's author David Walliams' original book with illustrations by Tony Ross, The First Hippo on the Moon is an explosively funny space adventure which sees the enormously rich Hercules Waldorf-Franklin III and ingenious Shelia compete to be the first hippo to make it to the moon.
David Walliams has taken the literary world by storm and his brilliantly funny stories are adored by children the world over. He has achieved unprecedented critical acclaim and quickly developed a reputation as a natural successor to Roald Dahl. His books have been translated into over 45 languages and sold over 9.5 million copies in the UK alone.
The First Hippo on the Moon has been adapted for the stage by the award winning & acclaimed UK theatre company Les Petits. The creative team at Les Petits has also worked on Dr. Seuss? The Lorax at The Old Vic and the National Theatre's productions of Elephantom, Warhorse and Raymond Briggs The Bear.
This musical is recommended for ages 3 & above. There are five actors and the show's duration is approximately 60 minutes.
Date: 22 to 24 September 2017
Venue: SOTA Drama Theatre
Book now at www.sistic.com / 6348 5555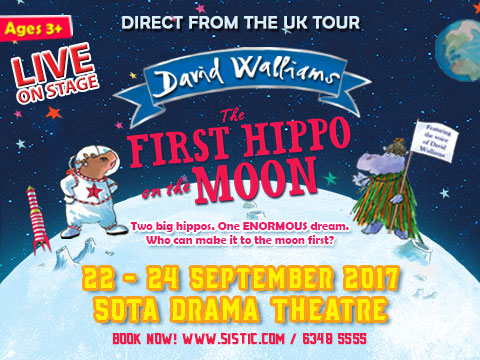 ---
GIVEAWAY ALERT: We are giving away tickets to the show, take part via The First Hippo On The Moon Tickets Giveaway.
Related Read: Interview With David Walliams & The First Hippo On The Moon