"Why do you work so hard, Miss Antoinette? Come and rest while listening to my song. Summer is here; the days are long and bright. Why waste the sunshine in labour and toil?"
What is there not to like with colourful characters dressed in funky costumes, and seemingly real-life puppets bringing the famous Aesop's Fable to life? The catchy tunes and the jokes kept the little ones entertained throughout the musical.
The Story Goes…
Once there lived a hard-working and ever-busy Ant who never seemed to have time for play or relaxation. And then there was Grasshopper, with time on his hands and nothing much to do all day. It's funny how despite their vast differences they are friends. The Ant was working hard to collect grains of wheat in preparation for winter. The Grasshopper pokes fun at the Ant for collecting food when summer is supposed to be for singing and dancing. But summer does not last long, and soon the frozen winter will arrive. What will happen to Grasshopper then? What exactly will the Ant do?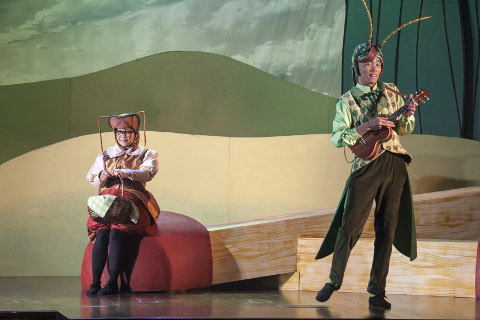 Director Brian Seward did a great job by conducting a workout session in the midst of the musical, which got the children on their feet, keeping up with the steps of Criminy the Grasshopper and Miss Bizz Wazz the Bee One. Music Composer and Arranger Mr Julian Wong added modern elements into the musical; Lady Gaga's hit Applause was cleverly remixed into a song for Lady Coccinella Septempunctata (aka the ladybird).
My personal favourite was the grand entrance of Lady Coccinella Septempunctata, dressed as a modern ladybird. I had to admit that I was enthralled by her costume and singing! (You've got to watch the play and pay attention to this part to know why I am so blown away by this) Especially the part when she makes an exit, the music and her actions never fails to generate laughter with the audiences. Another aspect of the show which left an impression was the use of ukulele by the Grasshopper as he was singing and dancing.
The play explores key themes of friendship, reaping what you sow, time management skills, balancing work and play, working smart, generosity and judging others. It is recommended for 3 to 12 year olds and families of all ages.
Catch the Ant and the Grasshopper – an inspirational play that depicts life and friendship on a happy note. Two extra shows have been added due to overwhelming response for this cheery and light-hearted musical with interactive segments to keep the younger ones engaged. Make sure you grab your tickets before it is sold out!
Showtimes:
Mon, Tues & Fri, 9.30am & 11.30am
Wed & Thurs, 9.30am, 11.30am & 2.30pm
Sat, 10.30am & 2.30pm
Venue:
Jubilee Hall, Raffles Hotel
*There are no shows on Sunday
The play is 55 minutes with no interval
Hurry, grab your tickets before its all sold out!
Written by Heather Yew