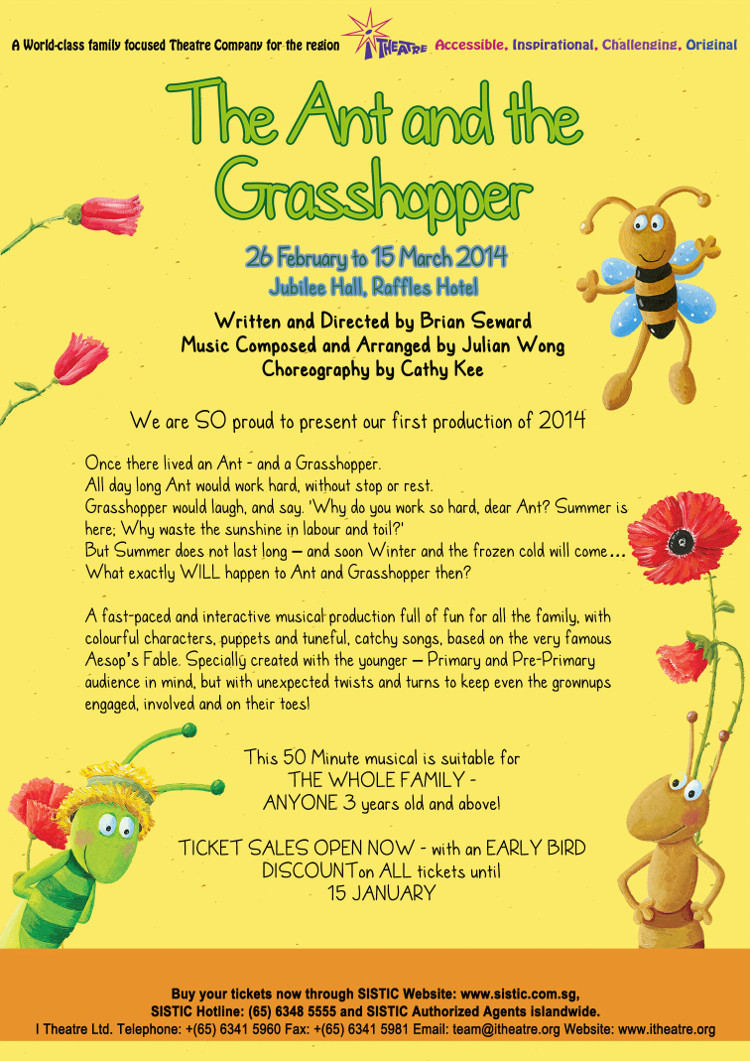 ---
The Ant and the Grasshopper
26 Feb to 15 Mar 2014
Jubilee Hall Raffles Hotel
Written and Directed by Brian Seward
Music Composed and arranged by Julian Wong
Choreography by Cathy Kee
I Theatre''s first production for the year 2014, this 50 minutes musical is suitable for THE WHOLE FAMILY – ANYONE 3 years old and above!
Once there lived three friends. An Ant – who never seemed to have time for play or relaxation. A Grasshopper, with nothing to do all day. And a Caterpillar.
All day long Ant would work hard, collecting and storing food in her larder.
Grasshopper would laugh, and say. 'Why do you work so hard? Come, and rest awhile. Summer is here; why waste the sunshine in labour and toil?'
Whilst Caterpillar calmly carried on, doing what caterpillars do best….
But Summer does not last long – and soon Winter and the frozen cold will come…
What will happen to the three friends then?
A fast-paced and interactive musical, full of fun. Based on the famous Aesop's Fable – with colourful characters, puppets and tuneful, catchy songs. Specially created with the younger audience in mind, but with unexpected twists and turns to keep even the grownups engaged, involved and on their toes!
Early Bird Discount till 15 January 2014.
Book your tickets today via http://www.sistic.com.sg/events/ant0314
Contact I Theatre 6341 5960 or email team@itheatre.org