An avid writer, Brian Caswell has published over 100 books in various genres. His novels and short-stories have been recognised internationally, both in English and in translation. He is also the Dean of Research and Program Development at MindChamps. The New Age Parents caught up with him to find out more about his book, Talking With the Sky, co-written by David Chiem and Kylie Bell.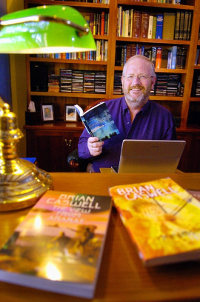 TNAP: Nice to meet you Brian! You have published novels, short stories and parenting books – which came first, novels or parenting books?
My first book came out in 1989. I've written probably 104 books, all sorts of genres. I started with novels and short stories. I probably got about 30 short stories and novels. I began writing for teenagers, a number of novels and I did pretty well. The books won a lot of awards and they got told in schools. So I was comfortably making a living just being an author, travelling and talking.
I used to teach at High Schools. I was a teacher until 1992. What was interesting was as a teacher I'm stuck to one school. But as I writer I got to visit hundreds of schools. So I was still teaching, even though I wasn't teaching anymore. I was going to schools running workshops. I have been with MindChamps since the beginning of 1998. I came to work with David at MindChamps because I particularly like the philosophy of what MindChamps was trying to do. And so for the last 15 years, we've been working together. The parenting titles came later when I started to work with MindChamps.
TNAP: Let's talk about the book you wrote "Talking With the Sky". How did the idea of wanting to write this book come about?
At MindChamps, we have done a lot of research on the world's best practices to run a preschool, based on the research by various professors and great psychologists. So we this massive amount of research on early childhood learning, in order to develop a preschool program. But in the end, when you are talking about parenting for preschoolers, it's not just about the educational or neuro-science aspects of things, it's about what parents can do to make the early life of that child productive, fun and lay a foundation that can be built upon in Primary School, Secondary School, University and the rest of their lives. How do we lay a foundation for things like creativity, reading, ethical behaviour, moral judgment, communication and interpersonal relations? All of these are influenced incredibly by what happens when we are in the 0 to 6 age group.
"If you give me a child before the age of 6, I will have him for life."
If I have an influence over a child before the age of 6, that influence will continue through their entire life. And that is a very profound thing to think about. Because what it means is that as parents we have the power to build a really wonderful foundation for life, or to build a really horrible one. And there isn't really a whole lot of difference between the two, in terms of what we do.
Kids don't come with an instruction manual. Most people parent according to how they were parented. Therefore what will happen is that we will make the same mistakes our parents made, and we would do the same good things they did. So we thought, why not write a book and take all of the research we have been looking at, turn it around for parents with the message: "You are the most important person in a child's life."
* * * * *
Like what you see here? Get parenting tips and stories straight to your inbox! Join our mailing list here.
Want to be heard 👂 and seen 👀 by over 100,000 parents in Singapore? We can help! Leave your contact here and we'll be in touch.