Taking place on 12 and 13 July at The Promontory@Marina Bay, STREAT is the marquee event of the Singapore Food Festival (SFF) and a true celebration of Singapore's food obsessed culture. Setting the stage for three full weeks of culinary adventures with SFF, STREAT reflects Singapore's dynamic food scene – showcasing the best of our local culinary talents and the authentic flavours that capture our rich, diverse and multicultural heritage.
Held outdoors in a contemporary setting, STREAT is a line-up of 12 stations. The participating food establishments are helmed by renowned local chefs and cooks, featuring a mix of traditional hawker fare and mod-sin interpretations of Singapore street food. In addition, STREAT rounds up the festive spirit with a pop-up bar and retail booth as well as an exciting line-up of local entertainment acts. For those keen on interactive experiences, culinary and cocktail maestros; along with coffee, beer and food photography experts, will also be hosting workshops over the two days.




ABOUT STREAT'S PARTICIPATING VENDORS
Craft Beverages
Origin Bar
Origin Bar will be the official pop-up bar for STREAT 2019. Their menu features a selection of cocktails that are inspired by a journey of discovery around five key districts in Singapore. Handcrafted by a team of young mixologists, taste their fiery passion with every cocktail you sip on at STREAT. Non-alcoholic cocktails, champagne and soft drinks will also be available.
Highlights of the menu at STREAT:
Origin no.2 ($15)
Dark Rum, Lime Wine, Cordial, Spiced Pineapple Foam.
Ma-Sa-La ($15)
A concoction of Masala spices, gin, single malt whiskey, milk wash and citrus.
Kopittan ($15)
An aromatic mix of local kopi vermouth, bourbon, black cherry and angostura bitters.
Archipelago Brewery
Archipelago Brewery is a Singapore owned brewery which produces a range of unique and exciting craft beers. This ranges from their international brews available on tap, to Singlish and Singapore Girl inspired bottles that reflect our colloquialism and multicultural heritage.
Complement Singapore's STREAT food with these craft beers – it's a refreshing combination perfectly crafted for our tropical climate.
Highlights of the menu at STREAT:
Singapore Blonde Ale ($8)
A blonde malt with a tangy, natural citrus taste and a hint of sweetness specially brewed with calamansi lime and pandan leaves. Utterly refreshing with grilled meats, salads and spicy dishes.
Summer IPA ($8)
Maris otter ale malt provides a distinct malt flavour and mouth feel for this medium bodied IPA. New world hops are added at four different stages of the brewing process. Heavy dry hopping using Casada and Pacifica hops on the fifth day of fermentation provides a pronounced citrus, grapefruit and orange aroma.
Bohemian Lager ($8)
ABV of 4%. Classic German noble hops are the backbone of this highly drinkable lager. Bohemian lager yeast and Munich malt creates a crisp malty unfiltered craft lager. Low to medium body and bitterness with a clean aroma.
Belgian wit ($8)
ABV of 4.2%. Brewed with traditional Belgian witbier yeast, New Zealand Wakatu hops, Curacao orange peel and coriander to deliver a refreshing flavour. This unfiltered witbier has a natural cloudiness and a smooth white head.
---
Heritage Dishes
Indian Express
From the culinary experts behind one Michelin-starred restaurant Song of India, Indian Express brings foodies modern Indian cuisine with a unique twist. Chef Manjunath Mural prides himself in cooking from scratch, only using the finest herbs, spices and ingredients to create mouth-watering flavours and innovative dishes that are refreshingly light and healthy.
On the menu at STREAT:
Butter Chicken with Garlic Naan ($8)
Chicken Drum Biryani ($9)
Samosa Chaat Street Food ($7)
Jin Ji Teochew Braised Duck & Kuay Chap
For more than 30 years, Jin Ji Teochew Braised Duck has been well-loved for their classic Teochew braised duck rice.
When second-generation hawker, Melvin took over the reins from his parents, he introduced a fresh look to their classic offering – the Duck Rice Bento, with yam rice balls, tender braised duck, beancurd, pickled vegetables and a Japanese-style runny yolk lava egg – a mod-sin transformation that has managed to retain its charm as a classic hawker staple.
On the menu at STREAT:
Bento Braised Duck Set ($8)
Bento Kway Chap Set ($8)
Additional side: Salted Vege/Tamago Egg ($2)
Sabar Menanti Restaurant
With a heritage of more than 50 years, Sabar Menanti Restaurant is well-known for their Nasi Padang dishes – which is a speciality of the Sumatran Minangkabau people.
This family-run business has now expanded to many branches but many of the dishes are still sold out by lunch – be sure to taste the addictive flavours of their dishes at STREAT 2019!
In the menu at STREAT:
Longtong ($8.80)
Tahu Goreng ($4.80)
Beef Rendang ($6.80)
---
Mod-Sin Cuisine
Restaurant Ibid
Restaurant Ibid is the brainchild of Woo Wai Leong, lawyer-in-training turned chef and first winner of the inaugural MasterChef Asia season in 2015. Each of this plates promises to highlight a key Chinese ingredient while presenting a modern interpretation of Chinese cuisine – drawing on the concepts of 'from the same source' (which ibid means in Latin) and 'Nanyang', which is characterised by an East-West sensibility.
On the menu at STREAT:
Beef Curry Bowl ($15)
Inspired by Cantonese-style curry, the thick sauce is filled with short rib, brisket, tendon and tripe – a beef amusement park! It is served with rice that has flecks of confit garlic and lashings of roasted beef fat. The dish is topped with pickled black fungus and an egg yolk for extra richness.
Laoganma Sashimi Terrace ($15)
Swordfish, salmon and kingfish evenly diced and coated with a dressing that boasts sweetness, saltiness, sourness, richness and numbness thanks one of China's most famous exports – Laoganma chilli sauce. The dish is topped with fermented celtuce and pickled daikon while the rice below is warm, pillowy and vinegared.
Yuanyang Kakigori ($15)
Light, finely shaven ice is sweetened with a rich milk tea syrup. Within the ice sits a bittersweet coffee jelly with a kaya foam for body. The dish is topped with chantilly cream, burnt toast crumbs and a drizzle of Pei Pa Koa syrup.
Jam @ Siri House
Chefs Ming Tan from Park Bench Deli and Jeremy Cheok who headed up New Ubin Seafood helm the kitchen at Siri House.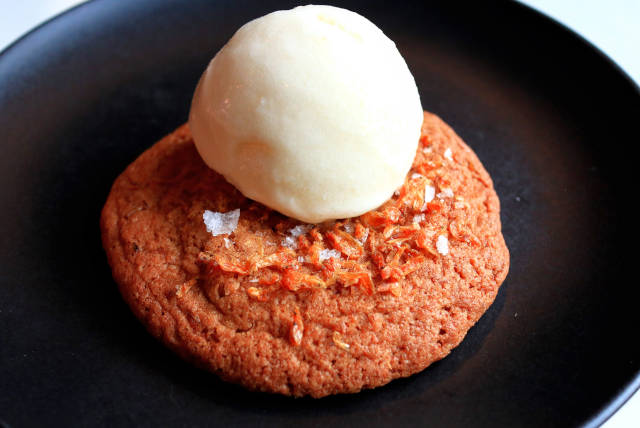 On the menu at STREAT:
'Prawn Mee' Senbei Cracker ($12)
Belinjo Chips with Crab Fat Crema ($12)
Hae Bee Hiam Cookie with Coconut Ice Cream ($12)
Wok In Burger
Wok In Burger is an off-shoot of popular zichar stall Keng Eng Kee Seafood and was created in early 2019 by the stall's third-generation chef-owner Wayne Liew. True to its namesake, each western-styled burger is inspired by a local zichar dish and served in wok-shaped platters with a side of coleslaw and fries.
On the menu at STREAT:
Chilli Soft Shell Crab Spaghetti ($12)
Coffee Pork Burger ($8)
---
Singapore-Inspired Menu Items
Meat Smith
Helmed by Chef Andrew Baldus and Manogren Murugan, Meat Smith is proof that real-deal barbecue can exist outside of America's traditional barbecue heartlands. An off shoot from Meat Smith Telok Ayer, their second outlet Meat Smith Little India, serves up an Asian-inspired menu. Think BBQ renditions of traditional Singaporean favourites.
On the menu at STREAT:
Smoked Char Siew Ribs ($7)
Salted Egg Chicken Chop ($7)
Pork & Cheese Sausages ($4)
Salted & Hung
Helmed by Chef Drew Nocente, Salted & Hung is a contemporary Australian restaurant that pledges to maintain the integrity of flavours through the use of classic curing techniques with the aid of modern instruments. Armed with years of experience, in charcuterie and grill, a lust for experimentation, and several culinary tricks both traditional and urban up his sleeves, one should be curious to try his renditions of the usual Singaporean dishes.
On the menu at STREAT:
Rendang Steak Sandwich ($15)
Chicken Rice Kueh Pie Tie ($8)
Crayfish Mac & Cheese ($10)
Artichoke
Proudly represented by Bjorn Shen, Artichoke is an extension of his personality – funky, new-school style, unpretentious and just doing the thing he loves. When asked to create a Singapore-Inspired addition for Singapore Food Festival, he decided to cook up a rendition of his favourite curry noodles with rice vermicelli, coconut milk, pickled mustard greens, laksa leaf, wanton chips.
On the menu at STREAT:
Curry Noodles with lemongrass roast lamb ($10)
Curry Noodles with lemongrass roast pork ($10)
Curry Noodles "Double Delight" combination of lamb and pork ($15)
Watermelon Yakult Ice Pop ($4)
The Feather Blade
Chef-Founder Sheen Jet Leong brings his inspiration from the famed steakhouse Flat Iron in London to Singapore. After a successful pop-up, newly opened The Feather Blade endeavours to bring about more Asian qualities to their hyper-focused steak menu.
On the menu at STREAT:
The Feather Blade Steak ($11)
The most tender cut of steak after the tenderloin accompanied with buttery mashed potatoes and our smashing Sichuan peppercorn sauce
The Feather Blade Sando ($11)
Breaded and deep-fried feather blade steak, black pepper katsu sauce, Japanese milk bread; served medium rare
FatPapas
FatPapas is the halal spin-off of homegrown burger chain FatBoys, serving the same well-loved burgers, ribs and shakes to the Muslim community and more. Staying true to their Singaporean roots, FatPapas will add a local twist to their classic American fare with Impossible Foods exclusively available at STREAT 2019.
On the menu at STREAT:
FatPapas Impossible Mini Burgers ($10) [Vegetarian]
Mini Impossible patty sandwiched between chia seed carbolite mini buns with smoked chipotle sauce
FatPapas Hotdogs ($10)
6-inch 100% beef sausages on a bun topped with caramelised onions and condiments
---
Retail
Naiise
Local design retailer Naiise is a curated destination for original, well-designed products and daily design inspiration. The brand is a strong supporter of local design, celebrating the unique community, culture and heritage that lend uniqueness to every product designed locally.
The pop-up store at STREAT will offer a showcase of locally inspired creations by Singaporean designers. Visitors can browse and purchase fun and quirky items to complement their local food adventures – from ang ku kueh and ice cream sandwich cushions to Singapore momento pins and "How to order your kopi" plates.




---
Workshops
Workshops on 12 July
Here's the line-up of STREAT workshops on 12 July:
6pm – 7.30pm: Coffee ShowTime
7.30pm – 8.45pm: Grow your own Super Food
9pm – 10.15pm: Mobile Photography for Instagram
*Sign up details will be announced at a later date on the STREAT Facebook Page
Workshops on 13 July
Here's the line-up of STREAT workshops on 13 July:
5pm – 5.45pm: Chef Sujatha Asokan
Learn the secret behind making the perfectly sumptuous Asparagus Tempura with Chef Sujatha Asokan!

About Chef Sujatha Asokan (Rising Chef of the Year at the World)
Chef Sujatha Asokan may only be 28, but she is already the Head Chef at modern contemporary European bistro Botanico at The Garage. Since taking on the position last year, Chef Su has found ways to introduce Asian flavours into the restaurant's menu, creating unique dishes such as her signature Seabass Ceviche – an elevated take on Assam Laksa.

6.30pm – 7.15pm: Beer Appreciation workshop by Archipelago Brewery
7.30pm – 8.15pm: Chef Edward Chong
Learn the art behind the making of Chef Edward Chong's well-loved Steamed Barramundi in "Nan Yang" style dish.

About Chef Edward Chong (Electrolux Asian Cuisine Chef of the Year at the World Gourmet Summit 2019)
Widely regarded as a rising chef within the Chinese culinary scene in Singapore, Chef Edward Chong of Peach Blossoms is known for his elegant and artistic presentation style. His ability to bring out each ingredient's natural flavours to its fullest potential is a huge draw for foodies. This style is especially evident in his well-loved dish, Nan Yang styled Steamed Barramundi.

9pm – 9.45pm: Origin Bar Cocktail Workshop
Learn with Origin Bar how to use local ingredients to impress your friends at your next house party. Classic and modern classic cocktails with a local twist, class will be done by Bar manager Adam Bursik and his team
*Sign up details will be announced at a later date on the STREAT Facebook Page
DETAILS OF STREAT 2019
Date: 12 & 13 July 2019
Time: 5pm – 11pm
Venue: The Promontory@Marina Bay
Ticketing: Free Entry to STREAT
Bookings for workshops will be announced at a later date on the STREAT Facebook Page
Price Range: Items range from SGD3 – SGD15
Stay in touch! Subscribe to our Telegram here for our latest updates.