Sweat it out to the first ever Summer Spin Jam dance workout led by a DJ and a team of experienced Jam instructors; stay the evening for the Glow Dance Jam
Test your physical prowess at the functional fitness activity, RED-X Challenge: The Colosseum
Explore the Hub through the multi-sports, multi-stations activity, Super Sports Day
Cool off with water fun play at SPLASH-N-DASH, and learn more about competing in a duathlon at the Sports Development Series: Duathlon Introduction Clinic
Bask in the sun at the inaugural summer-themed Sports Hub Community Play Day happening at the OCBC Square on Saturday, 13 July from 10am to 8pm. The one-day event is free to the public and will feature a range of innovative fitness activities such as experiential party workouts and team building multi-sports challenges. Making its debut at the Play Day is the Summer Spin Jam, where participants can boogie through the afternoon from 4pm to 6pm, to the beats of a DJ and guidance of an instructor. Evening-time participants can join in the Glow Dance Jam from 6pm to 8pm and sweat it out amid the neon night. Other highlights include the RED-X Challenge: The Colosseum for fitness enthusiasts and like-minded individuals to test their functional fitness ability, while sports-lovers can form teams for a shot at the multi-sports activity stations at the Super Sports Day.
Besides burning off calories, visitors can experience wet and wild fun at the SPLASH-N-DASH bubble run on water inflatables. Aspiring young athletes can join in the Sports Development Series: Duathlon Introduction Clinic to learn more about competing in a duathlon from the coaches of Triathlon Singapore.




Ms Christine Lau, Director of Sports and Community Programming, said, "The Summer Sports Jam brings on the good vibes of leisure recreational and sporting activities concept with a refreshing twist. It encourages the community to play outdoors and have loads of fun through multi-sports play with friends and family. We hope that through Sports Hub Community Play Day, participants will be able to discover that playing a sport and being active can be engaging and fun."
As part of USA Swimming's Training Camp Public Day in Singapore, the famed team will be making a special appearance at Sports Hub Community Play Day from 10am to 11am. Fans who register for the meet and greet session can get chance to meet the swimmers up close.
Coinciding with the upcoming 2019 International Champions Cup Singapore and in celebration of Singapore Football Festival – a yearly island-wide celebration of football by ActiveSG, Summer Sports Jam will also be featuring various football and football-inspired activities such as Pool Football, Experience Sports Football Clinics, ActiveSG D.A.T.E Football, Learn-to-Play Footvolley and Water Soccer.
Participants can also earn summer rewards and stand a chance to bring home a limited-edition summer-themed pack, comprising an exclusive tank top, towel and drawstring bag, limited to the first 500 redemptions. Visit the event day Information Booth to find out more.
The Sports Hub Community Play Day is a quarterly community engagement initiative aimed at bringing the community together and encouraging a more active lifestyle through sports and recreational activities. Public can also look forward to the fourteenth edition of Sports Hub Community Play Day (Japan Summer Festival) on 7 and 8 September 2019. For more information on the Sports Hub Community Play Day, please visit here.
Summer Sports Jam Activity List:
1. Summer Spin Jam: Dance Workouts (4pm to 8pm)
Dance away those calories at this day-long workout activity led by a DJ and a team of experienced Jam instructors at the Summer Spin Jam. Those who stay through the evening can partake in the Glow Dance Jam, happening from 6pm to 8pm. Dance workouts include Bounce DanceFit, Kpop, Piloxing, Zumba, Cardio Blast, and Fit & Joy.
2. RED-X Challenge: The Colosseum (10am to 7pm)
Test your physical prowess at the functional fitness activity. Complete all the stations in a single sitting and warrior your way to the top of the hourly leaderboard. Participants of different fitness level are welcome to join in the challenges. Professional guidance will be provided at the stations.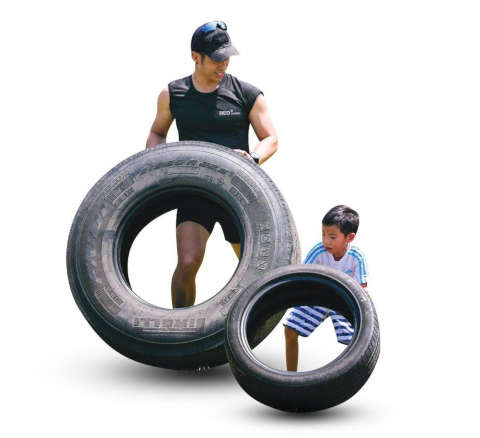 3. Super Sports Day (10am to 7pm)
Sports lovers can form a team of three to five and have a go at multiple sporting challenges such as Pitch Perfect baseball challenge, Giant Bucket Pong basketball challenge and more. Hunt and solve mysteries at various stations located all around Singapore Sports Hub!
4. SPLASH-N-DASH (10am to 7pm)
Chase the summer heat away at the SPLASH-N-DASH! Roll with us at the bubble run or have a splash in the water play activities on water inflatables such as the Balloon Blaster, Water Soccer, Water Obstacle and Kids' Water Slide. Toddlers can join in the fun at the special toddlers' friendly zone with fish-ponding and water guns play.
5. Duathlon Introduction Clinic by Triathlon Singapore (10am to 6pm)
As part of the Sports Development Series, coaches from Triathlon Singapore will be giving a Duathlon Introduction Clinic to aspiring young athletes. Learn more about competing in a duathlon from the experts and compete in a Mini Duathlon Race at the end of the clinic.
6. Overathird Netball Clinic by Singapore former National Netball Players (10am to 5pm)
Under the guidance of Singapore's former National Netball Players, learn the fundamentals of netball or refine your skills. Parents can also pit their netball skills against their children at the Parent-Child session.
7. Experience Sports Football Clinic & ActiveSG D.A.T.E. Football Clinics (10am to 7pm)
Various football clinics are available for children as young as 3 years old and up to 12 years old. Free play sessions are also available on the pitch for children from 1pm to 2pm and 6pm to 7pm.
8. Pool Football (10am to 8pm)
Play football on a life-size pool table. Aim and kick the soccer balls into the different pool table pockets.
9. Footvolley at Beach Volleyball Court (1pm to 6pm)
Combining elements of football and volleyball into the gameplay. Learn the basics of Footvolley at the Footvolley Clinics.




10. Community Fitness Assessment by ELXR® (10am to 6pm)
In collaboration with ELXR®, test your fitness through nine exercise modalities based on international guidelines and standards. Guided by professional coaches, improve your health and reach your fitness goals as you go through the nine stations.
11. Esports Dodgeball at Visitors Centre (10am to 8pm)
Compete against your peers at the non-sedentary esports using Augmented Reality Technology where you will not be restricted to being in front of a screen.
12. Football at Your Fingertips at Sports Hub Library (2pm to 5pm)
Meet the players from Table Football Association of Singapore and try a game of Subbuteo. Stand a chance to win New Balance vouchers when you compete in a friendly flick session with the professionals.
13. Football Trail at Singapore Sports Museum (10am to 8pm)
In conjunction with Singapore Football Festival, the Singapore Sports Museum invites you to explore the history of local football through a self-discovery Football Trail.
14. Film Screening at Shimano Cycling World: Return to Earth (A new movie from Anthill Films)
Embark on a cinematic journey connected by true to life examples set by riders of all ages around the world. Return to Earth is a feature mountain bike film about the simple act of living in those moments.
15. USA Swimming Public Day (8am to 11am)
Fans of team USA Swimming can catch their star athletes in action at OCBC Aquatic Centre between 8am to 11am, with a Meet and Greet session happening at OCBC Square from 10am to 11am. Registration is required.
Stay in touch! Subscribe to our Telegram here for our latest updates.