"Pssst… Have you heard of the new Sentosa Islander membership?"
Be part of the most exciting crowd to enjoy UNLIMITED island admissions to Sentosa! With the enhanced Sentosa Islander membership, you can now come to Sentosa as many times as you want – via the Sentosa Boardwalk, Sentosa Express (monorail) and Sentosa Gantry (drive-in) with the registration of one private saloon car! What's more, you also get to enjoy the many discounts and privileges when you flash your Sentosa Islander membership card at all participating attractions, food and beverages, retail outlets and hotels on the island.
The Sentosa Islander membership starts only at $25/year for Individuals and $50/year for Families (up to 5 immediate family members). So what are you waiting for ? Sign up now at Sentosaand be part of the Sentosa Islander family!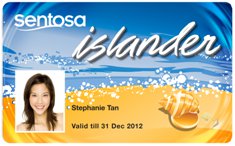 Sentosa is now giving away 5 Family Islander memberships to The New Age Parents readers! All you have to do is
1. Like Sentosa (Official) Facebook Page
2. Like Our Facebook Page
3. Answer this simple question and fill in your details below:
The contest has ended.
Note : All Winners will be notified by phone call and email.
The above contest is proudly brought to you by Sentosa and The New Age Parents


Sentosa, Asia's Favourite Playground
Terms and Conditions Apply