Sentosa Busker's Festival is back with a bang! With 200 live shows by a cast of buskers from all over the world, come and be entertained by acrobats, jugglers, puppeteers, comedians and human statues!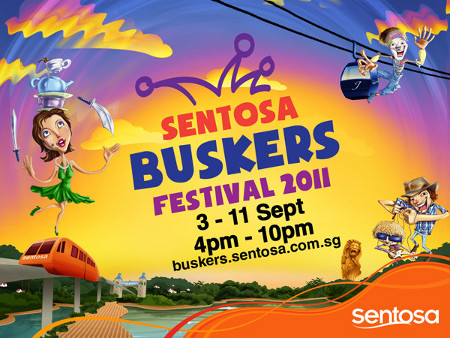 Here is a breakdown of the buskers' profiles:
A Moment of Madness by Jonathan Acorn (New Zealand), Puppetry
He's weird, wacky, outrageous and extremely funny! Be dazzled by 'A Moment of Madness', the show presented by the master puppeteer from New Zealand. This interactive performance will have everyone laughing out loud in no time!
Japanese Jugglers by Senmaru & Yuki (Japan), Juggling
Once a sacred art form, Japanese duo Senmaru and Yuki has revolutionised "Daikagura" into "Edo-Daikagura" – an exciting performance of juggling feats. Hold your breath as they deftly balance various objects on the top of an umbrella!
Imaginary Mime by Karcocha (Chile), Mime
Expertly embodying the art of mime, Karcocha fluidly engages your imagination through his silent routine. Infusing charm and delicateness in every performance, he acts out creative scenes that stimulate and challenge the minds of all who watch him. Truly an act where actions speak louder than words!
The Last Balanzo by Aytahn Ross (Canada), Various Acts
With live acts seen by more than a million people throughout Canada and around the world, this veteran performer from Circus Montreal is the last descendent of the fabled Royal Balanzo Family. Watch spellbound as he enthrals you with his various acts of astounding dexterity and skill.
Jazz Puppets by Valentino (Macedonia), Puppetry
Over 15 years of experience, Valentino is regarded as one of the world's finest professional puppeteer. He will have you fooled as he deftly manipulates his lovingly hand-crafted Jazz Puppets to play an assortment of musical instruments in a life-like showcase of subtle humour, enthralling music and graceful skill.
Amazing Acrobatics by Acromanuel (Denmark), Acrobatics & Stunts
After developing an interest in acrobatics and gymnastics at an early age, this dextrous Mexican travelled extensively across the world honing his technique and refining his craft. Now, Acromanuel is coming to Singapore to wow you with gravity defying physical stunts of effortless grace and athleticism!
Magical Escape by Jeff Collins (Canada), Magic
Having presented his show at most major 'Busker' festivals, Jeff has gained a reputation as one of Canada's finest! His bizarre, unorthodox approach to magic, fire-eating and escapes offers something for everyone. His sharpness of tongue keeps his audience on their toes. Seriously, you just never know what he will be up to next!
Human Statue by David Engel (USA), Human Statue
If you are looking for a performer that does not stand still, then this vastly experienced, classically trained actor and full-time entertainer will surprise you – without even moving a muscle! You could call him a living work of art. Literally!
'Bentertaining' Comedy by Benny B (Australia), Comedian
Benny B is one of Australia's most creative and innovative circus and street artist. This one-time electrical engineer decided to give up his day job to pursue his passion of electrifying audiences as a professional comic entertainer. He has been roaming the comedy circuit and amusing audiences with his unique circus entertainment!
Circus Comes to Town by Tina Green (Australia), Circus Entertainment
Tina Green's unique performance style combines high level circus skills with comic ideas designed to create an exciting and silly atmosphere everywhere she performs. This young performer is every bit entertaining as she is versatile!
Nuts over Aerobics by Louise Kerr (New Zealand), Circus Entertainment
Meet Punk – the coolest clown in town, or just the most intimidating. This chaotic clown blunders her way through a series of misadventures. Don't miss Sport Suzie turning her unusual exercycles, spandex and sweat bands into a complete cardio workout for all those watching – seated or otherwise!
Random Painter by John Gowdy (USA), Painter
The award-winning painter cum sculptor creates magnificent art pieces, turning festival into a spectacular and memorable experience.
Clap, sing, shout and cheer!
Don't be shy to participate in the performances! Show your appreciation through your raucous laughter and applause! Last but not the least, donate generously when the buskers pass around their hats, as its for a good cause! All proceeds will go towards the Community Chest and the 70 charities under its care.
Sentosa Gives!
On September 10 (Saturday), Sentosa will be having its first ever large scale charity initiative event, Sentosa Gives! Public members will enjoy free entry through the Sentosa Boardwalk and Sentosa Express, from 7am to 11.59pm. (This is not applicable to drive-ins by passenger cars, taxis and other vehicles)
So remember to make a trip down to Sentosa this September Holidays for a fun-filled, humorous and light-hearted event for the whole family!
The Busker's festival is a free event, but Island admission charges apply, except on the 10 September.
For more information, visit www.sentosa.com