I am one of the lucky winners of The New Age Parents Refer-a-Friend contest and I have won myself a tub of Fischer Tip Creative.
This creative 'puzzle' is easy to play. I like Fisher Tip as it is really simple, non-toxic and clean for young children to play with. The parts stick together very easily when they are lightly dampened. There is no worry of mess from water spillage or sticky glue – all I have to do is to provide my child with a moist sponge and he can engage himself in his world of imagination for hours. Fisher Tip encourages creativity, imagination and logical thinking as it involves putting the pieces together to form a beautiful art.
My child enjoyed playing with Fisher Tip. He was very excited when I first introduced it to him and he was very surprised when I told him that he can stick the parts together without glue. His imagination grew as he was playing with it. He created simple things from a hammer, a window and a chair to more complicated ones like a flower, a car, a fighter jet and a dinosaur. The picture below was one of his favourite creations and he was very proud of it.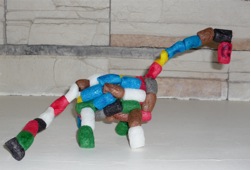 His favourite Fischer Tip Creative creation – a Diplodocus dinosaur
Want to let us know your thoughts on a product that captured your interest? Do write in to us at admin@thenewageparents.com!