RDA SINGAPORE
Riding for the Disabled Association of Singapore (RDA) is the only local charity which offers Therapeutic Horse-Riding program for children and adults with disabilities, 100% FREE OF CHARGE. We work with virtually all types of disabilities, our wonderful therapy horses provide a tool for physical and cognitive improvement in a non-clinical format that is uplifting and effective – helping the beneficiaries to function better in school, at home and general daily activities, and ultimately helping to improve the quality of life for the beneficiaries and their families.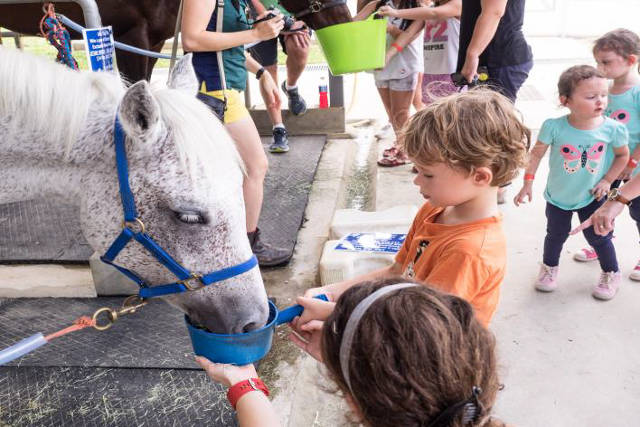 Over the recent years, demand for our program has increased significantly; we are hence expanding our program to meet this increased demand.
We will be re-launching our Holidays Program and expanding our services so as to reduce average wait time, from 6 – 9 months to 3 – 6 months for a slot in the therapy
The Program Expansion would also enable us to offer repeated sessions to beneficiaries that required additional help; at the same time – to support early intervention, we are lowering the minimum age to register for our program from 6 to 5years old
We are welcoming 3 additional Therapy Horses to support the planned Program Expansion
---
OPEN HOUSE CARNIVAL
Date: 28 April 2019 (Sunday)
Time: 10am – 3pm
Venue: RDA Centre, 5 Jalan Mashhor Singapore 299174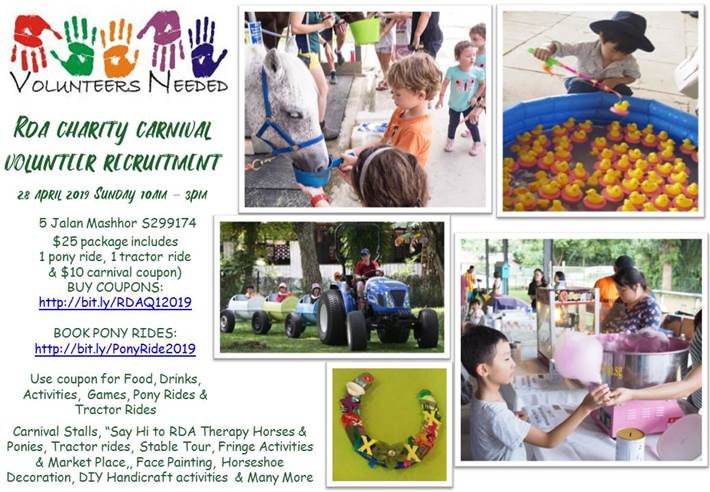 Click here for a larger view.
RDA Singapore will be holding an Open House Carnival offering exciting activities including food, games, crafts, stable tour plus tractor & pony rides! The Open House Carnival is a public outreach initiative for the organisation. If you're wondering how riding a horse helps someone with disabilities, now you can find out.
BOOK HERE NOW – EARLY BIRD SPECIAL @ ONLY $25:
1 x Tractor Ride
1 x Pony Ride (Kids 3 – 12 years old, up to 50kg)
1 x $10 RDA Open House carnival coupon (for games & F&B, etc.).
Register for Pony Rides HERE.




---
VOLUNTEER RECRUITMENT
To support the planned Program Expansion, we need more volunteers – particularly for our weekdays (AM & PM) sessions. Volunteers need to be the minimum age of consent of 16 years old. Interested applicants below 21 years old will require parental consent. Training will be provided – you need to be comfortable working with a person with disabilities and being around horses. To volunteer: visit here.
Preference will be given to volunteers who are able to commit at least 1 riding therapy term (once a week on the same day/session for 10 consecutive weeks). This ensures that the same volunteers will follow through the therapy progress with the same beneficiary who rides with us for a 10-week term.
Like what you see here? Get parenting tips and stories straight to your inbox! Join our mailing list here.
Follow us at Telegram t.me/newageparents