'Operation Pink' – Winning The Battle With Style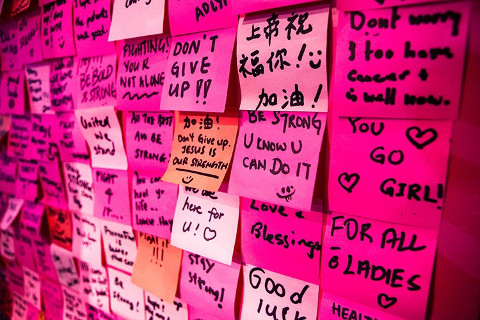 [The top picture features the children dressed in doctor's uniform, for a day; the bottom picture shows words of encouragements for survivors and cancer patients.]
'Operation Pink', a cancer awareness campaign organised by Mount Elizabeth Novena Hospital kicked off on the 2 October 2013, is a unique initiative encouraging the public to show communal encouragement towards cancer patients and survivors.
For the entire month of October, the Parkway Pantai group of hospitals pledge to donate fifty cents for every photo and hashtag (#operationpink) shared on Twitter and Instagram by the members of the public to the Breast Cancer Foundation (BCF) Singapore. The social initiative has garnered much support from the Singaporean community, garnering approximately $7,000 to date. The donation will be put into good use for helping financially needy breast cancer patients in the pipeline.
Furthermore, the purpose of this meaningful campaign is to bring across a strong key message – people diagnosed or has survived through this cancer are not fighting the battle alone. Mr Kelvin Loh, CEO of Mount Elizabeth Orchard and Mount Elizabeth Novena Hospitals, said, "We are proud to be the first private institution to kick start this meaningful campaign. We hope that we can continue to hold this campaign every year, turning this as an avenue for more people to become aware of this disease. As breast cancer is the number one cancer that is claiming the lives of Singaporean women, it is all the more essential for us to lend a helping hand as a healthcare provider."

[The top picture shows the volunteers in PINK shirts, raising awareness for 'Operation Pink', the bottom picture shows a little girl showing her support for 'Operation Pink' by showing off her tattoo with a strong-willed outlook!]
The 'Operation Pink' campaign in Mount Elizabeth Novena Hospital saw great response and attribute its success from an earlier campaign that the hospital has organised in July and revisited this October, called 'Doctor For A Day'. The programme was designed to have parents bringing their children (aged five to 12 years old) to the hospital ground and experience a day of being a general practitioner, a nurse or even a surgeon in an operating theatre. The programme aims to help children better appreciate the healthcare industry and inspire them to become medical professionals when they grow up.
Mount Elizabeth Hospital Novena hopes to continue delivering more social and educational campaigns to the public in the near future.