Thinking of things to do and places to visit this holidays? Here are some events happening in Singapore Malls this Christmas Holidays.
Wishing you a very Mall Christmas!
Christmas Fantasy at Takshimaya Square
10 Nov – 26 Dec (Thu – Mon), 10.00am – 9.00pm

The holiday season brings plenty of fun for the little ones at Takashimaya Square. This Christmas, witness their glee when they get to meet and greet the Power Rangers Samurai, the characters from Angry Birds and the Winx Club. A special year-end treat not to be missed!
• Meet & Greet Sessions – Power Rangers Samurai
Come meet the Power Rangers Samurai, as they battle the dark forces of the Netherworld.
Thu 10 to Tue 15 Nov 2011
1pm, 4pm & 7pm daily
DBS Takashimaya Credit/Debit Cardmember exclusive meet and greet
Thu 10 Nov, 1pm
• Winx Club
Embark on a magical adventure with your favourite Winx fairies – Bloom, Flora and Stella!
Thu 17 Nov to Tue 22 Nov 2011 1pm, 4pm & 7pm daily
DBS Takashimaya Credit/Debit Cardmember exclusive meet and greet
Thu 17 Nov, 1pm
• Angry Birds
Squakw! Angry Birds are here! Be the 1st in Singapore to catch it live!
Fri 25 Nov to Sat 10 Dec 2011
1pm, 4pm & 7pm daily (No show on Mondays)
DBS Takashimaya Credit/Debit Cardmember exclusive meet and greet
Fri 25 Nov, 1pm
Recycling Fun at City Square Mall
In conjunction with Clean & Green Singapore, be part of our green movement by contributing your recyclable items and transform them into beautiful Christmas tree ornaments with students from Singapore Polytechnic!
• Christmas Eco-chantment
3 Dec, B1 Fountain Square, 11am to 8pm
Join SP students at the Christmas Ornament Workshop and create Christmas ornaments out of the collected recycled materials. There will also be an Eco Bazaar on 3 and 4 Dec.
• Pokémon Eco-Christmas Show & Photo-Taking Session @ City Square Mall
Nov 26, 2011 – Dec 04, 2011, Level 1 Atrium
Tuesday to Friday: 7pm
Saturday & Sunday: 1pm, 4pm & 7pm
To take a picture with the Pokémon characters, shoppers can redeem a photo-taking pass with $30 spent in a maximum of 3 combined same-day receipts at the Customer Service Counter on Level 2 one hour before each show. In this season of giving, City Square Mall will be handing out complimentary Pikachu headbands to the first 2,000 children present for the show, while stocks last.
United Square – The Little Big Club Christmas Carnival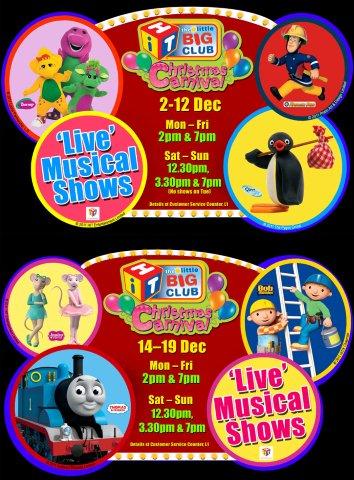 Live Musical shows!
Meet and greet Barney & Friends
2 – 12 December 2011
Mon – Fri, 2 pm, 7 pm
Sat – Sun, 12.30pm, 3.30pm, 7pm
Meet and great Thomas and the Fat Controller
14 – 19 December 2011
Mon – Fri, 2 pm, 7 pm
Sat – Sun, 12.30pm, 3.30pm, 7pm
VivoCity
Roving Performances in November
Enliven your shopping experience and immerse in the magic of the holiday season in VivoCity with a series of delightful roving performance every weekend! Be sure to catch them for a memorable photo-taking opportunity!
• Christmas Characters
Every Saturday, 4pm and 7pm
• Pair Santa Claus with Santarina, and a Christmas tree mascot with a life-sized elephant mascot and you have a happening combination! Groove to the music as these 4 characters rove the mall with occasional stops to break into an entertaining and fun dance.
• Juggling Stilt Walkers on Tricycles
Every Sunday, 4pm and 7pm
• Jugglers, balloon sculptors and stilt walkers all rolled into one! Catch this colourful and talented duo as they make their way around Level 1 on their custom-made tricycles!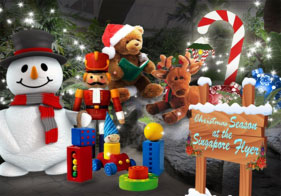 Singapore Flyer: Toys Come Alive
Nov 12, 2011 – Jan 01, 2012
Weekends only
6pm – 8pm
Bringing you joy and happiness this festive time of the year is Singapore Flyer, as it transforms into a fantasy Toyland, complete with toy soldiers, teddy bears, Gingerbread Man, marching nutcracker percussion & choir performances, Christmas jingles, bubbles and fairy lights. Your Christmas' weekends are made even sweeter, as kids get to enjoy free popcorn, candy floss, a kids' fun pack and goodies hamper, with every full-priced child flight ticket ($20.65) purchased over the ticketing counters.
Funan Digital Life Mall: X-ploring Tech Fun!
Nov 21, 2011 – Nov 27, 2011, 11am – 8pm
Free admission
Explore the fun in of technology with interactive exhibits, toy making, and an 'electrifying' time at our Science Shows! Catch a Segway ride too! Organised by Science Centre Singapore.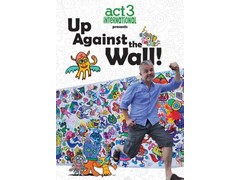 ION Orchard: Up Against The Wall! Art Workshops
Nov 30, 2011 – Dec 06, 2011
ION Art Gallery, Level 4, ION Orchard
Workshops:
Fantastic Creatures Workshop: 10am – 12pm
Monster Masks Workshop: 4.30pm – 6.30pm daily
$45 per child (includes open activities)
Open activities:
1pm – 1.45pm, 2pm – 2.45pm, 3pm – 3.45pm daily
For open activities only: $12 for 45 minutes
Watch Scott: 6.30pm – 8pm daily, Free Free admission
'Up Against The Wall! – a visual adventure with Scott Walker' presented by ACT 3 International, is a specially curated programme that invites children to be drawn into a world of artistic adventures through the eyes of Scott Walker, a UK-based cartoon artist. Suitable for children from aged 5 onwards, activities consist of scheduled workshops for up to 30 children guided by Scott; with two workshops a day over the seven day period, as well as open activities. Children will be dropped off and parents can return to view the artworks.