For Nov-Dec Holiday Enrichment programmes, visit December Holiday Enrichment Programmes 2015
For other up coming events, visit Events in Singapore.
Note: All details are correct as at time of publish. Readers are advised to check with the various event organisers for the most updated schedules.
22. Chinatown Food Street Celebrates Winter Solstice "Dong Zhi"
Chinatown Food Street will offer an array of 'Dong Zhi' related activities and offerings to revisit the importance of this Chinese festival. *New Age Parents' Facebook fans can purchase our Limited Winter Solstice Family Set Meal at $9 when they flash their mobile with our Winter Solstice Event poster.
Date: 19 to 20 December 2015
Time: NA
Venue: Chinatown Food Street
For more information, visit Celebrate Winter Solstice 'Dong Zhi' at Chinatown Food Street

23. The Princess and the Snow Bear
Experience an enchanted white Christmas in tropical Singapore with Forum The Shopping Mall as it comes alive with pristine white snowflakes and ribbons of spectacular blue. Little ones, join Ariana the Ice Princess and Sebastian the Snow Prince as they triumph over evil and find their happiness ever after! Cannot get enough of the Kingdom of Ice and Snow? Skate to your heart's content and have tonnes of fun on the exciting ice rink!
Date: 4 to 15 December 2016
Venue: Forum the Shopping Mall B1 Atrium
Time: 1pm & 3pm (weekdays) | 1pm, 3pm & 5pm (Sat & Sun)

24. BookFest Singapore 2015
Bookfest@Singapore 2015, POPULAR's biggest annual book and stationery event returns to the city for its ninth edition. BookFest@Singapore 2015 is not only educational but also an entertaining event for the whole family.
Date: 4 to 13 December 2015
Venue: Suntec Singapore Convention Centre, Hall 401 to 405
For more information, visit Popular BookFest Singapore 2015

25. The Enormous Turnip
A fast paced, colourful, interactive play, carefully deisgned for the younger audience with cute characters, fun and memorable songs, and a clear moral message for everyone.
Date: 17 November to 6 December 2015
Venue: SOTA Drama Theatre
Ticket charges apply.

26. Meiji Warehouse Sale
Grab your favourite snacks from Meiji at rock bottom prices!
Date: 27 to 28 November 2015
Venue: 36 Quality Road Singapore 618806
Time: 10am to 5pm

27. NTUC Family Fair
HELP YOUR CHILD EXCEL IN 2016
Discover the secrets to academic success and behavioural improvement
Date: 29 November 2015
Venue: Auditorium NTUC Centre, Levels 7 – 9
Time: 11am to 6pm
To register, visit http://justu.ntuc.org.sg
28. Super S.U.R.E. Show (Parenting Special)
Want to know how media and technology today can influence the way you raise your children? Then join us at our Super S.U.R.E. Show, a parenting special where Diana Ser, Evelyn Tan, Nicholas Aaron Khoo, and Dr Jiow Hee Jhee show you how to be S.U.R.E. when it comes to the information that you and your kids come across daily.
Date: 21 November 2015
Venue: Level 1, The Plaza, National Library Building 100 Victoria Street, Singapore 188064
Time: 3pm to 4pm
Tickets: Free admission
Limited seats available, reserve a seat on GoLibrary now! For more info, please visit www.nlb.gov.sg/sure/supershow3. This programme is organised by S.U.R.E. (Source, Understand, Research and Evaluate), an initiative by the National Library Board.

29. Wan Qing CultureFest 2015
Enjoy an exciting line-up of performances by local artists, craft demonstrations, documentary screenings, public lectures and more as we deliver memorable cultural treats in a fun manner for everyone!
Date: 21 November to 5 December 2015
Venue: Sun Yat Sen Nanyang Memorial Hall
Time: Various Timings
Free admission
For more information, visit Sun Yat Sen Nanyang Memorial Hall.


30. Transformers Combiner Wars
Courage is Stronger when Combined! Join us for the Transformers Combiner Challenge at Takashimaya Shopping Centre and be the fastest fingers to convert and complete the Superion Combiner!
Date: 28 to 29 November 2015
Venue: Takashimaya Shopping Centre, Toys Department, Level 4
Time: 1:00pm to 6:00pm (Registration starts at 1:00pm)
Free registration and on a first come first serve basis

31. Meet & Greet at Takashimaya
Venue: Takashimaya B2
Date / Character:
14 to 17 November 2015 | Disney
19 to 25 November 2015 | Robocar Poli
26 November to 1 December 2015 | WINX Club
3 to 8 December 2015 | Yo-Kai Watch
10 to 13 December 2015 | G-Fighters
For more information, visit Meet & Greet at Takashimaya

32. Universal Studios Singapore
With snowfall, fireworks and brand new Christmas-only shows, come and have a jolly good time at Universal Studios Singapore. Making a comeback would be the popular 'Sesame Street Saves Christmas' show at Pantages Theatre. Delighted children can also catch the hourly snowfall daily or fireworks on select nights.
Date: 1 December 2015 to 3 January 2016
Time: 10.00am to 9.00pm
For more information, visit www.rwsentosa.com/USS

33. S.E.A. Aquarium
Get into the festive mood under the sea with Merry Fishmas at S.E.A. Aquarium. Standing tall is a Christmas tree made out of plastic bottles collected from across the resort to promote recycling. S.E.A. Aquarium will have extended operating hours this festive season.
Date: 1 December 2015 to 3 January 2016
Time: 10.00am to 7.00pm (extended to 9pm on select days)
Price: S$32 (Adult), S$22 (Child and Senior)
Singapore residents: S$28 (Adult), S$15 (Child and Senior)
For more information, visit www.rwsentosa.com/SEAA


34. Resorts World Theatre
From the internationally acclaimed creators of Peter Pan, The Never Ending Story comes the Asian debut of Cinderella, A Fairly True Story.
Adapted from a previous version staged in Europe in 2013, the lighthearted fairytale-themed story with a contemporary twist follows the tale of Cinderella but through the eyes of an inquisitive reporter.
Date: 10 December 2015 to 4 January 2016
Time: Thursday: 7pm only
Friday, Saturday, Sunday and Monday: 2pm and 7pm
Price: Premium: S$168
Standard: S$138, S$108 and S$78 (Excludes SISTIC booking fee and handling charge)
For more information, visit www.rwsentosa.com/Cinderella

35. Oddbods Musical Show with Meet & Greet
Jolly together with Bubbles, Fuse, Newt & Pogo as they dance and sing to all things Christmas! Spend $30 in a single receipt and receive an Oddbods Meet & Greet Pass.
Date: 4 to 13 December 2015 (no show on 7 Dec, Mon)
Time: 1pm & 7pm (Tue-Fri) | 1pm, 4pm & 7pm (Sat-Sun)
Venue: West Coast Plaza
For more information, visit www.westcoastplaza.com.sg

36. Kampung Day
Kampung Day is a community affair by Ground-Up Initiative (tag us @groundupinitiative) and there will be lots of activities that brings out the art of sustainable living at their Kampung Kampus in Yishun! Exciting workshops on cooking, craft and creating food gardens are available by registration, and other hands-on activities, such as Kampung Play games; eco play dough; mini mud bricks; Kampung tours etc are open to the general public to enjoy.
Date: 12 December 2015
Time: 9am – 3pm
Venue: Kampung Kampus (91 Lor Chencharu, Yishun Singapore 769201)
For more information, visit http://peatix.com/event/131425

37. Seussical the Musical
The world of Dr. Seuss comes alive at Seussical the Musical! Direct from the UK tour, ABA Productions and Diva Productions proudly presents Seussical the Musical! You heard us right, the fantastical, bombastical and songtastical world of Dr. Seuss, one of the most celebrated children's book authors, will be here live on stage.
Date: 6 to 8 2015
Time: Various timings
Venue: Esplanade Theatre (Address: 1 Esplanade Drive Singapore 038981)
For more information, visit Seussical The Musical In Singapore
38. MDIS Movie Night: Star Wars – The Force Awakens
Get an early start to Christmas with a scrumptious dinner at the newly refurbished Management Development Institute of Singapore (MDIS) at Dhoby Ghaut and catch the highly anticipated Star Wars Film: The Force Awakens after the feast. Opened to both public and MDIS alumni, come dressed as your favourite Star Wars character and stand a chance to win amazing prizes!
Date: 18 December 2015
Time: 7.00pm to 10.30pm
Venue: MDIS Dhoby Ghaut, 20 Orchard Road, Singapore 238830
Price: MDIS Alumni: S$20 (1 pax) S$15 (2 pax or more) | Public: S$30
For more information, visit MDIS Movie Night
39. The Dance Concert
Angelina Ballerina and friends are coming to Raffles City! Check out "The Dance Concert" live on stage as she and her best friend Alice shimmer and twirl this season!
Date: 13 to 22 November 2015
Time: Tue – Fri: 1pm & 7pm | Sat & Sun: 1pm, 4pm, 7pm
Venue: Raffles City
For more information, visit www.facebook.com/rafflescitysg/

40. Stroller Walk
Bring along your tots and family to the inaugural Stroller Walk. Sign up and get a Free race pack worth over $150.
Date: 19 Dec 2015
Venue: Singapore Sports Hub
Registration fee: $28 per family (up to 5 pax, one of whom must be a child in a stroller)
For more information, visit Stroller Walk 2015

41. Christmas with Nickelodeon's SpongeBob SquarePants
From 5 to 20 December, join SpongeBob and his best friend Patrick Star, in an all-new live show.
SpongeBob SquarePants Krabby Patty Celebration 'Live' On Stage
Date: 5 to 20 December 2015 (Except Mondays)
Time: 2pm & 7pm (Tues – Fri); 1pm, 4pm & 7pm (Sat & Sun)
Venue: Level 1 Atrium
Outdoor SpongeBob Playland
Date: 20 November 2015 to 3 January 2016
Time: 12pm to 10pm daily (last admission at 9.30pm)
Venue: Level 1 City Green park

42. Children's Art Workshops @ Affordable Art Fair
No blank wall is safe! Affordable Art Fair will be featuring a 'Young Emerging Artist Wall' for kids and Live Onsite Doodling! It will also offer fun, accessible and educational workshops for all ages.
Date: 12 to 15 November 2015
Time: 12 November, Thursday: 1200 – 2000, 13 November, Friday: 1200 – 2200 and 1800 – 2200, 14 November, Saturday: 1100 – 1900, 15 November, Sunday: 1100 – 1800
Venue: F1 Pit Building, 1 Republic Boulevard
General Admission (public days): $15
Door Tickets (at the door, ticketing fees apply)
General Admission: $18
Students & Seniors: $10
Children under 16: free admission

43. Neon Lights 2015
Neon Lights will illuminate the historic Fort Canning Park with a rich and vibrant music and arts programme.
Date: 28 to 29 November 2015
Time: 1pm till late
Venue: Fort Canning Park
Admission: Ticket charges apply.
For more information, visit Neon Lights 2015

44. Mickey's Music Festival
Come join us at Disney Live! Mickey's Music Festival for a lively concert experience guaranteed to deliver enough rockin' memories to last a lifetime.
Date: 21 to 29 November 2015
Time: Various Timings
Venue: Marina Bay Sands
Admission: Ticket charges apply.
For more information, visit Disney Live Singapore 2015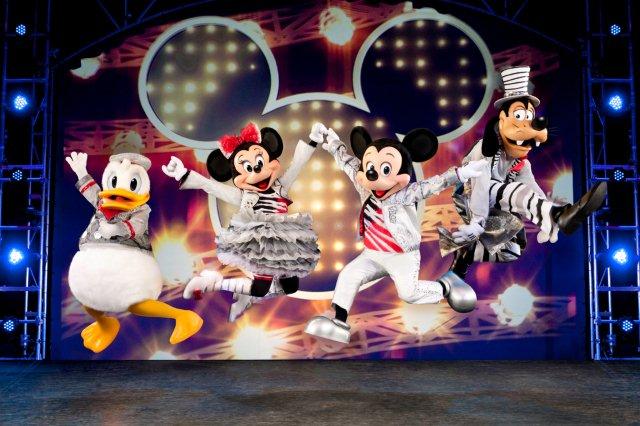 45. National Gallery Singapore Opening
The National Gallery Singapore, which has been in the making for a decade, will open on Nov 24 with a two-week-long celebration of free events and activities.
Date: 24 to 6 December 2015
Time: Various Timings
Venue: National Gallery Singapore
Admission: Free entry for Singapore Citizens/ PRs and children 6 years and under
$20 for non-Singaporeans
$15 for *concession-holders and children between 7 and 12 years
For more information, visit National Gallery Singapore

46. Fun Filled Christmas @nex
Take a photo with Snoopy, Charlie Brown and Lucy. Redeem a photo pass* with S$30 minimum spent in a single receipt.
Date: 3 to 13 December 2015
Time: Tue-Thu: 1pm & 7pm daily | Fri-Sun: 1pm, 4pm & 7pm daily
Venue: nex
For more information, visit www.nex.com.sg