18 May is International Museum Day (IMD)! Each year, museums all over the world organise events and activities on IMD to raise awareness about the significant role that museums have in promoting mutual understanding and cohesiveness among cultures and enhancing cultural exchanges.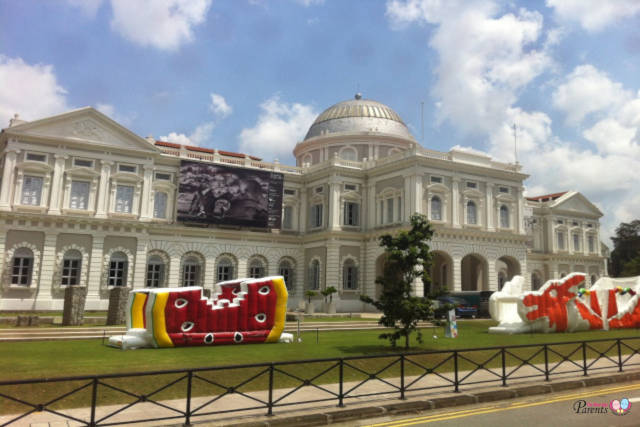 Although we can't be there physically to immerse ourselves in art and history and enjoy the unique and fun activities at the museums as they remain shut due to the Circuit Breaker measures in Singapore, we have listed online activities that you can check out while #stayinghome.
You can 'venture' out of Singapore for virtual tours in famous museums all over the world, explore local heritage spaces such as The Singapore River Bridges, learn more about Singapore's heritage through online video series as well as try out fun activities with the whole family!

Virtual tours at museums and heritage spaces
1. The Louvre
Go on a digital tour and visit the galleries and exhibitions in the world's most-visited and largest art museum, The Louvre. Check out the Tanix Sphinx and Egyptian Antiquities department showcasing collections from the Pharaonic period as you tour the two levels of the museum! There are seven virtual tours so you can take your time to truly explore the museum and the amazing exhibition rooms!
Apart from the virtual tours, you can also download the "VR – Mona Lisa" app to view the famous painting by Da Vinci up close and personal.
---
2. The British Museum
Kids and adults alike will definitely love this interactive tour through time, cultures and continents! Go back in time and explore objects from diverse cultures as British Museum curators share their insights through audio recordings.
You can also go on a virtual visit to more than 60 galleries within the museum through Google Street View or explore the galleries here.
---
3. Van Gogh Museum
Van Gogh Museum in Amsterdam houses the world's largest collection of works by Vincent van Gogh and now you can view them from home! You can also recreate school lessons at home using the activity resources on their website. For older children, there are short video clips that they can watch such as an introduction to van Gogh and his works.
Or create your own van Gogh painting with one of their colouring pages! Simply download, print and start colouring!
---
4. National Museum of Singapore
Photo courtesy of National Heritage Board
Step into An Old New World digitally, at the National Museum of Singapore (NMS)! Go on a digital tour around the exhibition, view artefacts and also hear from NMS's curator!
Uncover two centuries of international exploration, trade and intrigue and understand the broader forces at play that culminated in the events of 1819 as a family.
---
5. The Singapore River Bridges
Watch this video and uncover interesting facts about Cavenagh, Anderson and Elgin Bridges – three of the most historic and architecturally impressive bridges that span the Singapore River!
---
6. Indian Heritage Centre
Travel down the Coromandel Coast all the way to Singapore with the Indian Heritage Centre and discover new facets of Tamil Heritage. Get up close to rich artefacts and immerse in tales of the Tamil community; learn about the links between the Tamils of the Coromandel Coast and Southeast Asia from more than 800 years ago and the lives and contributions of early Tamils in Singapore.
Read more here.

Heritage Activities for the Whole Family #SGCultureAnywhere
Are you on the lookout for activities to try out with the family now that the school holidays are here? The National Heritage Board has created many enriching and engaging programmes that children can enjoy while exploring their cultural heritage!
1. Heritage Explorers Programme
With NHB's Heritage Explorers Programme, children can take on the role of a curator or a designer and try their hand at tasks such as creating interesting captions for "artefacts" found at home or drawing their ideal exhibition.
Successfully complete all the tasks to redeem a Heritage Explorers badge when the museums reopen!
---
2. Stay Home and (Re)create Art Challenge!
Are you up for a challenge by the Malay Heritage Centre and Indian Heritage Centre? All you have to do is to recreate works of art posted on the centres' Facebook albums with items that you can find around your house and stand a chance to win prizes!
---
3. Kickstart a conversation with this starter kit
From secret dates at Capitol Theatre to old school tiffin carriers, our Conversation Starter Kits have what you need to relive your grandparents' memories with them!
Look through a selection of 40 images of buildings, landmarks, scenes and objects, accompanied by helpful questions! These will definitely help facilitate meaningful conversations. You can also check out NHB's Facebook page for a specially adapted version, with handy hints to help you start chatting with anyone!
---
4. Go behind the scenes of Singapore's heritage trades
What are the ingredients essential to making a plate of delicious nasi padang and what is the key to creating a good songkok? How are your favourite traditional kaya toast and coffee prepared?
Find out by going behind the scenes of the diverse heritage trades in Singapore in this Heritage in Episodes video series!
If you find this article useful, do click Like and Share at the bottom of the post, thank you.
Want to be heard and seen by over 100,000 parents in Singapore? We can help! Leave your contact here and we'll be in touch.