Jam 'n Muffin will be giving away a Mother's Corn Growing Up Set & a Teething Bling & DingaRing 3-in-1 rattle to The New Age Parents readers. Read on for more details on the contest.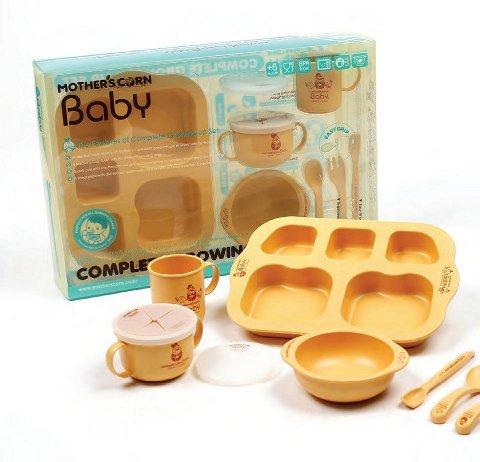 Mother's Corn Growing Up Set – Getting the right tools for feeding

The Growing Up Set comes complete with all that are needed when weaning begins!
Comes with a feeding spoon, bowl, 4 way snack cup, meal plate, self-training spoon & fork and training cup.
Made from PLA (Poly Lactic Acid) which is extracted from corn starch, Mother's Corn cutlery is stronger than conventional plastics and possess no harm to the environement as it is totally biodegradable. It is the best replacement to conventional plastics.
Why choose Mother's Corn products?
•SAFE
1. BPA Free
As the Mother's corn products made of corn are free from not only environmental hormone but also other hazardous ingredients like carcinogenic substance, heavy metals and the like, they can be used to serve hot food or even damaged or babies can bite or suck (gum down) them without any problem.
2. Using Non-Toxic Ink
As non-toxic ink certified by an accredited agency is used in character design printed on Mother's corn products, babies can bite or suck (gum down) them safely while they are being in use.
In order to ensure that babies be fed meals in a safer manner, designs are not inserted where their mouths or meals are supposed to contact them.
Mother's corn baby's motto, like maternal mind, is " baby's health and safe meal be given priority over design."
•RESISTANT
1. Durability
As Mother's Corn products, though made of corn ingredient, have same durability as plastic products made of petrochemicals, the former is not easily broken even when dropped.
2. Microwave Safe
As a result of incessant research effort by Mother's corn's in-house research institute, excellent heat resistant Mother's corn baby product has been born. Being the first one of corn-made containers ever created in the world to survive heat exposure in microwave oven, it is convenient to use.
Make the Switch to Corn Plastics today! Safe. Green. Good.
Bling & DingaRing 3-in-1 rattle – The trend for teething babies & beautiful moms
Teething Bling – Beautiful for Mothers, Safe for Babies~
We all know how much babies love to grab and chew. For that reason, most moms don't wear jewelry when their children are young. We are changing that!
Teething Bling® was inspired by babies who like to tug on our jewelry. It is the original patent-pending teething jewelry.
Made from the same material as many teething toys, Teething Bling® looks great on Moms, Grandmas, Aunts and Caregivers but is safe for curious babies to handle and chew. Teething Bling® products are non-toxic, phthalate, BPA, PVC and lead free and all pendants come with a breakaway clasp. Celebrity moms love it and so will you!
3-in-1 DingaRings! Bite, Shake and Cuddle all in 1
What makes us unique:

Handmade
100% high quality polyester Plush fabric
acrylic felt
hypoallergenic polyester fill
sustainably harvested Rubberwood teether
The totally original HANDMADE DINGaRING range brings smiles to the faces of babies & adults alike. The natural wooden teething ring, luxuriously soft plush toy body & gentle rattle make it the ideal gift for newborns & teething bubs. These quirky Aussies have a character of their own & never fail to get a giggle from the grown ups!
---
Jam 'n' Muffin is giving away a Mother's Corn Growing Up Set and Teething Bling & DingaRing 3-in-1 rattle (worth $88.90 and $67.85 with courier delivery)
All you have to do is:
1. Like Jam 'n' Muffin Page
2. Fill in your particulars and your choice of prize
Contest ends 20 Nov 2012.
*Terms and conditions apply