Celebrate the Mid-Autumn Festival with traditional Chinese arts at Moonfest – A Mid-Autumn Celebration At Esplanade 艺满中秋!
Apart from the ticketed performances, there are many free performances and activities for everyone to enjoy, with instrumental music, dance, crosstalk, a fashion show on traditional Chinese dress, lantern riddles, street opera with English and Chinese subtitles at the outdoor Moonfest Chinese Opera Stage, and more! Parents can also find fun ways to introduce Chinese traditions to little ones with storytelling and craft activities at PIP's PLAYbox. We shortlist some of the Free Programmes you may be interested in.
The free programmes are broadly categorised into the following section:
Activity
Storytelling
Theatre
Music
Dance
Roving
---
ACTIVITY
Lantern Walkabout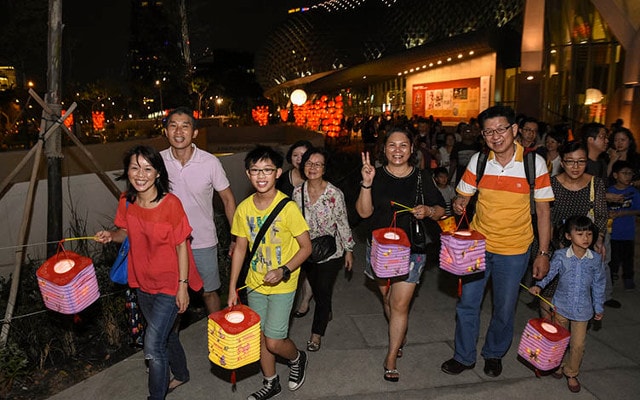 Take a stroll along the Esplanade Waterfront while carrying your favourite lantern with your loved ones under the moonlit night. This lantern walkabout will also feature a spectacular dragon dance by Hong Jie Association!
Date: 22 September 2018
Time: 7.30pm (Gather at the Forecourt Garden by 7.15pm)
Venue: Esplanade Waterfront
Moonfest Tea Room
A unique experience like no other, discover the lighter side of Chinese arts and culture as you sip a cup of sparkling cold brew tea or try your hands at Chinese calligraphy – in virtual reality. A series of exciting talks and music performances awaits you, and don't forget to #mydurian and #moonfest as you snap a shot of yourself in a traditional Chinese opera costume!
Date: 21 to 23 September 2018
Time: Fri: 7pm – 9.30pm | Sat: 2.30pm – 9.30pm | Sun: 2.30pm – 9pm
Venue: Esplanade Annexe Studio
Spin It
Pick up the basics of plate-spinning and diabolo-tossing in this hands-on workshop. No prior experience needed.
Date: 22 September 2018
Time: 5.30pm & 6.30pm
Venue: Esplanade Forecourt Garden
Fun with Chinese Riddles
Join Riddle Association for this traditional festival activity and experience the beauty of the Chinese language. Learn simple techniques on how to solve these riddles and pit your wits against fellow riddle solvers.
Date: 21 to 23 September 2018
Time: 8pm
Venue: Esplanade Waterfront Canopy




Craft Workshop: DIY Shrink Art
Make your own shrink art trinket and, at the same time, find out more about legendary figures from Chinese stories.
Date: 22 & 23 September 2018
Time: 3.30pm
Venue: Esplanade Festival Corner
Craft Activity: Make Your Own Box of Mooncakes!
It's not the Mid-Autumn Festival unless there are mooncakes! These sweet treats come in different shapes and sizes, often bearing beautiful, eye-catching designs. In this craft activity, you will get to decorate and design your own paper mooncakes, arrange them in your own handmade mooncake box, and present them to your loved ones!
Date: 20 to 30 September 2018
Time: 11am – 6pm (Closed for cleaning: 2pm – 3pm daily)
Venue: Esplanade PIP's PLAYbox
STORYTELLING
Crosstalk Fun at Mid-Autumn
Enjoy witty and lyrical crosstalk performances by young performers from EduPlanet, trained by renowned crosstalk actor, Soo Wee Seng. The line-up features dual dialogues, traditional clapper rhythms, as well as a fast-paced recitation of legendary figures.
Date: 22 September 2018
Time: 3pm, 4pm & 5pm
Venue: Esplanade Concourse
Storytelling: Heroines!
Houyi, Guanyu, Yuefei… we hear a lot about male warriors of the past. But what about the women who made a difference? This Moonfest, join Tan Weiying as she regales you with tales of heroines from ancient China!
Date: 22 & 23 September 2018
Time: 12.45pm, 3.15pm & 4.45pm
Venue: PIP's PLAYbox




We Love Storytelling!
Chinese folk stories have been around for a long time. These colourful, entertaining and richly illustrated tales contain meaningful moral lessons that are passed down from one generation to the next. Don't miss this storytelling session by Lin Fu Lai happening as part of Moonfest 2018!
Date: 23 September 2018
Time: 3pm, 4pm & 5pm
Venue: Esplanade Concourse
THEATRE
Moonfest Chinese Opera Stage
Savour well-loved Singapore street opera scenes from yesteryear as they come alive at our outdoor street opera stage! Bask in the cool waterfront breeze under the moon and experience traditional street opera performances, all fully subtitled in English and Chinese.
Date: 21 to 23 September 2018
Time: 6.15pm, 7.45pm & 9.15pm
Venue: Esplanade Edge
MUSIC
Jin Yong Wuxia Theme Songs
Let Donnie and Novabelle transport you to a world of martial arts heroes and legends as they present iconic songs from Jin Yong's classic wuxia movies and dramas such as The Legend of the Condor Heroes, Demi-Gods and Semi-Devils, Swordsman, and more.
Date: 23 September 2018
Time: 7pm, 8pm & 9pm
Venue: Esplanade Concourse
DANCE
Fluidity and Elegance: A Chinese Dance and Martial Arts Showcase
Graceful dancers fill the stage, while martial artists from the Wudang lineage exude grace in their swift movements. Witness the beauty and grace of traditional Chinese dance and Wudang martials arts in this special showcase.
Date: 22 September 2018
Time: 7pm, 8.30pm & 10pm
Venue: Esplanade Outdoor Theatre
ROVING
Spot the Mascots and Chinese Legendary Figures!
Chang'e, Sun Wu Kong, Mr Mooncake, Han Xiang Zi and a mysterious ancient scholar are here at Esplanade to celebrate Mid-Autumn Festival with everybody! Our ever-lovable PIP will also make a special appearance on 22 & 23 September too. Come spot them! They are very playful and may not always appear together.
Date: 21 to 23 September 2018
Time: Various Timings
For more information, visit here.
Photo credit: Esplanade
If you find this article useful, do click Like and Share at the bottom of the post, thank you.