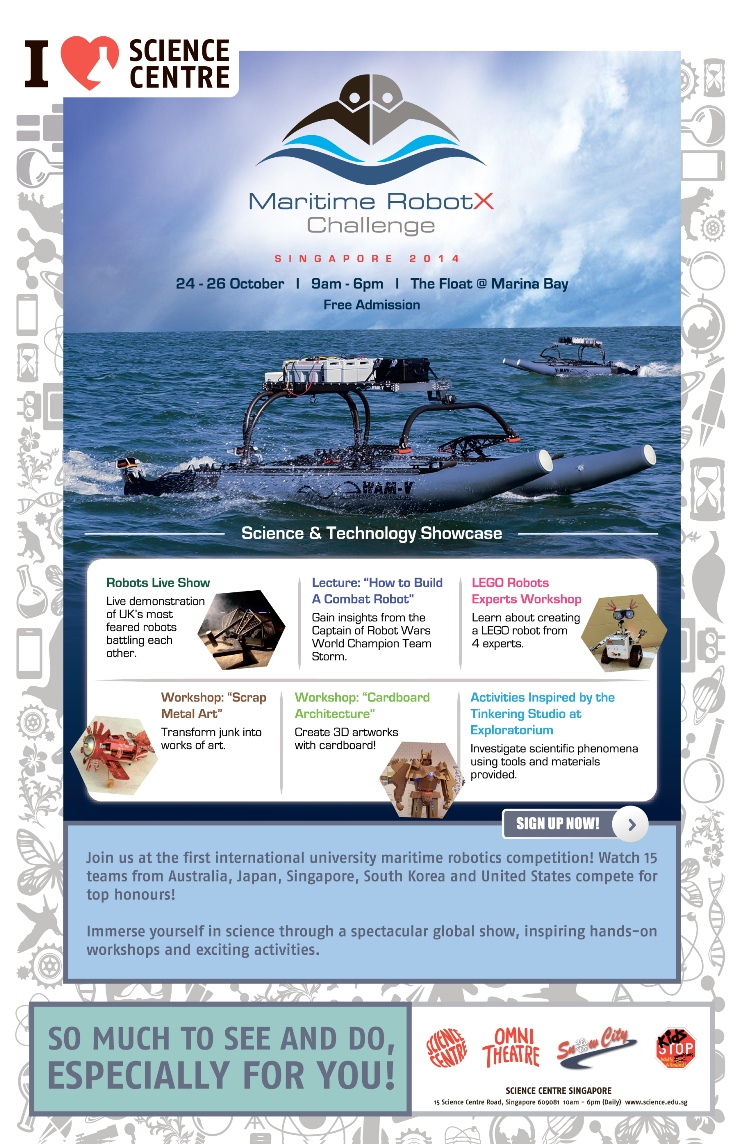 Click here for a larger view.
---
Maritime Robot

X

Challenge

Singapore 2014
24 to 26 October | 9am to 6pm | The Float @ Marina bay
Free admission

Science and Technology Showcase:
Activities include Robots Live Show
Lecture: 'How to Build a Combat Robot'
LEGO Robots Experts Workshop
Workshop: 'Scrap Metal Art'
Workshop: 'Cardboard Architecture'
Activities inspired by the Tinkering Studio at Exploratorium
Sign Up now. Join us at the first international university maritime robotics competition! Watch 15 teams from Australia, Japan, Singapore, South Korea and United States compete for top honours.
Immerse yourself in science through a spectacular global show, inspiring hands-on workshops and exciting activities.
For more information, visit us at www.eng.nus.edu.sg/ero/Maritime_RobotX_Challenge_2014.html
---
Keen to learn more about creating a ‪LEGO‬ robots and tinkering?
Here's your chance to attend FREE workshops conducted by international and local experts at Maritime RobotX Challenge!
Spaces are limited and are on first-come-first-served basis: bit.ly/ZAAKnS