There many reasons why we need to let children play. First it helps them to learn how to play with others. Second, it helps to develop their motor skills such as running, jumping and climbing. Third, it helps them learn how to communicate their emotions, thoughts and be creative. And most importantly, play offers parents a chance to connect with their child/children.
Play is also an integral part of family activities, as most family activities involve play. Families who play and do things together are said to be more cooperative, supportive and have better communication. It also helps to forge strong family bonds and values, which can last a lifetime. Activities such a day at the beach, having movie nights or simple activities such as listening to music or going for short walks are some activities you can do to bond as a family.
Looking for a one stop place for a family outing? Well, look no further.
From the 19 Nov 2011 to 2 Jan 2012, Sentosa offers a wide range of activities just for the family.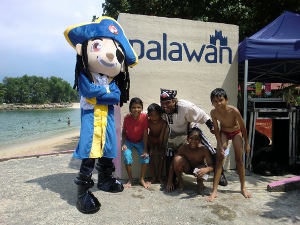 First Stop: Boogie-ing with Captain Palawan at Palawan Beach
Swimming costumes? Checked. Sun block? Checked. Beach slippers? Checked. Shades? Checked.
Besides splashing around in the children's pool and fountain at Palawan beach, there is also a special sand pit corner for children to learn and mingle with professional sand sculptors to build sand castles.
What's more, put on your dancing shoes and get ready to Boogie with Captain Palawan! Jiggle and swing to the tunes of Palawan Boogie and stand to win some fantastic prizes!
Take note of these timings:
19 Nov 2011 – 2 Jan 2012
Palawan Beach
Sandy Good Times: 1pm – 6pm (Every Fri – Mon)
Boogie with Captain Palawan: 1.30pm, 3.30pm & 5pm (Every Tue – Sun)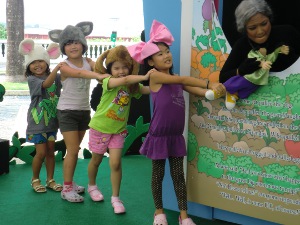 Second Stop: Look Mummy! The story characters are coming alive!
Who doesn't love a good story? From the 26 November to the 26 December, be enthralled and fascinated as you and you little ones watch how story characters in stories come alive! The award-winning interactive Storytelling Comes Alive! Sessions engage your child's senses as they watch the stories unfold through a giant storybook and colourful puppetry. Each storytelling session includes listening, reading and watching a short play – a mini performance all rolled into one!

At the Creative Kids' Arts & Crafts Workshop, your young ones will learn how to create and design their own Christmas themed Pom-pom Fuzzies, Door Ornaments, Kid's Aprons or Cookies Baking! Cost only $8 for each activity. Location at Images of Singapore Forecourt.
Sentosa Islander Members enjoy a 50% discount.
Sentosa PLAY Pass holders can redeem a free activity.

Get your notepad ready and jot these timings down:
26 Nov – 26 Dec 2011
Images of Singapore Forecourt
Storytelling times: 11.30am, 2.30pm & 5pm (Every Wed – Sun)
Kids' Workshop: 11am – 7pm daily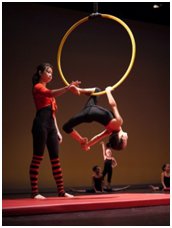 Third Stop: Swing Swing Swingapore!
The Circus is in town! Besides all the acrobatic and circus performances, you and your little ones can have a taste of some of the fun and action. There are open trial session on trapeze and aerial hoops. Do not miss this chance, the Circus will only be at Sentosa Boardwalk till 11 December!
Happening on:
19 Nov – 11 Dec 2011
Sentosa Boardwalk
6.30pm – 10pm (Every Sat & Sun in Nov; Every Fri, Sat & Sun in Dec)
Fourth Stop: Treasure Hunt with Santa at Images of Singapore
Oh no! Santa is getting old and has lost some his Christmas presents in Images of Singapore! He needs help! Join his friendly elf assistant, and embark on a quest to find all the missing presents. Who knows, you might just get to meet Santa himself.
Come and hunt for presents during:
16 – 18 & 23 – 26 Dec 2011
Images of Singapore
3.30pm & 5.30pm (Guided Tour)
Attraction admission: $10 (Adult); $7 (Child)
Fifth stop: Jingling and Singing to Merry Marionettes at Sentosa Boardwalk
Are those elves skating with dancing penguins? Merry Marrionettes, a joyous Christmas musical with skating elves and dancing penguins, clowns and other characters will take turns to entertain and excite both the young and old alike. A special Christmas puppet show perfect for the whole family.
Catch Merry Marionettes on:
19 Nov – 25 Dec 2011
Sentosa Boardwalk
7pm & 8.30pm (Every Sat & Sun in Nov; Every Fri, Sat & Sun in Dec)
More Perks Awaiting For You And Your Family
Sentosa PLAY Pass
With this special PLAY pass, you and your family can play to your heart's content with a day trip to Sentosa. Affordable, fuss free, and flexible, you will also get to enjoy more than 60% discount with this pass! Visit www.sentosa.com for full package information.
Special treats this holiday!
-Redeem a FREE Kids' Workshop (worth $8) at Creative Kids' Arts & Crafts Workshop
-Enjoy 20% discount for Sentosa Islander Membership
Terms and conditions apply.
Christmas Treats on Sentosa
19 Nov 2011 – 2 Jan 2012
Enjoy special promotions to hotels, attractions and F&B outlets. Look out for the full list of Christmas Treats at www.sentosa.com
Sentosa Islander Membership
Unlimited free admission. Yes, UNLIMITED. With the Sentosa Islander Membership, you will have UNLIMITED island admissions via the Sentosa Boardwalk, Sentosa Express and Sentosa Gantry (Drive-in). Plus, enjoy discounts and privileges around the island at selected attractions, dining, hotel stays and retail outlets – all year round!
New sign-ups are only at $25 per year for individuals and $50 per year for families. For more details, visit www.sentosa.com
Parents are a child's first teacher and much of that teaching occurs during and through play. Remember to make time for play time – come play and bond at Sentosa this holiday!