There will be four long weekends (with holidays either falling on a Friday or Monday) in Singapore in 2018.
Get your new calendars ready and mark these dates down!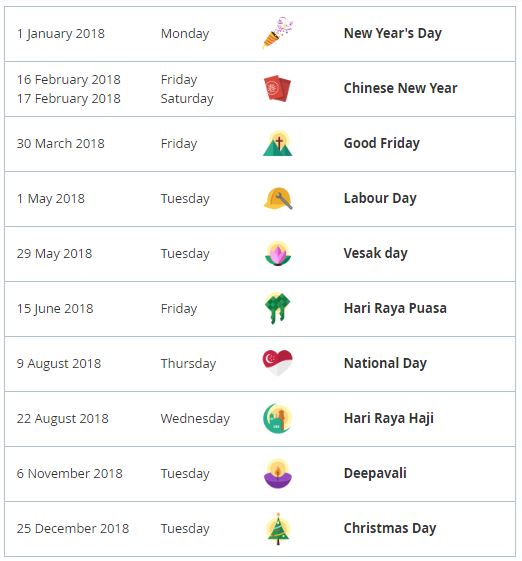 Source
Public holiday which falls on a Monday:
New Year's Day (1 January 2018)
Public holiday which falls on a Friday:
Chinese New Year (16 February 2018)
Good Friday (30 March 2018)
Hari Raya Puasa (15 June 2018)
Related Read: Long Weekends in 2019
---
School Terms and Holidays for 2018
Primary and Secondary School Calendar 2018
The school year for 2018 for all MOE primary and secondary schools will start from Tuesday, 2 January and end on Friday, 16 November 2018.
Semester I
Term I
Tue 2 Jan to Fri 9 Mar 2018
Term II
Mon 19 Mar to Fri 25 May 2018
Semester II
Term III
Mon 25 Jun to Fri 31 Aug 2018
Term IV
Mon 10 Sep to *Fri 16 Nov 2018
*The last day of the final school term for schools which will be used as venues for the GCE O-Level written examinations will be Friday 26 October 2018.
Primary and Secondary School Vacation 2018
The four vacation periods for Primary and Secondary Schools for 2018 will be as follows:
Primary and Secondary School
Between Terms I & II
Sat 10 Mar to Sun 18 Mar 2018
Between Semesters I & II
Sat 26 May to Sun 24 Jun 2018
Between Terms III & IV
Sat 1 Sep to Sun 9 Sep 2018
At End of School Year
Sat 17 Nov to Mon 31 Dec 2018
Scheduled Primary & Secondary School Holidays
The scheduled school holidays for 2018 will be as follows:
Youth Day
Sun 1 Jul 2018
(The following Monday, 2 Jul 2018 will be a scheduled school holiday)
Day after National Day
Fri 10 Aug 2018
Teachers' Day
Fri 31 Aug 2018
Children's Day
(for primary schools and primary sections of full schools only)
Fri 5 Oct 2018
Find this article useful? Do share it with your friends by clicking "Share" below, thank you.