A Slice of Fun 5 & 6 Sep 2015
The Foodie Workshops
Bento-Making 11am
Ice Cream Making 12pm
Cookie Decoration 1pm
Sushi Cake-Making 2pm
Shoppers have to spend a min. $50 at any Liang court store ($100 at MEIDI-YA & Audio House) to sign up for free.
Exclusively for The New Age Parents' subscribers! Sign up for FREE with any purchase in Liang Court! Registration is open now and will be at Liang Court Customer Service Counter.
Registration is on a first come first serve basis. Limited to 1 workshop per day per participant.
Stage Activities
Street Magic by Kaja from Yokohama, Japan
5 Sep, 11am & 1pm | 6 Sep, 12pm & 2pm
Suikawari The Watermelon Challenge
5 Sep, 12pm & 2pm | 6 Sep, 11am & 1pm
Simply split the watermelon with a stick while being blindfolded and walk away with AsiaMalls Vouchers!
Challenge is open to all ages, limited to 1 play per person per day, based on first come first serve basis. While stocks last.
For more information, visit www.liangcourt.com.sg/whats-on/a-slice-of-fun/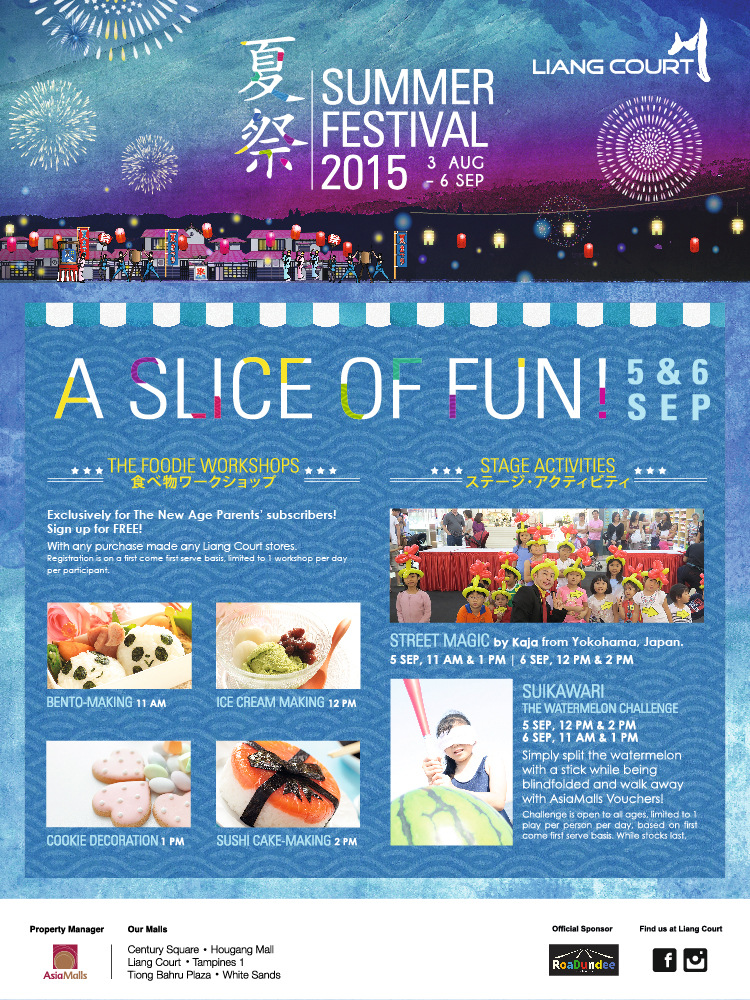 Click here for a larger view.
Liang Court brings you Summer Festival! Our shoppers stand a chance to win a summer getaway to Japan, Travel vouchers and AsiaMalls Shopping Vouchers and more!
Summer Festival 2015 will be launched with a Japan Food Fair by MEIDI-YA Supermarket. This Food Fair aims to replicate the Summer Festival in Japan. Visitors to this Fair will have a quality 'street food' experience. Come down to level 1 atrium to savour authentic Japanese food from 3 August to 11 August 2015.
We are also giving shoppers a fantastic opportunity to savour at Liang Court's Food & Beverages outlets at great savings with an exclusive Liang Court's Food Trail Wallet! For $45, diners get to enjoy 3 set meals, 1 quick bite and 1 drink. What's more? Diners can accumulate points from 3 August to 3 September 2015 and be rewarded with AsiaMalls Shopping Vouchers by dining at any Liang Court Food & Beverages outlets.