New LEGO® campaign shows how creative problem solving can reunite and Rebuild the World
Actress-parent Joanne Peh and entrepreneur-parent Cheryl Wee will join local early learning expert and parenting coach to share experiences and tips to facilitate play environments for children at Instagram Live session as part of the campaign
The LEGO Group has launched a playful new iteration to its global Rebuild the World campaign, which is in its third year. In its second edition in Singapore, the campaign celebrates children as the masters of creative problem solving and shows what can be achieved when they creatively overcome challenges by building and rebuilding with LEGO bricks.
Play is undeniably essential for children. 91% of parents surveyed in the LEGO Play Well Global Study 2020 shared that playing with toys such as LEGO bricks has helped their children to develop problem solving skills. The campaign aims to echo this by partnering local early learning and parenting coaches alongside parents to share their experiences as well as tips for parents through weekly Instagram Live sessions in October 2021.
Parents can look forward to hearing from entrepreneur-parent Cheryl Wee alongside parenting coach Jacinth Liew (@ourlittleplaynest) during the Instagram Live session on 2 October, 11am on Cheryl's Instagram page (@weecheryl) before tuning in to actress-parent Joanne Peh and early learning expert Fynn Sor's (@happytotshelf) sharing on 9 October, 3pm on Joanne's Instagram page (@joannepeh). Actress-parent Diana Danielle and parent influencer Mia Chai who are based in Malaysia will continue the Instagram Live sessions on 16 October, 4pm on Diana's Instagram page (@dianadanielleb) and on 23 October, 4pm on Mia's Instagram page (@miamnmmm) respectively.
Besides sharing how LEGO bricks can be creatively played with and to problem-solve through their personal experiences, the hosts will also discuss tips on creating an environment to encourage creative, unstructured and independent play with children, while welcoming questions and answers from viewers. There will also be giveaways of two LEGO sets with a total value of more than SGD200 during the sessions. Parents are also welcome to share the creative LEGO builds that their children have created on Instagram, with the hashtag #LEGOSG and #RebuildTheWorld.
Rohan Mathur, Marketing Director Southeast Asia, The LEGO Group, said: "It is clear that parents believe play is important for their children – not only for the fun and enjoyment, but their overall development too. In fact, play is seen as a great way to boost creative confidence. Through the Rebuild the World campaign in Singapore, we aim to encourage parents to guide and facilitate the play experience for their children, as well as to inspire families to problem-solve together by building and rebuilding with LEGO bricks."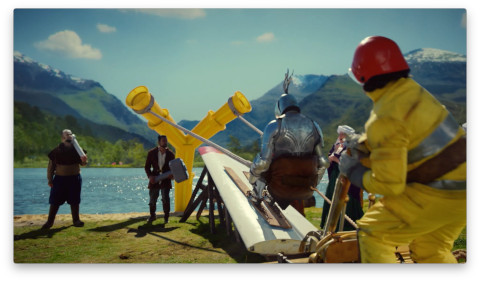 Globally, The LEGO Group has also launched a main film that centered on the story of a Knight whose attempts to cross a river to see a friendly bear keep failing. Seeing the Knight's dilemma, a whole town comes together and pools their varied skills, perspectives and talents to find a way to reunite the friends. As the Knight finally conquers the river crossing, the film playfully reveals how the story and the solution to the challenge have been imaginatively conceived by a group of children building, unbuilding and rebuilding through LEGO® play.
The LEGO System in Play has long been the ultimate platform for creative problem solving. Just as the children in this campaign come together to build and test different solutions, with LEGO play, children can build anything they can imagine, trial it, work out how to improve it and rebuild it. The process helps children develop life-long skills such as creative problem-solving, communication and resilience that many parents see as being key to helping their child be successful in the future.
The playful film is accompanied by a number of humorous visual stories that depict the endless ways LEGO® bricks can be used to overcome barriers and reunite old friends. One of the fantasy visuals shows a hippo looking longingly at a bird flying in the sky, before the problem is solved; the hippo is given LEGO wings and joins them. Another features a pig who wants to see eye to eye with a giraffe – a dilemma that's easily fixed by adding some bricks to increase its height.
The campaign was created by the LEGO Group's internal creative agency, the LEGO Agency. The fully integrated global campaign will run across a variety of channels including TV, digital, Spotify, out of home, e-commerce channels and in LEGO stores in over 20 countries. It will also be supported by a global creator campaign, as well as a series of activations and events in markets where the LEGO Group has a presence.
To find out more about the LEGO Group's Rebuild the World campaign, visit here.
Schedule of Instagram Live sessions
Date / Time
Hosts and Instagram page to watch
2 October 2021, 11am
Host: Cheryl Wee and Jacinth Liew

Instagram page to watch: instagram.com/weecheryl

Topic: Discover a child's passions as we play

9 October 2021, 3pm
Host: Joanne Peh and Fynn Sor

Instagram page to watch: instagram.com/joannepeh

Topic: Raising creative problem-solvers as we play

16 October 2021, 4pm
Host: Diana Danielle and Dr Ng Yi Ki

Instagram page to watch: instagram.com/dianadanielleb

Topic: Encourage creativity in children as we play

23 October 2021, 4pm
Host: Mia Chai and Lisa Ong

Instagram page to watch: instagram.com/miamnmmm

Topic: Fostering self-expression in children as we play

---
🤩 [GIVEAWAY ALERT] 🤩 We are giving 100 x LEGO® Polybags to our readers on Instagram and Facebook! Winners will win either one of the two available LEGO® polybags* – one to build your own birds, and the other to build your own vehicles.
To take part in the giveaway, follow the steps below:
1️⃣ Like and Follow The New Age Parents on Facebook and Instagram.
2️⃣ Answer a Simple Question Fill in the Form:
The giveaway has ended.
3️⃣ Like and Share this Facebook post (set to public too) or Like and Tag 3 friends on this Instagram post.
⏳ Giveaway period: 29 September to 31 October 2021, 2359hrs.
🇸🇬 Valid for participants residing in SG only.
📪 The polybags will be mailed to your mailing address**.
* Polybags will be chosen randomly
** Limited to winner per address
Terms and conditions apply. Please also read our Privacy Policy.
For more contests and giveaways, go to The New Age Parents Contest Page.
* * * * *
Like what you see here? Get parenting tips and stories straight to your inbox! Join our mailing list here.
Want to be heard 👂 and seen 👀 by over 100,000 parents in Singapore? We can help! Leave your contact here and we'll be in touch.